---
Post Author: Name Withheld
---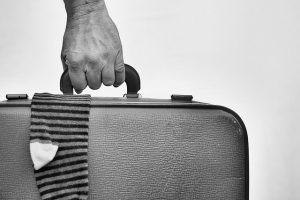 Like many 21st-century churches, the church I serve is a "nested" congregation: it has no building of its own, and rents space from another congregation. Some churches arrive at this kind of arrangement after selling their existing buildings. Others are new church starts, building a congregation from scratch.
Worshiping communities sharing space can be a wonderful thing. It can also be complicated. And, sometimes, it just doesn't work. My congregation recently ended its relationship with its host congregation, and transitioned to a different space. The transition was challenging, marked with conflict, grief, and resentment. Although "the church is not the building… the church is the people," as the old Sunday school song goes, it is difficult for the people to say goodbye to the place where their children were baptized, where they were married, where they grew in faith and discipleship.
This liturgy concluded our final worship service in our old space. It would be appropriate for congregations in a similar situation, and also can be adapted for other situations, such as moving out of a house or decommissioning a ministry.
One: God said to Abram, "Go from your country and your kindred and your father's house to the land that I will show you."
All: May we go with the God who calls us to new adventures!
One: When Rachel departed from her home and family to make her home with Jacob, she took with her the teraphim, the household gods of her childhood.
All: May we carry with us what has been good, holy, and true from our time in this place.
One: God led the Hebrew people out of Egypt and toward the promised land.
All: May we go with the God of liberation!
One: The Israelites were taken from their homes into exile.
All: May we go with the God who consoles the displaced.
One: Jesus sent the disciples out to preach the Good News to all creation.
All: May we be inspired and imbued with purpose and joy.
One: Jesus told the disciples, "If anyone will not welcome you, shake off the dust from your feet.
All: May we leave behind us all bitterness and disillusionment.
One: Paul wrote to the Philippians, "I thank my God every time I remember you."
All: May we thank God every time we remember this place.
One: Go forth to be God's church in this time and place, as the Holy Spirit may direct.
All: In the name of the Father, and the Son, and the Holy Spirit; one God, Mother of us all. Amen.
---
Image by:
Craig Sunter
Used with
permission
https://media.myworshiptimes31.com/wp-content/uploads/sites/3/2017/06/29165708/suitcase-bw-holy-ghost-grab-bag-june-2017.jpg
427
640
Name Withheld
https://youngclergywomen.org/wp-content/uploads/sites/3/2017/05/YCWILogo_Vert_Black-300x229.png
Name Withheld
2017-06-27 04:00:02
2018-11-13 11:34:09
A Liturgy for Leaving