---
Post Author: Askie, with guest expert Rev. Elizabeth Grasham
---
Dear Askie,
I recently got a request from a congregant that I don't quite know how to han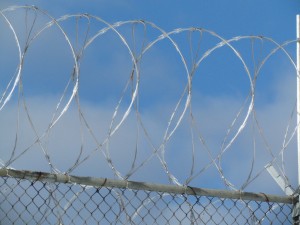 dle, and I wonder if you have any advice? My congregant's nephew is incarcerated, and my congregant is asking if I would be willing to visit him in prison. He doesn't have a church, but has been interested in having a pastor visit. I'm happy to do it – after all, I'm pretty sure Jesus said to! But I don't really know what to expect or how to do this kind of visit. I'm wondering about everything from what to wear and how to prepare, to what to talk about. Any suggestions?
Sincerely,
Prison Visitor
Dear Prison Visitor,
Good for you for taking this on! Your willingness to care for this person and your thoughtfulness about preparation speak well of you as a pastor and a Christian. I hope that your work with your congregant's nephew is meaningful and holy for both of you.
Askie's prison visitation experience is limited, so she sought the sage advice of Rev. Elizabeth Grasham. Elizabeth made monthly visits to prisons in various parts of the state of Texas for almost three years. Her advice draws from a wide range of experiences in different prisons, but she also advises that you seek counsel from people familiar with the prisons local to you, as the prison system in the United States is vast and complicated, with varying rules from state to state, and sometimes even city to city.
Elizabeth has these tips as you prepare to visit a prison inmate:
Determine what kind of prison you will be visiting: There are different systems for county and state prisons; there are even for-profit prisons. Procedure in one is not transferable to the next.
Inquire about clergy visitation: Contact the specific prison administration to find out what the procedures are for clergy visitation. Unlike family or friend visitations, clergy will almost always function under different procedures. Most likely, you will need to provide several forms of identification alongside your state-issued driver's license, including a copy of your ordination certificate as well as a letter from your congregational leadership (Session chair, Board chair, etc.) stating that you are indeed employed in a ministerial role at your church.
Contact the Prison Chaplain: Try your best to connect with the chaplain of the particular prison you will be visiting. This may be a frustrating experience, depending upon the chaplain. In Texas, some prisons have thousands of inmates and so chaplains are incredibly busy, and therefore unlikely to make return phone calls very quickly. It'll behoove you, however, to be on good terms with the chaplain; chaplains can help your processes and give you insights into best practices for visits.
Set aside plenty of time: Prepare to spend a whole day on a visit. The prisons that I visited were around two hours away from where I lived, and I usually took the full two hours allotted for visitation time. I expected that it would take one hour to be processed in and to have the inmate finally brought to me, and it would take at least half an hour to be processed out. In total, that was at least a 7.5-hour experience, once a month. Do not plan your prison visit on a day when you need to be somewhere else afterwards.
Be prepared for screening: You will go through a full body search. This is more intensive than any TSA screening you have ever experienced. My suggestion is that you avoid wearing clothing with underwires, as well as any jewelry at all. You will pass through a scanner, then have a handheld scanner waved over your body, followed by a full pat-down. This goes for children as well as adults. You'll need to take off your shoes, so don't wear anything hard to get on and off.
Be pastoral to the prison employees: Don't take any of the procedure personally. Folks who work within this system are just doing their jobs, and their jobs are often low-paying with outdated technology. Do you remember computers that use dot-matrix printers and have no windows interface? That's what prison employees are working with (in Texas, at least). Be understanding, be kind, be patient, and your generosity will be noticed. Many of the families that visit are less than overjoyed to encounter this system, so you may be the kindest person that the staff works with.
Share God's love: Remember during your visit that the person you are spending time with has suffered some catastrophic disappointments to end up in prison. Sometimes they're there because of their own actions, sometimes they're there because of chronic failures on the part of the criminal justice system. They may be obviously guilty, they may be entirely innocent. You don't need to be their judge, you need to be their pastor. Find a way to speak the gospel to them, and to encourage them with concrete ways they can encounter God in the midst of a prison cell. Don't lecture; find a way to communicate the love of God to them.
Plan self-care after your visit: Depending on how the visit went, my post-visitation self-care ranged from reading a trashy fantasy novel to relaxing with a glass (or more) of wine. It is a particularly strange grief to pass through the walls of a prison and then walk out of them, all the while knowing the person you just visited cannot leave. Be honest, careful, and generous with yourself when you get home.
This is a great good you are doing, and I am thankful that you are doing it. Prison is a lonely, forbidding place for most people, and you are graciously showing the love of God to someone who desperately needs to know it. Do not be afraid, God is with you.
Many thanks for your wise counsel, Elizabeth. And to you, Prison Visitor, prayers and blessings in this ministry.
Grace and peace,
Askie
---
Elizabeth Grasham is an ordained minister in the Christian Church (Disciples of Christ), currently serving as the Solo Pastor of Heights Christian Church in Houston, Texas. She is a geek, wife, mother, and lover of baked goods.
---
Image by:
Kate Ter Haar
Used with
permission
https://media.myworshiptimes31.com/wp-content/uploads/sites/3/2015/09/29170122/6771698125_9e979f1d04_b.jpg
768
1024
Askie, with guest expert Rev. Elizabeth Grasham
https://youngclergywomen.org/wp-content/uploads/sites/3/2017/05/YCWILogo_Vert_Black-300x229.png
Askie, with guest expert Rev. Elizabeth Grasham
2015-10-01 04:00:57
2018-11-13 11:38:08
Ask a Young Clergy Woman: Prison Visitation Edition