---
Post Author: Askie
---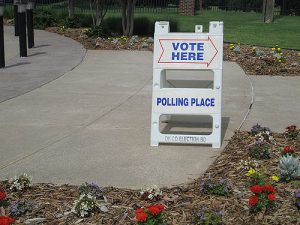 Dear Askie,
I've always been pretty into politics, but I'm wondering if that has to change? I've been serving in my first call for two years, and my church has a big spectrum from conservative to liberal. I've posted some articles on social media about my preferred candidate, and some articles that are critical of my preferred candidate's opponents. I've mentioned the election in sermons, and talked in a bible study about how one of the candidates in particular doesn't seem to understand Christian doctrine and practice. If my least favorite candidate wins the primary, I'm thinking I might volunteer for my preferred party's nominee. Now some of my congregants are complaining that I'm "too political," and that pastors are supposed to be neutral. They emailed the personnel committee and the board because they're "afraid our church will lose its 501c3 status." Askie, I'm pretty sure they're off-base on that particular claim, but what are the limits here? Do I have to give up politics for my congregation?
Sincerely,
The Political Pastor
Dear Political Pastor,
The good news is that this will all be over in six months… and the bad news is that it's never really over, because there's always another election cycle just around the corner. So how is a political pastor to survive? Here are a few pointers:
Legalities: Your congregants are right that there are things you could do that could jeopardize your church's tax-exempt status, although not all of the things you mentioned are cause for legal concern. This very helpful memo from the UCC notes that a church cannot make statements that "favor or oppose any candidate," and you as the pastor are considered a spokesperson for the church whenever you're talking at an official church function or writing in an official church publication. Issues and policies are fair game, even if political candidates also talk about those issues – for instance, just because immigration is a hot-button issue in this election doesn't mean pastors have to stop preaching about scripture's commandments to care for outsiders – but it's important that in articulating your church's stance on public policy you don't imply an endorsement for a specific candidate. So no more critiquing candidates at bible studies, Political Pastor, but you can certainly speak in general terms about the election and about how public policy intersects with the Gospel.
Public persona & private citizen: It's not appropriate for your church to ask you not to have political opinions, Political Pastor. You're not required to be neutral as a person – you have a right to your politics! But because you're also a public figure, you're going to have to be a little bit cautious. If you'd like to post political articles on your personal social media accounts, it behooves you to be thoughtful, and it might be wise to post a disclaimer that those opinions are solely yours and not the church' You might also choose to set up privacy filters so that your congregants don't see the political stuff, but remember that social media sites change and human error happens – so never post anything you would be ashamed for your congregation to see. If you maintain your church's social media accounts, always double- and triple-check that you're posting on your own page, not your church's. If you're going to volunteer for a political campaign, let your personnel committee know that you're doing so, that it's on your own time, and be ready to clearly account for how you set those boundaries. Make sure that you're ready to withstand potential blowback from congregants who have a hard time seeing you take a partisan position, even "on your own time."
Pastoral leadership in the election cycle: Your hardest job in the coming months, Political Pastor, will be leading your congregation in being a people of reconciliation in a nation of division. You don't have to be neutral, and neither do your congregants, but you do have to be Christian. In the midst of a heavily polarized country, with hateful and vitriolic rhetoric flying, your job is to help your community model a different way – and that is not an easy task at all. So take a look at these wise words from Elizabeth Grasham about being Christian in the election cycle, and start a dialogue with your leadership about how your community can be respectful and loving across your political difference. Perhaps you could consider preaching or teaching not about politics itself, but about how we as Christians live faithfully in this election season. Maybe your church would even consider holding an "Election Day Communion" service, bearing witness to the unity of the church.
In the midst of a divided nation and an anxious church, Political Pastor, I hope you're able to be a peaceful and reconciling presence, helping your congregation to faithfully bear witness to a God who calls us to do justice and make peace.
Blessings,
Askie
---
Image by:
nodigio
Used with
permission
https://media.myworshiptimes31.com/wp-content/uploads/sites/3/2016/05/29165958/14366570020_9b8636f873_z.jpg
375
500
Askie
https://youngclergywomen.org/wp-content/uploads/sites/3/2017/05/YCWILogo_Vert_Black-300x229.png
Askie
2016-05-03 04:00:07
2018-11-13 11:36:22
Ask a Young Clergy Woman: Politics in the Pulpit Edition