---
Post Author: Kate Smanik Moyes
---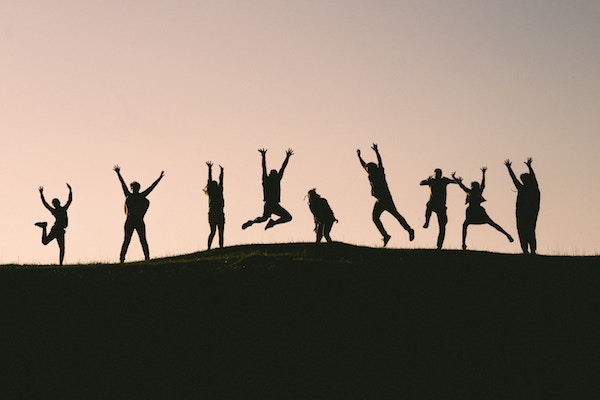 As the chaplain to a small women's college my misperceptions of my own body rise to the surface on a regular basis. My day-to-day actions set an example for the women around me. The amount of rest I get, my fitness level, my stress level, and my eating habits are of as much interest to the students as my theological knowledge or spiritual well being. We often imagine that the minds of small children are like little sponges, absorbing everything around them, and assume that by college age this formation is done. But college students are much the same, soaking up the adult world around them, trying on identities to determine which ones might fit. I know that just as they try on the personas of the other students, they will also try on my identity to see if it mirrors what they would like to be themselves. I would hate to find out that my body issues reinforced or supported the same self-loathing behavior in anyone else.
You see, that's just the problem. These ideas about my body didn't just arise out of thin air. They are part and parcel of the persona I tried on and then accepted for myself. The media, conversations with family, and interactions friends all reinforce these ideals. I watch the women and men who are made over by "What Not To Wear," analyze the characters on "LA Ink," and laugh at the strange perfectionism of the women who grace the screen in episodes of "Dr. 90210."
In conversations with my family we talk about what we are eating, our size, our weight, and inevitably how we aren't pleased with any of it. For years I have struggled to find a mental space where I would love my body no matter what size it may be. I purchase clothes that are flattering, diet, or exercise only to be briefly pleased with the results. I find that I return to the same place of self loathing in short order, regardless of what I do. Not that long ago I purchased People magazine just to read an article about Jennifer Love Hewitt's response to appalling tabloid photos displaying her minimal cellulite so that I would have a visual reminder that we are all beautifully, perfectly, imperfect.
Now, I realize that these images and conversations might not affect others the way that they affect me. I still think that those diet advertisements and skinny little fourteen year old models dictating what a grown woman (or man) should look like seep into our unconscious. When I look in the mirror, I don't first consider God's spectacular creation. I look for what might be considered a physical flaw when held up against impossible standards, and my inner battle continues.
I don't really believe that I will ever be completely free of this struggle with my body image, but I am always looking for a little divine inspiration to keep me focused on the important stuff, this embodied faith that tells me that God's gifts are great and the body that carries me from place to place is a talented
wonderful vessel.
Over the past few months examples of women who love their bodies, like the article about Ms. Love Hewitt in People Magazine, have brought some wonderful perspective to my life. These pieces of grace have continued to encourage me to love what I have been given. I am pleased to now share them with you.
So, one of my resolutions for 2008 is this: for the sake of my students, my family, and myself, I am throwing out the magazines that tell me that I should edit, alter, undo, and perfect my body. I am making a resolution to ignore the messages which tell me that what I have isn't good enough. Because, friends, my body isn't just okay. I'm darn cute, and I'll be just as cute when I'm eighty! I will feed myself that which nourishes my body, I will exercise to strengthen this gift, and I will continue on this journey of loving myself the way I love others.
---
Kate Smanik Moyes is an ordained minister in the Presbyterian Church (USA). She serves as a college chaplain in Pennsylvania where she is thrilled to have the coolest job in the world. Who wouldn't want to get paid to encourage and support delightful, intelligent, capable, engaged, strong young women every single day?
---
Image by:
Val Vesa
Used with
permission
https://media.myworshiptimes31.com/wp-content/uploads/sites/3/2008/01/29165027/bodies-val-vesa-hggb-jan-2008.jpg
400
600
Kate Smanik Moyes
https://youngclergywomen.org/wp-content/uploads/sites/3/2017/05/YCWILogo_Vert_Black-300x229.png
Kate Smanik Moyes
2008-01-28 23:59:00
2019-08-21 20:29:10
Body Beautiful