---
Post Author: Elsa A. Peters
This article is one in an occasional series called "All About the Benjamins," running this fall on Fidelia's Sisters. As many congregations and organizations are running stewardship campaigns and lining up budgets for 2012, we'll be taking a look at the sometimes-taboo topic of money, and the role it plays in our ministries. 
---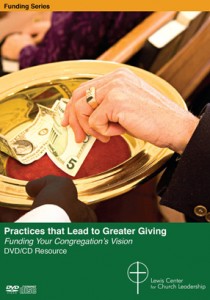 It happens. I don't want to make excuses about it – but you know that it's happened to you too. You go to a continuing education event, you take superb notes, you nod in vigorous affirmation, you wonder why you couldn't bring the biggest nay-sayer in your ministry to sit in the corner.  And then you get home. You have to wade through all of that email, return all of those phone calls and prepare for the funeral of the beloved church member who died while you were away. There is no way that you were going to recapture that energy. Not this week. All those great resources gather dust.
Well, that's essentially what happened to me this summer after returning from my first gathering with the Lewis Fellows, an opportunity for young clergy to excel as leaders through shared learning, offered through the Lewis Center for Church Leadership at Wesley Theological Seminary. Well, it was something like that. There was another aspect to my story. It was July. Oh, and I'm an Associate Pastor, with no official relationship to the Finance Committee. So, while I was away learning about stewardship, the Senior Pastor was already planning the program with our committee. I missed the boat… this year. The outcome is still the same. These resources collected dust until the editor of this column nudged me. I am unearthing my notes, because in this day and age, in which congregations dare to seek financial stability in an unstable world, their risks must be rewarded, and their challenges met.  Churches talking money need excellent resources.
The Rev. Lovett Weems, director of The Lewis Center, begins this conversation, about talking about talking about money, by asking: How do you prepare people to be good stewards? Admittedly, it's a question I'm afraid to ask of myself, let alone the church I serve – but the Rev. Weems is right. Stewardship is a lifestyle. It's an orientation. It's a way of seeing the world. It's not something that just happens in the fall, as naturally and thoughtlessly as the leaves change color. His first pearl of wisdom (which had honestly never occurred to me) was simply: Expand the stewardship campaign throughout the year. In doing so, there is still the fall campaign that we all know well but the education about what it means to be a steward never ends. It becomes a 12-month calendar where faith grows through our practice together. This wisdom comes with a resource entitled Practices that Lead Toward Greater Giving which can be purchased online for $60.00 including a CD and a DVD. I loved the hints for improving thank you notes and worship moments.
Far too many of us know the experience of sitting behind the pulpit, inwardly groaning as a stewardship testimonial veers off into abstraction, inaccurate recitation of numbers, guilt-tripping, fear-mongering, or homespun (read: internet-generated) "heartwarming" anecdote.  In light of that, I really appreciated the nudge to create a policy in which certain words will be blacklisted, forbidden and excised from the vocabulary of Stewardship speakers in worship. Brilliant.
Of course, for all their wit and wisdom, these tools are not an the instant solution to the problem of discussing and raising money in the church.  Creating a good 12-month campaign requires more than simply buying a book, even a book that comes with a DVD and a companion CD. It's not magic. However, I can imagine sharing the various Powerpoint presentations to get the committee brainstorming, or making use of the free resource, entitled 50 Ways to Encourage Faithful Giving.
The challenge in contemporary stewardship, as the Rev. Weems reminded us, is shifting the focus from paying the bills to serving God's vision. On the paying the bills end, we talk about what we need. We talk about obligation. We don't ask very much of any of our members. On the other end, where we imagine God's vision, we speak the language of faith. We get excited. We practice in this spiritual expression. That's hard to do when our members don't tend to know what they think about money. I've seen a lot of new and popular resources that try to ask this question in different and engaging ways. At the Lewis Center for Church Leadership, it was just a newsletter article entitled Your Money Autobiography supplemented by some questions for individuals to consider. (Yes, those are free.)  You might also want to sign up for this newsletter which you can do on the homepage: http://www.churchleadership.com/.
I recognize that there are other great resources out there – and still even more that the Lewis Center for Church Leadership makes available. I can only hope that I remember to carefully file them away so that they can be found again when the congregation is ready to talk about stewardship all year long. Until then, we'll have to talk among ourselves. Please share in the comments the best resources you've found in encouraging conversation with your congregation.
---
Elsa A. Peters is an ordained minister in the United Church of Christ. She received no royalties for the promotion of the Lewis Center for Church Leadership but would gladly include those gifts in her pledge if she had.
---
Image by:
Lewis Center for Church Leadership
Used with
permission
https://youngclergywomen.org/wp-content/uploads/sites/3/2017/05/YCWILogo_Vert_Black-300x229.png
0
0
Elsa A. Peters
https://youngclergywomen.org/wp-content/uploads/sites/3/2017/05/YCWILogo_Vert_Black-300x229.png
Elsa A. Peters
2011-10-04 04:00:00
2018-11-13 11:48:47
Changing the Conversation: Resources for Talking Money