---
Post Author: Allison Unroe
---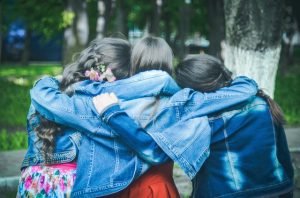 I was driving a golf cart through the woods at camp when I came upon three girls sitting on a bench with their counselor. I hadn't heard them at first because of the noise of the golf cart, but as I parked it was clear: the girls were wailing. Loud, grievous, gasping, sobbing, wailing. Camp is a place entirely devoted to these children's safety, fun, and happiness, so I couldn't imagine what had provoked this noise. The wailing was so over-the-top I was more inclined to laugh than to be concerned. What on earth could be this bad?
I asked the counselor just that. She whispered back, "They're homesick."
I would have burst out laughing if it wasn't so inappropriate. I couldn't keep the smile off my face as I said, "You're kidding."
"I'm not," she said, first smiling, then stifling her own laughter, "I wish I was."
So I knelt down in front of the girls, still huddled together—still wailing, still gasping—almost as if they are one organism tied together in the unity of despair. I started with the very pastoral, "What's up?"
I knew they were trying to form words, but the words were not even remotely intelligible.  So I try again, "Girls, I want to help you, but we can't have a conversation until you can talk, so try breathing for me." Surprisingly this works. "That's good," I say, "long, deep breaths.  Now, do you think you can tell me what's going on?"
Eventually, they manage to breathe long enough to tell me they were homesick. They demand to go home, and it starts to feel a bit like a hostage negotiation. It is nine o'clock, too late for them to go home tonight. If we can get them into bed, I'd bet anything they'll wake up tomorrow just fine. So I keep them talking.
They tell me they're the best of friends and they always come to camp together. They tell me that tonight they're supposed to go on a camping trip in the woods, to eat s'mores and sleep in hammocks under the stars. I latch on to this, trying to distract them from homesickness. I ask them where they are camping, and a whimpering child with a tear-streaked face mumbles, "Everything is fine for us."
I'm a little taken aback. They've barely stopped hyperventilating, and now they're dismissing my help? I try again.
"Where are y'all camping tonight?"
"Everything is fine for us," another one whimpers.
My mind is swirling. What is happening? This doesn't make any sense. So I look at their counselor and ask again. And she replies, "Everything is fine for us."
Everything is clearly not fine! Two minutes ago these kids were wailing. Did someone redefine "fine" without telling me?
Finally, I hear one of the campers say the same phrase, a little bit differently. This time she said, "Everything is fine forest." Not "for us." For. Est. Forest. Everything is fine FOREST.
"Oooooooh," I say, as the cartoon light bulb illumines over my head. "You're saying, 'Everything Is Fine Forest.' That's the name of your campsite. That's where you're camping tonight."
They all look at me like they do not see the cartoon light bulb. They stare for just a brief moment, then one of them says, "Yes." Then she spells it out for me one syllable at a time. "Ev-er-y-thing. Is. Fine. For-est."
I crack up laughing, as my audience stares in disbelief. Finally I manage to say, "I thought you were saying, 'Everything is fine for us.' And I thought, "Clearly it isn't.'"  As they finally grasp my confusion, they all start to laugh, too.
Still laughing, I seize the moment to tell them that it's too late to go home tonight, but we talk about how important it is to have friends in life and how glad I am that they are so close. That gets all three of them talking at once about why they love each other and the experiences they've had together. I listen, then ask them if it ever happens that one of them is scared and the others have to help her. They say yes, that happens all the time.
"This is just like that," I say. "You're on an adventure with the your two dearest friends and they need you. Sometimes when we can't be strong for ourselves we can be strong for other people. Do you think you can do that tonight? Do you think you can be strong for each other?"
They say they think they can. They wipe their faces, then head off into the woods as the last remnants of twilight fade.
Finally, I'm left standing beside my golf cart alone in the woods at dark, smiling and thanking God for the opportunity to laugh in the midst of perceived crisis. I think about my own two dearest friends in all the world.
We're two decades older than these girls, but we've often wept side by side. We've tackled homesickness and heartsickness and physical sickness and grief and loss and discouragement and anger and lament. They've been strong for me so many times, and I try to be strong for them, too, when they need me. We've gotten really good at sitting with each other through the dark nights, and we've seen a decade of new dawns together. I couldn't be more grateful.
I don't have a spouse. I don't have in-laws or children or a Mommy-and-Me group set up ready to offer support and community. No one hugs me when I come home at night. No one holds my hand when I am scared or rubs my shoulders when they're sore. Hell, there are dresses I've given away because I don't have anyone to zip them.
But I do have people. People who will show up every single time, physically or emotionally. People I trust. People who know that if anything happens to my mom, they need to come, because I can't face that by myself. People who sent me care packages when I had my tonsils out and flowers when my dog died. People who pray for me when I hit a rough patch at church. People who go on vacation with me every year. People who love me with the kind of love that walks through hell and back.
This summer at a conference, one of my dearest friends got lost on public transportation between the airport and our lodging. I was in my room in our suite when I heard her come in, so I went into the hallway to greet her. When she heard my voice she dropped her bag, whirled around, threw her arms around me and proclaimed, "Oh thank God!"
I don't know what she was thinking or feeling, but the words she spoke echoed what I think whenever my people show up. Oh thank God I'm not doing life alone. Oh thank God that when everything is not fine I have people to remind me that it one day will be again—that more often than not everything really is fine for us.
The campers didn't mention homesickness again for the rest of the week. I hope that's because they were too busy going on adventures together, laughing and dancing and praying and loving each other. I hope it's because they were learning that home can be wherever your people are.
---
Allison Unroe was born and raised in Richmond, VA. After college she served as a Young Adult Volunteer in Miami, FL, before earning her MDiv from Union Presbyterian Seminary. She now serves Fairlawn Presbyterian Church in the beautiful Blue Ridge Mountains. Allison is a determined gardener, a doting aunt, and an unapologetic dog mom.
---
Image by:
marusya21111999
Used with
permission
https://media.myworshiptimes31.com/wp-content/uploads/sites/3/2016/10/29165903/friends-775356_640.jpg
423
640
Allison Unroe
https://youngclergywomen.org/wp-content/uploads/sites/3/2017/05/YCWILogo_Vert_Black-300x229.png
Allison Unroe
2016-11-01 04:00:31
2018-11-13 11:35:14
Everything Is Fine