In Praise of the Ambush Wedding
---
Post Author: Lee Ann Pomrenke
---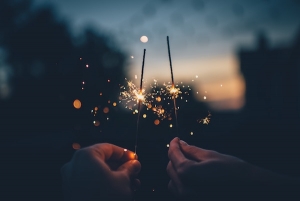 In my experience, one ambush wedding begets another, as well it should. Once engaged couples see evidence of a "third way," between eloping and a full-blown wedding and reception, the appeal is contagious!
What is an ambush wedding, exactly? First, the two people getting married must both be in on the surprise. I do not condone ambushing any member of the wedding party! But everyone else, including parents of the happy couple, are fair game for an ambush or surprise wedding. 
Scenario #1: My neighbors, a middle-aged couple with grown kids, approached me with this idea: They wanted to rent one of those big river paddleboats for a couple of hours, and get married. He would tell their friends and neighbors they had won an afternoon on the riverboat as a prize, and invite them to come cruise the Mississippi, to watch him propose to her. Their guests would think they were in on a surprise, but then they would be ambushed!
The couple installed a Go Pro video camera above the part of the boat deck where we would stand for the short ceremony, and they had a cellist on hand for some mood music. The groom gathered everyone's attention, then said something like, "I brought you all here today to witness a proposal to my beloved. But she told me she doesn't want to get engaged; she wants to get married!" I stepped forward, donned the stole I had stuffed in my bag, and started the short ceremony. Afterward, the bar was open and we enjoyed the refreshments and scenery, while the still-astonished guests said over and over, even to the bride herself: "We thought you were going to be surprised, but then you surprised us!"
Scenario #2: When a dear friend of mine saw the Facebook photos and video of this ambush wedding, she inquired surreptitiously about how she and her beloved might have me officiate one for them. Since these two are both small plane pilots, the unique venue would be at the small municipal airport they and their pilot friends use. Again, witnessing an engagement seemed like a useful ruse, so that is how they got their local friends and a couple relatives into place. But when the bride and groom walked out of the room (from which they had been observing their friends arrive) hand-in-hand, people knew something was up. I arrived with my little family in tow, and we had the ceremony by the back door, looking out at some of the planes. Afterward we all went to a French restaurant for dinner (the bride is also a French teacher). The simplicity and casual nature of this ambush fit the couple and their people perfectly. They threw a "We already got married!" picnic two months later for students and a broader swath of friends.
I asked both couples for input, and here's what we concluded are the best parts of an ambush wedding:
There is no noticeable absence of significant family members in a formal wedding photo, just a collection of surprised guests. In the first case, the couples' adult children lived at a distance and one had recently started a new job from which they wouldn't be able to get time off. In the other, a sister with small children and a farm might find it really challenging to get there. No one needed to go to great expense or trouble to fly in, or feel guilty about not being able to do so.
It is fun to plan! Even those who delight in details can get burnt out planning a non-ambush wedding, especially with an onslaught of opinions from interested parties outside the couple. An ambush has the delight of planning a great surprise, of being true to yourselves and creating a memory no one will compare to any other wedding.
Ambushes seriously limit unnecessary attention and gifts. Sometimes just the thought of a hundred people staring at your fancy hair, makeup or clothes is enough to turn an introvert toward elopement. Others really want to break the conspicuous, wasteful consumption of expected wedding gifts to adults who have all of their worldly needs and desires met. The ambush wedding solves both dilemmas admirably, because guests do not know they are coming to a wedding.
Finally, this may not top the list of reasons for the engaged couple to choose an ambush wedding, but: It is delightful for the officiant! With only two interested parties to manage, any "rehearsal" is a breeze, and of any of the myriad of things that could go wrong at a wedding, all anyone will remember about an ambush wedding is the gleeful surprise!
---
Lee Ann M. Pomrenke is an ELCA pastor, writer and mother in St. Paul, Minnesota. She would like to declare her availability to officiate more ambush weddings, especially in tropical locations.
---
Image by:
Ian Schneider
Used with
permission
https://media.myworshiptimes31.com/wp-content/uploads/sites/3/2018/07/29165415/sparklers-ian-schneider-sm.jpeg
401
600
Lee Ann Pomrenke
https://youngclergywomen.org/wp-content/uploads/sites/3/2017/05/YCWILogo_Vert_Black-300x229.png
Lee Ann Pomrenke
2018-07-17 04:00:24
2019-08-15 14:14:59
In Praise of the Ambush Wedding