---
Post Author: Claire Dietrich Ranna
---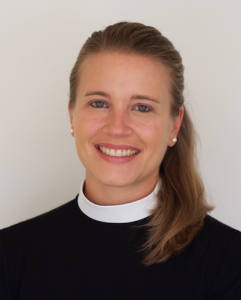 Not long ago, in conversation with a clergywoman I'd recently met, I mentioned that my husband is Muslim. "Cool," she said, adding shyly, "Is that hard?" I laughed. "It sure is; but only because marriage is always hard. We're not special."
When Haamid and I started dating, it rarely occurred to me that being an interreligious couple might be an issue for other Christians. I grew up in a progressive Episcopal Church and a liberal town. My stepfather and stepsiblings are all Jewish, so I'd seen in my own family that love could not only transcend religious difference but be enriched by it. My brother married an African-American Buddhist; my sister, a Roman Catholic of Mexican heritage; and my oldest brother and his wife, a French national, are both atheists. (We joke that family holidays are like gatherings of the United Nations.) The San Francisco parish that sponsored my ordination, an overwhelmingly LGBTQ congregation deeply committed to social justice, had an expansive understanding of Jesus' command to love our neighbors as ourselves. Also, did I mention that Haamid is kind of a great guy? No one in my Diocese or family hesitated to give us their blessing.
This is not to say that we had our heads in the sand. Haamid emigrated from Pakistan in the mid-90s. When he first landed in a Midwestern college town, he encountered both racial and religious discrimination. Unfamiliar with common bathrooms, he was frequently pranked when trying to shower alone or clean himself after using the toilet. It pains me to hear stories about that time. He sought refuge and greater opportunity in large cities, first on the East Coast and then the West. But as he built his home here, eventually becoming a citizen, he became keenly aware of white, Christian privilege.
I grew up in Shaker Heights, Ohio, a city with a long history of combating systemic racism, but I had not encountered much religious diversity as a child. I was a senior in High School when the twin towers fell. Though that probably wasn't the first day I'd heard the word "Islam," it was the first time I remember. (On the other side of the country, Haamid was among countless Muslims legally living and working in the United States who suddenly had to be fingerprinted every year.) I went on to study Islam and Arabic in college, discovering a rich history and a beautiful faith, just as my country was declaring war on Iraq. This education sensitized me to the Islamophobia rampant in our media and wider culture.
Nevertheless, Haamid and I mostly enjoyed a cushion from overt forms of anti-Muslim ignorance and aggression. I think of this as geographic privilege. We lived in the Bay Area, one of the most diverse and socially progressive parts of the country. Though racism and religious persecution certainly exist here – I don't want to contribute to a narrative that erases those experiences – there's generally a high level of acceptance of interracial, interreligious couples.
Things changed when we moved to Connecticut so that I could begin seminary. New England was different. The Episcopal Church there was different. And, for the first time since college, I was regularly interacting with conservative Christians. I realized that I would need to find ways to articulate the grace of God made known to me through my relationship with Haamid and how this is consistent with Christian tradition.
Although I was joking with my new friend when she asked if being married to a Muslim is hard, there was truth in my response. Building a life with another human being, willingly entering into the covenantal intimacy and vulnerability of marriage, is a daunting vocation no matter what your religious background. Haamid and I have found that it is really important for us to be clear about the values and beliefs we share. We have faith in a loving and merciful creator: a God who has given us sacred scriptures and inspired prophets throughout the ages. Islam understands the Hebrew Scriptures and New Testament to be inspired texts and reveres Jesus as a prophet who will come again at the end of the age. The Muslim pillars of faith (declaration, prayer, fasting, pilgrimage, and generosity) all have parallels in Christian practice. But it is also really important for us to be clear about where our traditions differ. I believe Jesus is the Son of God. I believe in the Trinity. I believe Jesus was resurrected from the dead. Haamid does not. Haamid believes Muhammad was a prophet and that the Quran supersedes the Bible. I do not.
Here's the thing, though: we aren't trying to find a middle way between Islam and Christianity. Our marriage is not built on compromising who we are. Rather, we try daily, imperfectly but sincerely, to love one another in and through the wholeness of who God created us each to be. We have enough in common to feel known and understood. We differ enough to keep surprising each other. And through it all we have learned to play together and pray together, to give our money and gifts away in faith, and to encourage one another's spiritual growth.
Over the years, being with Haamid has given me a different lens on my own culture. When we flew home from Europe and he was detained at customs, then a green-card holder, I had a chance to sit in an uncomfortably hot little room for two hours for absolutely no reason, an inconvenience I'd never encountered with my blond hair, white skin, and American passport. This also gave me a chance to see an American immigration official verbally accost and physically intimidate an elderly Indian couple. As best we could tell, their crime was not speaking fluent English. I worry every time Haamid travels. This has only gotten worse since the Muslim travel ban went into effect. And of course I wonder what racism our two children might face because of their beautiful brown skin and English/Arabic names; what prejudice they may encounter, every bit as Pakistani as they are American, as Muslim as they are Christian.
I am a priest. I love Jesus and the Church. I do not believe that I am called to represent Islam to the world. But I do believe my priestly ministry involves calling out hatred and oppression at every turn. I believe my priestly ministry involves following Jesus, who didn't have any problem sharing life with people who disagreed with him; who befriended sinners, tax collectors, and women; who broke the Sabbath; and who, over and over again, made Samaritans – the rival religious group of his day – heroes in his parables, even evangelists for his way of life.
With anti-Islamic rhetoric and acts of violence on the rise, much of it spread by Christian leaders and blessed by the silence of others, my priestly ministry involves speaking up and speaking out about how un-Christian Islamophobia is. It involves creating opportunities for those I serve to better know and love their Muslim neighbors. Perhaps most importantly, this manifests in my prayers for the whole human family, bearing in our tremendous and terrific diversity the image of God for one another, if only we have eyes to see.
---
Claire Dietrich Ranna serves as Rector of Christ Episcopal Church in Los Altos, CA. Before pursuing theological education, she co-wrote and co-produced the award-winning documentary film Miss Representation. She is currently a guest contributor to onbeing.org. Claire lives in the Bay Area with her husband, Haamid, and their two young children.
---
Image by:
Claire Dietrich Ranna
Used with
permission
https://media.myworshiptimes31.com/wp-content/uploads/sites/3/2017/08/29165655/claire-ranna-just-race-aug-2017-featured.png
200
300
Claire Dietrich Ranna
https://youngclergywomen.org/wp-content/uploads/sites/3/2017/05/YCWILogo_Vert_Black-300x229.png
Claire Dietrich Ranna
2017-08-03 10:33:10
2018-11-13 11:33:49
Loving Across Difference, Living Without Fear