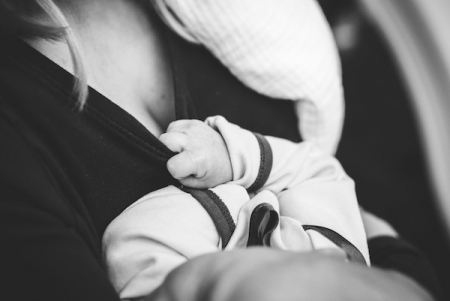 When my husband and I signed up for our labor and delivery classes at Meriter Hospital, I looked forward to these sessions with both excitement and trepidation. It was unfortunate that we missed the last class, which was on breastfeeding. I never really thought it would be a big deal. After all, my mother never had any problems, and I knew women had been doing this for ages. The thought of taking a class on a "natural" biological event seemed a bit strange.
When my infant son was born with a full head of hair and a round little face, the nurses plopped him on my breast as I was lying prone recovering from surgery. I didn't know anything about latching him on, nor did he. He lay on top of me like a little papoose snuggling into me for warmth. As we waited and waited for my milk to come in Elias, my little baby, started to lose weight. In the meantime, I felt so helpless and was helpless to the helpless.
I was amazed that this tiny creature had to be taught how to eat, how to breastfeed. I thought of our Lord as an infant getting his own clenched fists in the way of his mouth and of his source of life. Who could imagine that the King of the Universe would have struggled like Elias did to learn his source of sustenance and succor? While Elias had his own struggles, his mother wondered about her ability to mother, especially without the powerful gift of strong feminine milk. The milk finally came in, but soon we were to learn that the mother/son pair just couldn'€™t find a great symbiotic rhythm.
After a couple of weeks of lots of trial and error, it was discovered that I did not produce enough milk to keep my son going. It was no wonder we started to pray the hours more than even a monastic community.  You see, every time Elias needed to eat we would set ourselves up in the breastfeeding chair. During those moments of desolation, that place became a place of prayer. A simple, "Please, Lord, help him get enough" was enough to keep the prayers going to God. Once I was put on medication to produce more breastmilk, my prayers changed in nature. Read more
https://media.myworshiptimes31.com/wp-content/uploads/sites/3/2008/01/29165028/breastfeeding-jordan-whitt-moms-ministry-jan-2008.jpg
401
600
Melissa Wilcox
https://youngclergywomen.org/wp-content/uploads/sites/3/2017/05/YCWILogo_Vert_Black-300x229.png
Melissa Wilcox
2008-01-24 03:21:00
2019-08-21 20:10:25
Breastfeeding as Spiritual Practice