---
Post Author: TYCWP
---
Each year TYCWP welcomes a new class of fabulous, classy, wonderful women to join in the leadership of the project as Board Members. Board Members generally come in to serve a three-year term, and some women stay for a second, three-year term after their initial tour of duty. Starting this summer, TYCWP will look a bit different. Rather than dividing into two boards (Editorial and Community), we will instead be serving as one, cohesive board. We are looking forward to the ways our new organizational structure will help us grow as a project.
We are so thankful for the class of women who have served TYCWP faithfully and will roll off the board this year: April Berends, Christine Davies, Jessica Harren, and Mihee Kim-Kort. Their gifts and skills have been a blessing to each one of us in this project.
We are also thankful for each member of the board who will be returning for another year of service: Amy Loving, Brenda Lovick, Caroline Berardi, Diana Carroll, Diana Hodges-Batzka, Emily Brown, Erica Schemper, Jamie Haskins, Julie Jensen, Kelly Boubel Shriver, Kelsey Grissom, Lesley Ratcliff, Meg Jenista, Molly James, Phyl Stuzman, and Sarah Moore.
You can find out more about all of our off-going and current board members on our website.
And without further ado, please meet our newest board members! Welcome!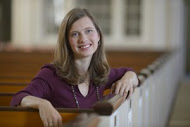 Austin Shelley: A native of South Carolina and a graduate of Columbia College, Austin Shelley received her Master of Divinity and Master of Theology degrees from Princeton Theological Seminary. She was ordained in the Presbyterian Church (USA) in October 2012. Before attending seminary, Austin taught art, Spanish, and Latin and was the director of the Academically Gifted Program at Chapin Middle School in South Carolina. She then served as Director of Youth Ministries at Lake Murray Presbyterian Church. While in seminary, she completed her field education at Trinity Episcopal Church where she fell in love with high church liturgy. She now serves as the Associate Minister for Christian Education at The Presbyterian Church of Chestnut Hill in Philadelphia. Austin is married to Mark who teaches European history and makes the perfect sweet tea. Together they parent three mostly wonderful children and eat Fruit Loops for dessert after the kids are in bed.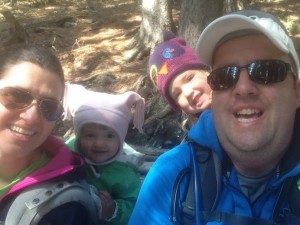 Erin Klassen: Erin has been ordained in the United Church of Canada for 9 years and has served in team ministry in both rural and urban contexts. She received her M.Div. from what was then known as Queens Theological College (now Queens School of Religion). She is especially passionate about faith formation. Camping ministry kept her involved in the church and youth ministry leadership is where she first heard her call. Prior to entering the ministry, Erin studied and worked in the environmental sciences field.
Having been born and raised in Saskatchewan, she is a lifelong Roughrider (Canadian Football League) fan. Erin currently lives in Calgary, Alberta with her husband, two young daughters, and dog, MacGyver. They are all Rider fans too. Erin and her family love hiking and biking in the mountains. She is currently trying her hand at herding cats/coaching U4 soccer. Erin is an INFP and an expressive introvert according to Myers-Briggs, and a Four on the Enneagram.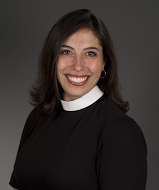 Julie Hoplamazian: The Reverend Julie M. Hoplamazian, a Philadelphia native, is the Associate Rector of Grace Church Brooklyn Heights (Episcopal). Julie moved from the cheesesteak to the cheesecake in 2006 and is proud to call both the City of Brotherly Love and the Big Apple "home." Julie holds a B.S. in Music Education from Gettysburg College and spent several years teaching classroom music, private piano, and voice before attending Princeton Theological Seminary, where she received her M.Div. Before joining the Episcopal Church, Julie served in her church of origin, the Armenian Orthodox Church, as the Coordinator of College Ministry. In her spare time, Julie enjoys keeping up her creative side, practicing her pliés in the ballet studio and her scales at the piano, or trying new recipes in the kitchen with her husband, Jeremy. Julie and Jeremy are animal lovers and enjoy the company of their sidekick Takouhi ("queen" in Armenian), a rescued Australian Shepherd mutt.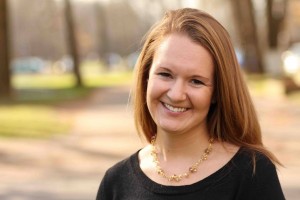 Kennen Barber Ensz: Kennen Barber-Ensz hails from a small farming community in rural South Dakota. She attended Princeton Theological Seminary and was ordained in the PC(USA) as a teaching elder in 2012. She is currently serving in her first call as co-pastor alongside her husband at First Presbyterian Church of Estherville, IA. In her spare time, Kennen enjoys spending time with her two dogs, Ophelia (a chihuahua/dachshund) and Ruby (a cocker spaniel). She enjoys cycling and running outdoors in the summer, or yoga and Pilates indoors in the winter. She also enjoys reading and long, hot baths (reading and baths together are the best!). Her favorite parts of pastoral ministry include creating unique worship experiences and pastoral care. She is excited at the prospect of "being" the church in new and perhaps unconventional ways. Her greatest challenges of ministry include worrying about what other people think and not having enough time to get everything done.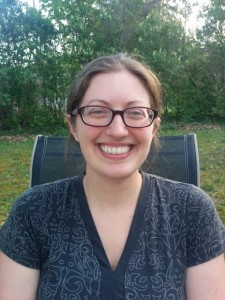 Sarah Hooker: Sarah is pastor at First Presbyterian Church in Delhi, NY, a cozy farming community in the Catskill Mountains. She earned a BA from Macalester College and a MDiv from Columbia Theological Seminary. Her passions in ministry are pastoral care, mission, and being involved in the greater church. Sarah and her husband Chris keep busy with their ever-inquisitive son, enjoying traveling, hiking, and biking, throwing stones in the many local creeks, and cooking together.
---
https://media.myworshiptimes31.com/wp-content/uploads/sites/3/2016/06/29165942/tycwp-logo-small.jpg
400
600
TYCWP
https://youngclergywomen.org/wp-content/uploads/sites/3/2017/05/YCWILogo_Vert_Black-300x229.png
TYCWP
2015-06-30 04:00:22
2018-11-13 11:38:34
Meet the New TYCWP Board Members