---
Post Author: Julie Jensen
---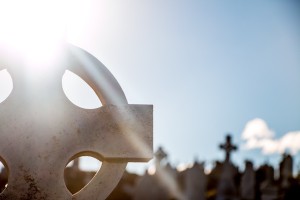 I met Rob Pecht, owner of Bordentown Home for Funerals, in a hearse. At least that's how I remember it. Our first conversation on a long drive to a cemetery centered around my being relatively new to the area and our mutual love of the HBO show Six Feet Under. I vaguely remembering asking him, "Is it really like that?" We have been friends ever since. I have celebrated with him and his wife the birth of their children, and I've even attended birthday parties in the funeral home, which is much cooler than it sounds. Rob is more than a friend, though; he is also a cherished colleague. Through Rob, I learned a lot about what happens behind the scenes for a funeral to come together. I recognized that a funeral director's calling is similar to ours – always on duty, always connected to a phone. They too have to leave family dinners and plan the long weekend trips around needing to be back for a service. He understood the life of a pastor, and I understood his life as a funeral director.
In my line of work, I have participated in more funerals than I can count. Many were for congregation members, but many were for people I never met whose families wanted a pastor to be with them as they said their last goodbye. While I learned about pastoral care and how to "do" a funeral in seminary, it was not until I was out in the church that the pieces came together. Rob helped show me how the theoretical conversations and book learning apply to the way I approach families and congregations when death occurs.
Rob treated each person he encountered as important. He worked just as hard to serve a family who had no problem paying for a funeral as he did to serve a family who might not be able to pay the final bill. Just as we in the church place the pall on the casket to signify the equality of us all before God, Rob did the same from the moment he picked up the deceased. Each person was offered the same care regardless of the number of mourners or how fancy the casket. He was just as attentive to the family he had never met as he was to the family he knew well. Many of the funerals I did at his funeral home were for people who wanted a pastor and did not have a church. There was no judgment, no asking why they wanted someone to speak to them of God in this time. Instead, he called me or another pastor to provide the words of the hope of the Gospel for those who wanted to hear them. Rob also taught me that death and the funeral experience may have routine and ritual, but it does not need to be clichéd. The music played during calling hours was not old hymns played on the organ, bur rather Enya and other instrumental selections that offered comfort without the stereotypical "funeral parlor" feel.
Every December, I am reminded of the Blue Christmas Service we offered while I pastored in Rob's town. It was an antidote to the service offered by another funeral home in town, marked by a reading of the necrology of the funeral home for the year. There was little offered in the way of healing or opportunities to address ongoing grief. Rob saw that the community needed more, and we worked together to create a service that offered a place for deep grieving, remembrance, and ways to move forward out of that grief. I invited him to preach, and listening to his words, I learned more about managing grief than I realized. We "team preached" some of those services; I offered the religious perspective, and Rob talked about tangential ways to say goodbye and hold memories close. His advice to write a letter to the person who died telling her or him what she or he meant to you is still a technique I offer to families who are struggling today when they did not get to say goodbye.
Rob also showed me how pastoring a community and being part of that community are inextricably linked. There was not an event in town that he did not participate in or support. Rob and his wife Stephanie worked for the Historical Society, cooked for the Elks fundraising dinners, worked on Memorial and Veteran's Day celebrations, and loaned us chairs for the Strawberry Festival – all while actively serving their own church. Some of that is part of being a small business owner in a community, but there was something more. I saw the joy and pride that can come from being invested in the place you live and serve, be it as Pastor or Funeral Home Director.
I am a better pastor for having worked with Rob. I still miss our random conversations that we had in the car driving to the cemetery or at his conference room table while we planned a service or an event. I still think about the process of grief and how we go from the darkness of December to the light of Easter when I work on a Longest Night service.  I am thankful for the way he lives out the Gospel by caring for others, which to me is an embodiment of the Heidelberg Catechism: "In life and in death we belong to God."
---
Julie Jensen is ordained as a Teaching Elder (Minister) in the Presbyterian Church (USA). She serves on the Community Life Work Group for the Board of TYCWP, and also as registrar for TYWP. She currently lives in Cartersville, GA and is between calls.
---
Image by:
Rubberball Productions
Used with
permission
https://media.myworshiptimes31.com/wp-content/uploads/sites/3/2016/03/29170007/cross-in-graveyard-small.jpeg
400
600
Julie Jensen
https://youngclergywomen.org/wp-content/uploads/sites/3/2017/05/YCWILogo_Vert_Black-300x229.png
Julie Jensen
2016-03-22 04:00:23
2018-11-13 11:36:22
My Friend, the Mortician