---
Post Author: Katie Yahns
---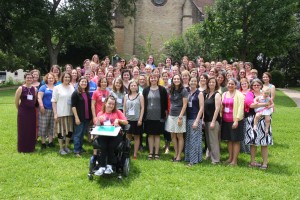 Is it possible to have too much swag?  More than half of my travel coffee mugs (and two out of my three plastic tumblers) have The Young Clergy Women Project logo on them.  I have a little stash of boutique lip balms from Nashville, Minnesota, and Austin, all patiently waiting for me to finish using up my Chapstick (once watermelon-flavored) labeled "Sabbath in the City: Chicago 2012, The Young Clergy Women Project."  Just today I tossed a change of clothes and my funeral shoes into a large canvas tote bag with "The Young Clergy Women Project, funded by the Louisville Institute & powered by faith, verve, chocolate, and really great shoes" superimposed over a spiral on the front.
Is it possible to have been to too many TYCWP conferences?  When I think back on the conferences and board meetings I have attended, I realize I've probably visited more seminaries, theology schools, and divinity schools in more states than the vast majority of my other local colleagues.  And very few of those colleagues can claim to be part of an intentional community that stretches around the world and across denominations.
Normally I would say: "It's impossible to have too much swag, and impossible to have attended too many conferences."  I rely on both the swag and the community to help me get things done in ministry with the least amount of damage to myself.  But perhaps it is possible to have too much, because each year's worth of swag and each year's conference reminds me I am one year closer to aging out of the project next spring.
Just as the community of TYCWP helped me figure out what it meant to be a young clergy woman, it is now helping me make sense of what it means to be a slightly older clergy woman.  My days of being carded at the liquor store are over.  My bodily aches and pains are increasing.  I still get inappropriate comments—but people have finally stopped calling me "kiddo."
And yet I am so, so far from having everything figured out.  My authority, my identity, and my self-awareness are still developing.  I still routinely lean on the project to remind myself that I'm not the only one.  And seeing in person, at the conferences, what the project has become in the last eight years is truly a miraculous thing; I am moved to tears seeing the support and the community that we dreamed about so long ago come into being.
I've attended every TYCWP conference since 2010 after missing the first two conferences in 2007 and 2008 (but attending the board meetings in 2008 and 2009).  And every year I go into it putting pressure on myself, thinking "This is such a rare opportunity to see all of these YCWs in person, so I need to make the most of it."  And I come out realizing how foolish it was to try and force this to be a mountaintop experience.  It's going to be one, no matter what I do.
This year was no different.  I went into the conference thinking, "This my last chance to make these connections in person…I need to go all out, I need to be more outgoing, I need to meet and talk with as many people there as possible."  Have my years in the project taught me nothing?  Have I not learned to respect my own body's needs and my own emotional needs as an introvert?  Apparently not.
But you all reminded me that the best encounters of the conference are the ones you didn't plan for, the ones you don't engineer.  Sure, I haven't taken a dance class in twenty years, but I'll go to a Ballet Austin drop-in class with you and risk total humiliation just so I can remember the days when my body actually obeyed my mind's direction.  Sure, the movie is sold out, so let's find the best Tex-Mex around and perhaps enjoy a margarita instead. Conferences are places where you can be spontaneous and impulsive without worrying about what the church matriarch is going to think–or worse, say to others down the grapevine.  They are also places where nobody will ridicule you for choosing to spend a quiet night at the hotel and going to bed at a reasonable hour.
Conferences of TYCWP are places where I can be most authentically myself.  This happens only very rarely in other parts of my life.  If I feel like a party girl, I can be one for one night.  If I feel like giving my body the gift of sleep, I can do that too.  I can remember what it was like to make choices just for me, without thinking about a thousand other people and a thousand consequences.
Maybe that's why no matter who I meet or who I connect with at a conference, I find myself in a different space when I return.  Because I've remembered who I am.  And I've shared in a community that embraces me as I am, without a thick layer of expectations.
Thank you, each and every member of the project I've met in person over the years.  You have been salt and light to me, and I treasure each one of you for helping me taste life again, and see myself more clearly.
---
Katie Yahns is a Lutheran pastor serving in central New York state.  After this last conference, she has come to the conclusion that her love languages are ugly crying and awkward conversation (no filter).  Which means she really loves all y'all.
---
Image by:
Sarah Hooker
Used with
permission
https://media.myworshiptimes31.com/wp-content/uploads/sites/3/2015/07/29170153/IMG_4807.jpg
1880
2816
Katie Yahns
https://youngclergywomen.org/wp-content/uploads/sites/3/2017/05/YCWILogo_Vert_Black-300x229.png
Katie Yahns
2015-07-30 04:00:13
2018-11-13 11:38:34
My Last Conference