---
Post Author: Collette Broady
---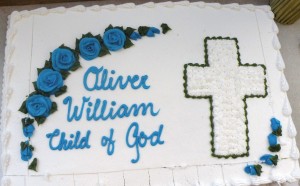 This Father's Day will be the first on which my son's father is no longer my husband. He left me for another woman earlier this year, and though he has so far been faithful to the custody agreement with our son, I worry constantly about Ollie not having the kind of father he will need when he reaches his emotionally difficult tweens. (He's only 2 right now, but I'm a mom, so I can worry far, far into the future.)
Ollie has two wonderful godfathers, who have already assured me that they will do what they can to teach him about being a good man, and my dad and brothers have said the same. But still, I worry. When he starts to wonder about relationships, who will help him be vulnerable, yet strong, honest and respectful? When he wants to know about sex (about which his father and I have very different opinions), who will tell him that it's manly to wait until you're really ready? When he struggles with the pressure to be tough and hide his real feelings, who will teach him that men can cry too?
I recently voiced some of these concerns to my dad, and he reminded me that he grew up mostly without a dad too. His father was killed in a coal mine accident when he was 11, just on the cusp of puberty. He said that while it was hard for him to grow up without a dad, that there was a vacancy in his life for a long time, he discovered a role model in God.
"I always wanted to have a family, to be a father," he told me, "and I learned how from the Lord." He reminded me that calling God our Heavenly Father is more than just a traditional, patriarchal metaphor. God exhibits all the traits and behaviors of the best parents: God loves, reprimands, forgives, guides, protects, teaches, encourages. As Martin Luther writes in his explanation of the introduction to the Lord's Prayer, "God tenderly invites us to believe that He is our true Father and that we are His true children, so that with all boldness and confidence we may ask Him as dear children ask their dear father."
I know this is how my dad approaches his faith, seeking God's guidance at every turn. He and my mom have told me for years that they began praying about being parents long before they had any of us, and that they have trusted God's voice when parenting has been hardest. Sometimes they have even had to let one of us kids go for a while, trusting our Heavenly Father to care for us when we won't let them.
I will do my best to be the mother that Ollie needs, and I will hope that his father will do the same. But, I will still worry, I'm sure. And when I do, I'll remind myself that at baptism, Ollie was made God's child too. This means that whether I keep my end of the parenting bargain, or whether his dad does, or whether any of his lovely godparents do what they have promised, Ollie will never be a fatherless child. By the loving guidance of his Heavenly Father, Ollie will grow in grace and truth and wisdom, and become the man he is meant to be. Thanks be to God!
Author's Note, September 2012: I am pleased to say that many of my worries have proven unnecessary these months later. While I still maintain God is the only perfect parent my son will ever have, I want to publicly recognize his father for his consistent and positive efforts to give our son what he needs daily, and for continuing to live into the parenting agreements we have made.
---
Rev. Collette Broady is an ELCA pastor in Mankato, Minnesota, serving a partnership between a large, city congregation and a small, country one. She is also a mother of Ollie, who makes her laugh and cry, sometimes simultaneously. She attended the Lutheran School of Theology at Chicago.
---
Image by:
Collette Broady
Used with
permission
https://media.myworshiptimes31.com/wp-content/uploads/sites/3/2012/06/29171028/DSCN3255.jpg
543
878
Collette Broady
https://youngclergywomen.org/wp-content/uploads/sites/3/2017/05/YCWILogo_Vert_Black-300x229.png
Collette Broady
2012-06-12 04:00:33
2019-08-20 17:20:35
Never a Fatherless Child