---
Post Author: Lee Ann Pomrenke
---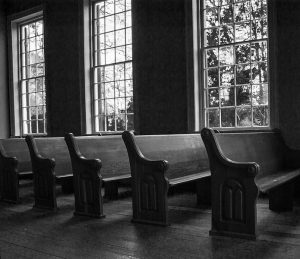 When I let it slide into conversation that I am a pastor, the natural follow-up question is, "Where's your congregation?" For me right now, that answer requires extra explanation. I am a "pastor in the pew," a phrase I am not entirely sure I am, but may be, coining. My national church body's term for my status is "on leave from call for family reasons," but in plain language, I am staying home with the kids for awhile. I do not believe at all that everyone should (even if they can, financially) do this, but for me and my family many factors converged at once to make this option the right choice for now.
I'm not alone. Others become "pastors in the pew" by going into specialized ministries as chaplains or counselors, by serving camp ministries or non-profits, by going to graduate school, by becoming professors or synod/regional church staff, or by retiring. No matter the method, there we are: in the pews of congregations of which we are not the pastor.
There in the pew, we hold the specialized education of seminary and also gifts and insights into various kinds of ministries developed through experience. We carry the confidence and wounds of being deeply embedded in congregational life. All of those gifts can benefit the congregation if noticed and stewarded by the thoughtful pastoral leaders in whose flocks we bleat. My skills for ministry continue to be useful. But what of my identity as "pastor?"
My church body does not ordain pastors until they have received a call from a congregation (only rarely to specialized ministry first), and we imbue the "call process" with spiritual weight, believing that the call of the Church is the action of the Holy Spirit herself. As I sit in the pew, I am plagued by the notion that if I am not actively leading a congregation, my call as a pastor comes into question. I ask again and again: how might I best be a faithful pastor in the pew?
First: do no harm. My first priority is to be as respectful as possible of the pastor in the congregation we have joined. I pay attention to details. I always refer to her by her title, saying "Pastor" in front of her name. I respond to announcements by volunteering and strive to reply promptly to e-mails. If I were to give feedback to our congregation's pastor, I would give it privately–and never anonymously. And I would suggest ideas only when I am willing to participate in bringing them to fruition.
These logistics I can handle. On a deeper level, though, I struggle with working out where my head and heart are during this stage of my life and call. I strive to figure out what this call–this identity I've worn for most of my adult life–means when I am not in congregational leadership. One healthy path is finding outlets for my gifts for ministry outside of our congregation. So I write articles, blogposts, even a book proposal. I look for opportunities to share my gifts, my theological background, and my energy, in the community beyond my congregation.
And yet, the question of my own ego emerges. As a person accustomed to being in the pulpit, I am used to being able to use my own voice and to receive responses from a congregation. Those responses tell me that people are listening enough to my voice to struggle with what I have said. I am used to having a certain authority, whether in preaching sermons, leading classes or meetings, or even in facilitating one-on-one pastoral care situations. The authority of the pastor still holds power for many people. As a pastor in the pew, I am cautious and self-aware about what affirmations and sense of value I might be seeking now.
Another promising path is considering this time in the pew as an opportunity to honor my other vocations: spouse and partner, parent, child, and friend. With fewer responsibilities to juggle, the balancing act is suspended for awhile. My spouse and my kids get to chart their own course in this congregation, to be known for their own personalities and opinions, without regard for my professional position as their congregation's pastor. They can be involved or not, without concern for whether their decisions reflect on my pastoral leadership. Furthermore, now that I am no longer guarding limited Sundays off from work, we have also gained the ability to participate in the lives of friends and family members whose special events happen on Sunday mornings. We are free to attend baptisms, installations, ordinations, children's programs, or special worship services that are taking place in other congregations besides our own.
This time will not last forever. But with careful consideration, I embark upon this journey as a supportive and grateful pastor in the pew.
---
Lee Ann M. Pomrenke graduated from Luther Seminary and was ordained in the Evangelical Lutheran Church in America (ELCA) in 2005. She has served congregations in Virginia and Minnesota. She enjoys reading, writing, and getting outside with her family.
---
Image by:
Marjorie Kaufman
Used with
permission
https://media.myworshiptimes31.com/wp-content/uploads/sites/3/2017/08/29165643/Church-pews-Old-Brick-Church-Mooresville-AL-here-i-stand-aug-2017.jpg
600
695
Lee Ann Pomrenke
https://youngclergywomen.org/wp-content/uploads/sites/3/2017/05/YCWILogo_Vert_Black-300x229.png
Lee Ann Pomrenke
2017-08-10 13:28:15
2019-08-15 14:24:35
Pastor in the Pew