---
Post Author: Kathryn Lester-Bacon
---
And he came to her and said, "Greetings, favored one! The Lord is with you." But she was much perplexed by his words and pondered what sort of greeting this might be. The angel said to her, "Do not be afraid, Mary, for you have found favor with God. And now, you will conceive in your womb and bear a son, and you will name him Jesus….Mary said to the angel, "How can this be, since I am a virgin?" The angel said to her…"For nothing will be impossible with God." Then Mary said, "Here am I, the servant of the Lord; let it be with me according to your word." Then the angel departed from her.
(Luke 1:28-40, selections)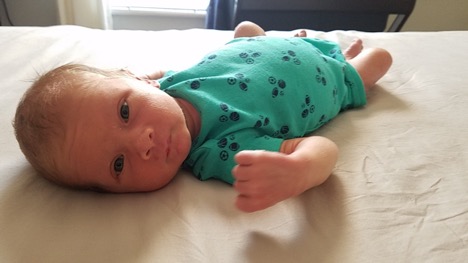 Luke does not record
what the neighbors say
but the comments are there,
crouching behind the text.
When the messenger says, "Favored One!"
we can almost hear the echoing
"You?"
Luke does not
mention it,
but, guaranteed: Mary knows
it's there. She knows
when it's known
that she's been known,
the greetings will change.
The power of God will not stop
the side-eye. Yet, perhaps
when this babe
opens a tiny mouth
with a vast hunger
and she is able to fill it,
for the time being, a grace
so consuming, a provision
so merciful will bear her
through pain and recoil, this gift
that she agrees to give
from her own body. And so,
she assents, says yes
to the messenger, to the neighbors
whispering, to the burden
and bearing; yes, to the aching arm
and ragged eyelids; yes
to the shattered, sharded
heart that will be filled,
emptied,
filled again, continuously,
across a long string of days.
Mary says yes; agrees
to bear birth and death
in the same yawning
word.
*
A friend of mine,
a pastor, a mother,
drove to the deathbed
of a beloved
church member,
a teenage girl.
At home she left
her newborn son,
in order to accompany
this daughter, sister,
child of God,
into her death.
As this pastor kept vigil
at the bedside—grieving,
pained—she felt
her breasts
growing heavier,
becoming saturated
with the sustenance
that would keep
her own son sated
and alive. In vigil,
her body began to weep
in salt and milk; tears
spilling from her eyes,
nipples leaking liquid.
Nothing she could do
would contain or control
these life-filling breasts
or the teen's dying breaths.
Each
offered itself up,
wholly.
Salt and milk,
both erupt
from the depths
of the body, sometimes
without assent,
irrepressible,
irresistible,
brought forth
for another.
*
It must be said:
this pastor mother friend
does not speak
too openly
about this moment,
about this pulse
between two
mind-boggling
mysteries,
because lactating
and lamenting—
nursing and weeping—
are not things
one mentions
in polite company.
Both will cause
the neighbors to talk
in the parking lot
quite a bit, afterward.
Sometimes it's easier
to go on anticipating
God's eventual arrival,
rather than hear
and see the quiet one
who is already answering
Yes; rather than notice
the one proclaiming
with her voice, her organs,
her tears, her tongue,
her joy, her pain,
her body, her need,
her strength,
herself—
"Here I am."
---
Kathryn is a Presbyterian pastor, serving a downtown church in Richmond, Virginia, and attempting to savor life with her husband and two young kids.
---
Image by:
Kathryn Lester-Bacon
Used with
permission
https://media.myworshiptimes31.com/wp-content/uploads/sites/3/2019/03/29165215/baby-hggb-mar-2019.jpg
263
468
Kathryn Lester-Bacon
https://youngclergywomen.org/wp-content/uploads/sites/3/2017/05/YCWILogo_Vert_Black-300x229.png
Kathryn Lester-Bacon
2019-03-26 10:49:54
2019-08-08 17:49:28
Provision