---
Post Author: suzanne l. vinson
---
God brings many things to birth in and through us, no matter what our circumstance of life, family or vocation might be.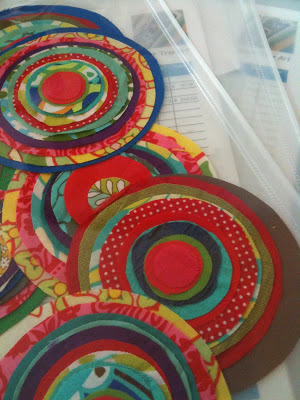 motherhood. ministry. life. creativity. partnering. loving. being a neighbor.
each part of life merges together through the many hats i wear. as i reflect on life's successes and near misses, i come to view my life focusing on the sacred center, the space in which God resides and flows into me, from me, and into all other parts of my life. each of the concentric circles i create are becoming more a focus of the sacred circles, or the sacred center. in my work of art + spirituality and in living the creative life, i so often return to these simple structures: circle on circle. i think of my life more as a mandala: a movement from the outside in, or from the inside out, with God as the sacred center. my many roles are the circles moving from God to the outside, and some days from me to the God-side. each breath is a sacred moment. each stitch is a prayer. each color speaks to me and comes from the Creative Spirit within.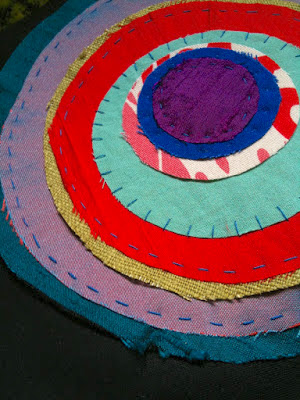 as a part of the sacred moments this week, i reflected on birth-giving-life, flowing through a friend's body, and on the life flying to meet life-giving-birth, as a fellow clergy woman goes to meet her daughter. while moments can catch me off-guard, these did not. the preparation for life moving from the outside in and from the inside out was more than my body could take. so i waited; i listened to the creative spirit within. i stitched with tears (of hope and joy and love) and returned to the computer to receive the news. upon returning to the computer in one moment, i rejoiced and these words flowed through me, offered through the Creative Spirit within:
Creator of Life, who breathes us into being, whose spirit can be the first breath, whose knowing can be the first knowing, grant your spirit of love, presence, and peace to surround parents who birth hope today. To parents whose child comes from birthing waters of development into the world full of infinite possibility, draw your loving presence near. As you draw near, dance among these, pouring all the love and affection coming from many parts of creation to these we love and bless.
Well maker, bless the wellspring whose waters flow: tears of love, tears of gratitude, tears of pain, tears of joy, tears with no name. These waters from your source become waters of welcome, as part of the birthing waters this day.
Creative Presence, as you have paired creatively these who will love and be loved, may your spirit work within the transformation taking place through love. Whether by labor of love in a car, train, and plane to birth a new daughter who is birthed through hopes and dreams and love in a creative, courageous way, or through the process of labor, birthing a child in a room with midwife and father, soothe and support their laboring love.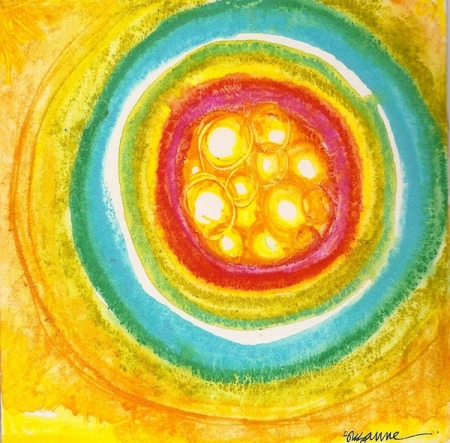 Wellspring of Life, may the anticipation of waiting and watching and laboring become the sacred gift of life, the gift of hope, the gift of dream. Bless these who wait, these who welcome, these whose hearts are filled so full. Bless the prayers and hopes and dreams surrounding this creative mystery this day.
Mothering God, may birth bring pure love, light and peace to these and their supportive families and friends. Delight be shared in all ways in this day and the days to come for these as parents who travel to meet their child and for children who travel to meet their parents. May the birthing waters within, surrounding, and oceans below be for these the waters that bring miracles.
Amen.
you, sisters, are among a sacred life circle that i am a part of. God is the sacred center and the Source from which the blessing flows. from our Well Spring of Life and voice to our creative spaces in ministry, God blesses us and through that blessing we continue to bless each other and those whom we touch. you, clergy, minister so well. you, women, nurture and create so well.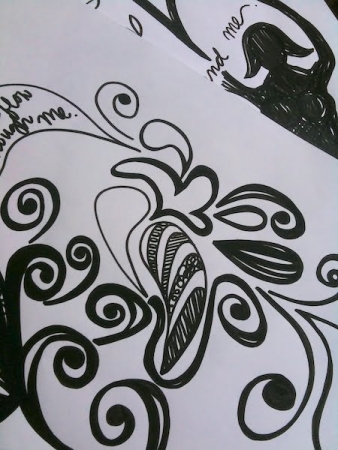 so for you, i will dedicate a new work that is currently in progress: my first spiritual 'zine. i am so impressed by so much of what is said and done through your work. from blogs to facebook, you reach me. this prayer will be dedicated to you. again, still in the works.
an exercise… an invitation to play and pray:
take a moment to gather some simple materials: paper, pencil, pen, etc. with a piece of paper trace or draw a circle as large as you can or want. create your own mandala using the simplest of materials. you can dig in the recycling for paper or pick up a pen or pencil. take three deep breaths. you can invite God to be present with you as you inhale and exhale. think about your sacred center and the ways in which God moves through your life. create shapes, colors, or designs to represent the way in which God moves through your life, from one "layer" or "section" of life to the next. use these moments of creating as a prayer, an act of sermon preparation, or a moment to simply breathe more deeply. focus on the moment. invite the Creative Spirit to move through you as you create your circle. there is no right or wrong. just what is. bless the time by thanking the Creative Spirit, thanking God for being in your midst.
peace, sisters.
---
suzanne l. vinson is an artist, mother, and minister living a creative life while caring and sharing through her art & art + spirituality retreats, support groups, and other endeavors.  she lives in her cozy virginia home with her husband, son, and 3 goldfish.
---
Image by:
suzanne l. vinson
Used with
permission
https://media.myworshiptimes31.com/wp-content/uploads/sites/3/2009/09/29164906/layers-sacred-center-christ-creativity-sept-2009.jpg
400
300
suzanne l. vinson
https://youngclergywomen.org/wp-content/uploads/sites/3/2017/05/YCWILogo_Vert_Black-300x229.png
suzanne l. vinson
2009-09-22 20:50:23
2019-08-28 15:44:58
Reflections on the Sacred Center