---
Post Author: Lesley Ratcliff
---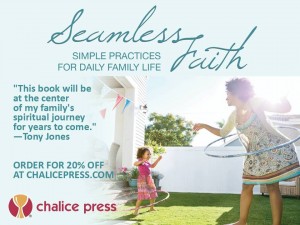 "May God bless you and keep you while you sleep, May you rest in God's mercies, and wake to God's grace, May you dream of God's blessings, and know that you are loved."
Each night, my spouse whispers these words to my daughter as he tucks her into bed.  It is one of the most meaningful moments of his day.  Every day.
"Are we doing enough?   Will her faith life be integrated with the rest of her life?  How can we help her to recognize God's presence in her life? Is her spiritual being developing as well as her mental and physical being?"
Each night, I wonder.  I sit in the chair where I have just snuggled with my not-quite-2-year-old listening to my husband's blessing and I ask myself those questions.  As a mother and a children's pastor, it is one of the most disquieting moments of my day.  Every day.
For that reason and others, I couldn't wait to get my hands on Traci Smith's Seamless Faith: Simple Practices for Daily Family Life.  Traci has written a practical guide for helping family's integrate faith into both the ordinary and celebratory moments of the family's life.  Built on the premise that "faith is learned when it is woven seamlessly into the fabric of everyday life," the book is divided into three sections:
The tradition section provides ideas that draw the family to encounter God in rituals for daily life and holidays.
The celebrations section invites families to remember God's presence in the major transitions of life including everything from the birth of a new baby to moving out for college.
The spiritual practices section offers ways to implement prayer, almsgiving, hospitality and numerous other practices into family life.
Each outline of the fifty practices in the text offers a two-to-three page description with an introduction, a how-to, notes and variations.
The creativity of these practices is wondrous but each is presented in an accessible format.  Traci has thought of all the little details.  In "Traumatic Current Event: Sheltered under God's Wings" there is a pattern for the bird used as part of the exercise, and also a thoughtful guide for talking with children of varying ages about the traumatic event.
The mother in me is thankful for this thoughtful, practical resource.   But the pastor in me is even more grateful for a resource that I can place in the hands of families in my congregation to help them adapt spiritual formation at home.  More than giving lip service to the idea that faith must be practiced in the home in order for faith to be fully integrated into the child's life, this text gives busy, uncertain parents the tools to help their child recognize God in the ordinary and the stressful, the celebratory and the mundane.  Though the instructions are detailed, there is enough flexibility to adapt this text to a variety of faith traditions.  I want to give a copy of this text to every family in my congregation, and I will be giving a copy of the book to acknowledge births and adoptions.  The bottom line is that Seamless Faith is an invaluable resource in creating opportunities for children to encounter God and the mystery of faith.
This week, following the instructions in the outline titled "Anxiety: Wash Away Worries," I am writing my concerns about my daughter's spiritual formation on the driveway in sidewalk chalk.  My daughter and I will have a wonderful time playing in the water hose, and I'll watch those aforementioned worries wash away, knowing they have been released to the Holy Spirit.  I'll probably pick them back up later but I have a creative, thoughtful, practical text to help me not worry so much.
Seamless Faith is available for purchase through Chalice Press.  Receive monthly articles, tips and resources on faith and family by signing up for the Seamless Faith Monthly Newsletter.
---
Lesley Ratcliff is the Associate Pastor for Children at Northminster Baptist Church in Jackson, MS.  She and her spouse are the parents of one human child and two 60 lb. lap dogs.  When she is not worrying about the spiritual development of children, she can be found in her sewing room, reading children's literature or attempting to like running.
---
Image by:
Chalice Press
Used with
permission
https://media.myworshiptimes31.com/wp-content/uploads/sites/3/2014/03/29170603/seamlessfaithbanner-2.jpg
720
960
Lesley Ratcliff
https://youngclergywomen.org/wp-content/uploads/sites/3/2017/05/YCWILogo_Vert_Black-300x229.png
Lesley Ratcliff
2014-04-01 04:00:56
2014-04-01 04:00:56
A Review of Traci Smith's Seamless Faith: Simple Practices for Daily Family Life