---
Post Author: Elizabeth Grasham
This Advent, join us for a series of articles that reflect on journeys and travel in our lives. Advent reminds us that we're not quite there yet, that getting from point A to point B is a form of waiting. We hope this series of articles will help you find a few moments for quiet respite in the middle of the busy-ness of church life in December.
---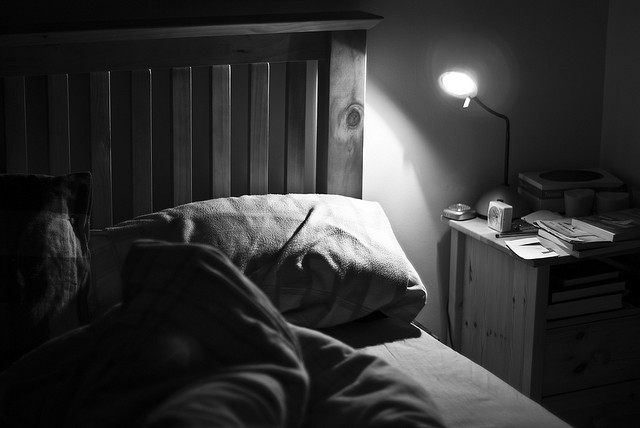 I sleep alone in my queen-size bed and I've slept alone in this bed for almost two years. You'd think that after two years, I'd sleep sprawled in the middle of this mattress, limbs stretching as far as they could reach. But two years after I last had company on this mattress, I still sleep on one side of it. I can put my iPad and iPhone, four pillows and even a tower of books on the other side of the bed and when I wake up they will all be there, unmoved. It is hard to break the habits you learn when you share a bed night after night.
I sleep alone in my queen-size bed and you'd think that would mean I've been single for two years. But I haven't…or I have. It's complicated. Everything is complicated when you're married to a man who is in jail. I've been raising a son alone despite the fact that he has a living father. I've been filing my taxes as "married" despite the fact that I'm the sole bread winner and only adult in the house. I've been going to bed alone despite the fact that I have a husband. Complicated.
I thought that this would be my forever future – a wife in name only, alone in a marriage bed. I was committed to it…until I wasn't. Well, until I healed enough to be able to hear God's whispering voice offering me grace and new life. I heard the voice of God threaded in the waves pounding on the beach of my new city (in my new call), and after two years I made a wrenching choice. A liberating choice. I decided it was finally time to get a divorce.
I started ordained ministry as a married woman. My current call hired me as a married woman. I was never a single minister, and now I find myself occupying this strange space. And what's funny? Sunday, we lit the Advent candle of Peace and today my lawyer files my divorce petition, and I find that incredibly well-timed. Because I feel incredible peace about choosing to divorce, peace about becoming a single reverend instead of a married one, peace that as the Holy Family makes its way toward Bethlehem for the beginning of Something New I am making my own journey towards Newness as well.
Advent finally makes sense for me as I enter this tumultuous season of my own life. I know what it is to long for hope, to search for peace, to crave joy, to ask for the love I need. I know what it is to wait for light after languishing in darkness. And pardon me while I beat a metaphor into the ground, but I feel pregnant with possibility as I amble into the future. (Does that make my lawyer the donkey? Maybe the shepherds? I'm not sure. Some metaphors you can only stretch so far I guess.)
Advent means the arrival of something significant, and the advent of my official "singleness" is on the horizon. But with that singleness comes new possibilities, new relationships, new ways of growing in faith and as a minister to my new congregation. It's not here yet, but it's coming. What's the constant refrain of this season? Wait, wait, wait, wait. So I'm waiting for the Christ child and I'm waiting for the unknown that hovers over the horizon. And in the meantime, maybe I'll finally learn to enjoy the entirety of my queen-sized bed.
---
Rev. Elizabeth Grasham is the Senior Minister of Central Christian Church (Disciples of Christ) in Galveston, Texas. She is the mother of one human and two furry children, an unabashed geek, and is in the process of a divorce. Life is messy, you know? She blogs at http://grashamreeves.blogspot.com
---
Image by:
Ciaran McGuiggan
Used with
permission
https://media.myworshiptimes31.com/wp-content/uploads/sites/3/2013/12/29170649/3339305634_59e5695455_z.jpg
428
640
Elizabeth Grasham
https://youngclergywomen.org/wp-content/uploads/sites/3/2017/05/YCWILogo_Vert_Black-300x229.png
Elizabeth Grasham
2013-12-10 04:00:15
2019-08-19 20:23:22
Sleeping to One Side