---
Post Author: Name Withheld
---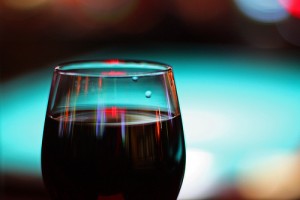 We met on a Saturday night just before Christmas. It's something I never do. I usually tuck my little preacher self safely into bed at an early hour on Saturday night. But, for some reason, I suggested that we meet at the local wine bar for a drink on a Saturday night. Just one drink. Perhaps this Saturday risk was motivated by that same little preacher self awaking in a hot sweat from one too many nightmares where I have died fat and alone only to be discovered three weeks later half-eaten by dogs a la Bridget Jones.  It's depressing how much I relate to Bridget.
So, of course, I went on a date on Saturday night. We had one glass of wine and he was absolutely delightful. It's always a risk when you meet someone online. You never really know if he will be even remotely as charming as his profile. But, he was. He was lovely.
Before this first date, we had only exchanged a few messages through the online dating site. We'd talked about travel dreams and the city we both call home. We talked about places we like to eat and how we spent our days off, but neither one of us ever asked what the other did for work.
Every young clergywoman knows very well that this is the second question asked in common conversation. You get each other's names. And then, maybe you ask where the other is from. And then, we always want to know what you do as if being able to picture the cubicle you spend 40 hours each week will define all that we might ever need to know about you. Except that I don't have a cubicle. I have a congregation. I don't really want to think that this defines everything there is to know about me. But, like every young clergywoman, I know that once he learns that I don't work in a cubicle and instead work for the church, the date might be over.
He might actually race out the door and leave me to pay for the drink. What a charmer.
But, that's not what happened.
On that Saturday night, sipping glasses of wine, I realized that that dreaded question hadn't come up. He hadn't asked. I didn't offer. And this just made me want to know even more. It turns out that I'm a big old paradox. I don't want anyone else to define me by the work that I do, but I really want to know what everyone else does. I'll admit it. I needed to know where his cubicle was. So, I flipped my hair and coyly asked, "So what do you do?"
His eyes widened and he took a sip of wine.
He was procrastinating. It was obvious. And then, I realized that I do the same thing which required that I take a sip of wine. Oh dear God! Is that what I look like when I'm asked that question? No wonder people are freaked out. Now, I get it. I am actually tempted to race for the door and leave him to pay for the drinks. I am mortified.
And then, he finally answers, "Well, I'm actually in the military."
In those few words, I hear all of the same hesitations that I usually offer. The way he starts with "Well" as if to soften the blow. The insertion of "actually" as if it needs to be justified. But, I am newly mortified with this new self-revelation. So, I won't respond with the same repulsion that has been offered to me in the past. I won't be as quick to assert that I'm a pacifist like every atheist has done to me. I will simply reply, as I flip my hair again, "Oh really? Tell me about that."
Photo by real name not given, http://www.flickr.com/photos/mr_t_in_dc/3000950461/, March 11,2013. Used by Creative Common License.
---
https://media.myworshiptimes31.com/wp-content/uploads/sites/3/2013/03/29170840/Wine-Glass.jpg
333
500
Name Withheld
https://youngclergywomen.org/wp-content/uploads/sites/3/2017/05/YCWILogo_Vert_Black-300x229.png
Name Withheld
2013-03-12 04:00:26
2018-11-13 11:45:56
So What Do You Do?