Before I was ordained, I spent time as a seminarian intern and youth minister in a total of seven congregations.  The jobs of baptismal preparation and of talking to parents about how to raise Christian children, often fell to me.  In order to have something to put in people's hands, that would sum up the most important aspects of what it means to make and fulfill the baptismal promises, I wrote up a short list, with explanations.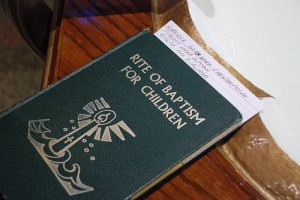 I wish I could say that as a result of receiving this, every family I ever prepared for baptism became regular, committed church members! Unfortunately, it's not that easy – and, of course, nothing substitutes for a good, in-person pastoral relationship.  But I still believe that the list offered here covers the basics.  Quotations and page number references are from the Episcopal Book of Common Prayer.
**************************************************************
When we bring our children to baptism, we vow to "be responsible for seeing that the child you present is brought up in the Christian faith and life." (BCP 302)  This is a tall order, especially in a materialistic, violent, sex-obsessed society like ours.  Here are a few ways to go about it.
Become regular members of the church.  The church is uniquely suited to be the "village" that it takes to raise a child.  Its members vow during the baptismal service to do "all in their power to support" the candidates in their life in Christ.  Fellow church members can do anything from sitting with a squirming child during the service so parents can have a little peace, to being Sunday School and youth group leaders, to becoming special friends and mentors to children as they grow.  If nothing else, they show children that their parents are not alone in trying to live as Christians.
Begin some kind of ritual at home.  You don't have to rearrange your entire home life, but deciding to take one or more nights a week to have a family dinner, light candles, and pray together can make a peaceful center to a hectic family life.  The family that prays together, stays together.  Prayers don't have to be long, and you don't have to make them up; there are many beautiful prayers in the Prayer Book (814-841).  Read and discuss Scripture together, or tell each other what you are thankful for and what you wish for.  Observe the church year with an Advent wreath, Lenten disciplines or offerings, and Easter eggs.  Light your child's baptismal candle on the anniversary of their baptism.
Set an example – consciously.  When you do volunteer work, give money to charity, treat an annoying relative with compassion, refuse to buy the products of companies that abuse human rights or the environment, or make another decision motivated by morality or faith, your children will notice.  You can explain to them what you're doing, and why, without bragging:  "I'm doing this because this is what Christians do."
Answer questions honestly.  Parents can get very nervous when their children ask questions about God, but children don't need definitive answers as much as they need to know that it's OK to ask the questions.  You don't have to know all the answers; God is beyond the knowledge of adults and children alike.  Don't be afraid to say "I don't know" and continue the conversation.  You and your child can wonder about God and explore questions of faith together.  If you're faced with a real stumper, you can always encourage your child to ask the priest!
Turn off the TV, and keep screen time to a minimum.  The scientific evidence is mounting that TV is simply bad for children in any but the most minimal amounts; and are the values of TV programs, and particularly commercials, really the ones we want our children to be absorbing?  TV wants to make us into pure consumers; is that what God wants?
Get outside with your kids.  Modern children are frequently cut off from the glory of God's creation.  Take a walk in the woods every so often to reconnect with nature and get some exercise.  A sense of wonder may be the most valuable thing parents can transmit to their kids.
Lastly, and possibly most importantly, read to your children and provide them with quality children's literature.  There is no substitute for stories and the life of the imagination for a child's developing mind.  Children need to be able to encounter on their own terms (not in a preprogrammed "entertainment" format) stories that are subtle and challenging enough to become part of their ongoing imaginative life.  Start with Grimm's Fairy Tales and anything by Tomie DePaola, and from age 4 or 5 onward, give them C. S. Lewis, Laura Ingalls Wilder, Winnie the Pooh, E. Nesbit, Lloyd Alexander, The Wind in the Willows, Brian Jacques, Madeleine L'Engle, Susan Cooper, Joan Aiken, Arthur Ransome, The Phantom Tollbooth, Watership Down, J. R. R. Tolkien, Ursula LeGuin, and whatever else seems good at the public library.  (Harry Potter and The Hunger Games won't hurt them, but won't do much all by themselves, either.)  The three Christian virtues are faith, hope and charity:  to believe in the invisible, to go forward when all seems lost, and to love the unlovable.  A child nurtured on good kids' books will know these three virtues intuitively, in his or her bones.  Nothing on TV comes close.
The prayer over the newly baptized (BCP 308) asks God to "give them an inquiring and discerning heart, the courage to will and to persevere, a spirit to know and to love you, and the gift of joy and wonder in all your works."  Children nourished by caring parents and godparents who set an example; take their faith questions seriously; and provide simple home rituals, the love of a church community, judicious screentime restrictions, exposure to God's creation, and plenty of good books, will have all of these things.
https://media.myworshiptimes31.com/wp-content/uploads/sites/3/2013/05/29170818/medium_5276167758.jpg
334
500
Grace P. Burson
https://youngclergywomen.org/wp-content/uploads/sites/3/2017/05/YCWILogo_Vert_Black-300x229.png
Grace P. Burson
2013-05-21 04:00:07
2018-11-13 11:45:30
Fulfilling the Baptismal Promises