Editor's Note: With many clergy spending time in the summer focusing on Advent and Christmas preparations, Sunday Morning and Beyond is featuring a poem and sermon from Advent to help get those creative worship juices flowing.  Happy Planning!
Sing a New Song!
Mary's song – Luke 1 & Hannah's song – 1 Samuel 2
Isaiah's song – Isaiah 12 & Moses' song – Exodus 15
Like Mary sang anew
the old, old hymn of Hannah
Like Isaiah drew new depths
from Moses' song of salvation
Like this voice gives new voice
to cherished carols—sacred carols—
God's Word
sings
creative energies
fertile
and ready to gestate
her next wonder.
Sing a Different Song – But Don't Change My Favorite Hymns!
(Based on the text from Isaiah 12:2-6 from Advent 2009)
Our choir sang a Cantata during worship last Sunday.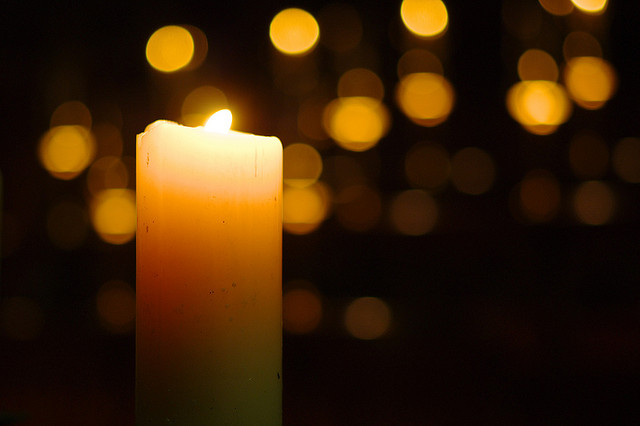 Not only was it beautiful,
but for me it also evoked an unexpected visceral response.
Every cell in my body seemed to
echo the universal sacred heartbeat
encompassed in
organ,
brass,
percussion,
voice.
In those moments, I had an experience of the Holy:
God was present in each vibration.
My whole being – mind, body, emotion, spirit – was affected by that encounter with the Divine.
Music is one of the ways we encounter God with more than our very active brains.
Consider how many times scripture admonishes us to "Make a joyful noise!" or "Come into God's presence singing!"
And how many times do we hear the song of someone expressing praise, sorrow, longing, anger, joy, thanksgiving? Consider which pieces of music never fail to draw you closer to the core of your faith,
which hymns help you sink
into the depths of
the Divine presence.
Christmas carols are like that for many people – evoking the spirit of the season with just a few familiar notes. This is why many of us tend to get upset when anyone dares change the words –
because it's part of our sacred connection.
Those of you who are familiar with the UCC's New Century Hymnal know what I'm talking about – we sing Good Christian Friends Rejoice rather than the customary Good Christian Men Rejoice;
and in It Came Upon the Midnight Clear
"peace on the earth good will to men from heaven's all-gracious King"
becomes
"peace on the earth, good will to all, great news of joy we bring".
Is it really okay to change the words like that?
I'm of differing minds with many internal contradictions on this question.
I feel strongly about inclusive language:
the language we use, whether we intend it or not,
creates lasting images in our minds and
develops either inclusive or non-inclusive understandings deep within us.
No matter how you say it,
naming God King or Lord
evokes a masculine image for our kids –
and that memory stays with us into adulthood.
Yet many of my favorite hymns and carols were written in a time when nobody thought about such things!
God most certainly was male
because that was the only way to comprehend God in relationship with us.
And so our songs come to us with a little historical baggage.
And I recognize that as I continue to choose to sing along with them on the radio,
reconnecting with my childhood,
reveling in Christmas sentiments that soaked in long before my brain began to
question parts of the faith I was taught.
Yes: I have an internal contradiction in my experience of Christmas carols –
I want both the words that I learned as a kid AND the faithful new words!
Last year, I adamantly told my partner, "I'm not going to worry about how completely opposed I am to some of the Christian sentiments on my favorite childhood albums! I'm just going to sing along without theological guilt, even if they're sappy and pie-in-the-sky-baby-Jesus-brings-peace-to-the-world whatever …. I'm going to enjoy them." She laughed, having teased me every year about those same albums.
~~~
The transformation of some of our favorite hymns and carols is a challenge –
but it's not a new concept to rewrite a song's words; there is biblical precedent!
The reading from Isaiah is itself a song:
"Sing praises to the Lord, for he has done gloriously;
let this be known in all the earth.
Shout aloud and sing for joy, O royal Zion,
for great in your midst is the Holy One of Israel."
Isaiah offered this song to his people for their time and place – a time of struggle and discouragement.
And the people who heard this song from the prophet's lips
would have recognized it immediately as one of their favorite hymns:
it was Moses' song
following the Israelites' escape from Egypt.
Listen for the connection:
"Then Moses and the Israelites sang this song to the Lord…
'The Lord is my strength and my might, and he has become my salvation;
this is my God, and I will praise him, my father's God, and I will exalt him'" (Exodus 15);
and Isaiah: "I will trust and not be afraid, for the Lord God is my strength and my might;
he has become my salvation."
It was Moses' song and a faithful favorite that evoked in Israel
memories of release from captivity,
a sense of God's possibilities,
a feeling of hope.
The people knew and loved it – but Isaiah changed the words.
Instead of singing about Pharaoh's armies being drowned in the sea,
Isaiah sings of joyfully drawing from the well of hope and salvation.
Why'd he change the words?
Because he understood that this familiar song evoked the core of the people's faith;
it was known in their sinew and soul,
passed down through generations
like their very own musical genetic code.
Isaiah changed some of the words of this well-known hymn
because he knew the people's current circumstances,
their new understandings of truths in their modern world.
The hymn of faith that takes them deep,
can speak to their current circumstances
and still hold them in faith.
~~~
Mary, whose Magnificat our choir interpreted so boldly in Cantata, did the same thing.
Mary sang her praise and hope and expectation all from her own immediate circumstances –
but she didn't make up her song, either.
She reinterpreted a favorite hymn of her people
to speak to her current experience.
Mary's Magnificat was also Hannah's song:
it was the celebration of a woman
upon dedicating her son to God.
When Luke's original hearers first encountered Mary's song,
I wonder if they felt as uncomfortable or disjointed as some of us do
when faced with our own reinterpreted Christmas carols?
Or did they take it as standard practice
to take the familiar, the beloved texts and hymns and stories of their faith,
and reinterpret them for new experiences of God:
bringing the tradition and that which
already connects us with the Holy
into current understanding, present faith;
so that it cannot become antiquated,
appropriate for a corner pedestal
but not really be applicable to our lives?
Re-interpretation of tradition is an inherent part of our tradition.
We're NOT just being politically correct by reinterpreting the songs of our faith –
we're being faithful to tradition and our still-speaking God.
The UCC is a denomination that diligently questions the "truths" that our forebears handed down to us –
yet we still strongly need a deep connection to Spirit.
We need the relationship that comes when we experience God –
like in a visceral, spiritual response to the choir as it crescendos with Mary's song of praise,
lovingly lifted from Hannah's own experience of the Divine.
This is why we continue to sing cherished Christmas carols –
to keep us tied to that experience of God that goes beyond the brain.
And that is why we reinterpret them for the truths of our day, our experiences –
so we can be faithful to what we know of God
and God's ever-evolving relationship with humanity.
This Christmas, sing the songs as your spirit calls to you – familiar words or new – but be faithful in doing so; be faithful to your experience of God in mind, body, emotion and spirit.
And sing!
With Mary and Hannah,
with Isaiah and Moses,
with one another in this place and time.
Sing your experience of God.
https://media.myworshiptimes31.com/wp-content/uploads/sites/3/2012/06/29171025/medium_3074957813.jpg
426
640
Sharon Benton
https://youngclergywomen.org/wp-content/uploads/sites/3/2017/05/YCWILogo_Vert_Black-300x229.png
Sharon Benton
2012-06-19 04:00:46
2012-06-19 04:00:46
Sing A New Song! A Poem and Sermon for Advent