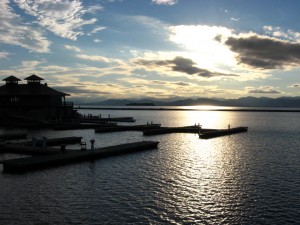 We are excited to introduce another new column to our line up at Fidelia's Sisters!  "Our Cloud of Witnesses" is a venue for exchanging the stories of those who surround us with strength and grace.  Some may have gone before us. Some may be journeying right along side us. Some may have spoken to us out of history. Some may be our favorite characters out of a beloved book. Some may be those who are the most unexpected. Tell us who has shed light on your own journey of faith and vocation, and help us to see the many ways we are truly embraced and held up by a great cloud of witnesses. Submissions may be sent to witnesses(dot)ycw(at)gmail(dot)com. 
Those were some dark times.
No happy clouds. No rainbows or singing birds. No warm sunshine or flowers lining the path. I was in my junior year during my undergrad and trying to figure "it" all out. What was I supposed to do with my life? How would I deal with my parents disappointment? Could I really pursue ministry full-time as an actual job? 
I'd chosen the stereotypical path in college. I would go pre-med and double major in something science and English literature (for fun). And then I found myself utterly failing those science classes. Just doing horribly. And loving English. Religion. Philosophy. History. I kept thinking to myself, Who am I??? I had always thrived in math and sciences, and I was supposed to become a pediatrician. What was wrong with me? The days got darker as I vacillated back and forth between what I thought I should do and what I thought I wanted to do with my life. Something else was drawing me in a different direction.
 "You have a right to experiment with your life. You will make mistakes. And they are right too. No, I think there was too rigid a pattern. You came out of an education and are supposed to know your vocation. Your vocation is fixed, and maybe ten years later you find you are not a teacher anymore or you're not a painter anymore. It may happen. It has happened. I mean Gauguin decided at a certain point he wasn't a banker anymore; he was a painter. And so he walked away from banking. I think we have a right to change course. But society is the one that keeps demanding that we fit in and not disturb things. They would like you to fit in right away so that things work now." 
― Anaïs Nin
I began to have conversations with an associate pastor at the large downtown Presbyterian church. Because the church was conservative there were no female pastors. But there was a kindness and openness in his presence. He would welcome me into his office weekly as I verbally struggled to explain family obligations, parental sacrifice, Korean cultural expectations, and trying to be faithful to God's gifts. He listened attentively. One afternoon he gave me a worn out copy of The Contemplative Pastor by Eugene Peterson. I couldn't put it down. There was something about the vocation of ministry – journeying with people, feeding people with Word and Sacrament and literally, food, caring for people in all situations – this work called to me. I didn't know what it all meant though and what I'd have to do to pursue the possibility.
Later, I had a phone conversation with my father. I've told this same story so many times:
I would never have considered seriously pursuing full-time ministry in a million years until that one conversation with my father in the middle of my undergraduate studies. He was attending Princeton Seminary at the time and enjoying the classes and community with numerous women who were studying to also become…pastors. "Pastors??? But the Bible says that women are supposed to submit to men…and church leaders are just supposed to be only men; I can't imagine a woman being able to do it!!!" I argued with him over the phone and we went back and forth.

My father – ironically the symbol of Asian patriarchy – was trying to persuade me, a woman, but a young girl at the time, that women could and should do much more in the church. My father argued for an egalitarian view on the role of men and women in the church, even in the Korean church. He told me stories of how women had been leaders of the church for a long time, and many were elders in the Presbyterian church, and also becoming pastors all around him…and he admired and respected them, in fact, supported them. He said something to me that I will never forget: The first people to preach the gospel after Jesus' resurrection were women.  I had never thought of that before.

"And, you can be a leader, too, an elder, a pastor, anything you believe God is calling you to be in your own life…" he said to me.
I was in the middle of all these questions, and they were making the waters murky. The clouds that surrounded me eclipsed the steps I'd carved out in front of me. I got lost. I was groping along trying to find some remnant or part of that original path. But. When I thought I was going along all alone I realized that I was also surrounded by another cloud. The voices of pastors, and my father hemmed me in with peace and comfort. I took one tentative step forward.
"Every person is defined by the communities she belongs to." 
― Orson Scott Card, Speaker for the Dead
It was a reminder that all the communities that fed me, cared for me, raised me – these were the clouds that would define me, and help me live into my call. I didn't have to figure it out own my own, and wrestle with the proverbial angel of Jacob's all-night brawl. And the clouds that surrounded me had much more substance than the whispy clouds that produced rain and even storms.
"I think it would be well, and proper, and obedient, and pure,
to grasp your one necessity and not let it go, to dangle from it limp wherever it takes you." – Annie Dillard
I learned to not let go. Not let go of those words of affirmation and confirmation. Not let go of the stories that were spoken into my life by the people who not only knew me but truly wanted me to flourish in something meaningful. Not let go of those hands that held onto mine even when I didn't want them. Because these witnesses would not let me go. Later on I would find men and women, young and old who would join this cloud of witnesses: Dr. Grace Ji-Sun Kim, Erica Liu, my husband, Andy, other pastors and professors, artists and musicians, women in stories that are not "historical," but feel more true than anything else. The more I reflect on their presence in my life especially in those moments I'm caught up in storms of anguish and angst about my life season these words from Hebrews nourish me: "Therefore, since we are surrounded by so great a cloud of witnesses, let us also lay aside every weight and the sin that clings so closely, and let us run with perseverance the race that is set before us, looking to Jesus the pioneer and perfecter of our faith."
The cloud of flesh-and-blood that surrounds us is God-with-us, and who we are, who we are becoming is caught up in God-with-us because of those witnesses. May we be mindful and genuine to these stories, and let them be God's power to our communities.
"It is easier to find guides, someone to tell you what to do, than someone to be with you
in a discerning, prayerful companionship as you work it out yourself." 
― Eugene H. Peterson
https://media.myworshiptimes31.com/wp-content/uploads/sites/3/2013/09/29170724/IMG_0011.jpg
2304
3072
Mihee Kim-Kort
https://youngclergywomen.org/wp-content/uploads/sites/3/2017/05/YCWILogo_Vert_Black-300x229.png
Mihee Kim-Kort
2013-09-24 04:00:13
2018-11-13 11:44:19
Surrounded: More Than Cumulus