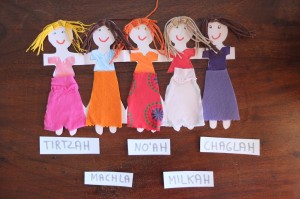 The question often comes amid long car rides, or youth trips, or awkward social mixers: "If you could have a conversation with anyone in dead or alive, who would it be?" I always answer with "One of the daughters of Zelophehad" and the predictable follow up question is "Who?" I answer in that way because it allows me to tell this story from Numbers 27 and 36: A man named Zelophehad dies, and his five daughters, Mahlah, Noah, Hoglah, Milcah, and Tirzah, are left with no right to inherit their father's land because they are women. They go to Moses and plead their case saying, "Why should the name of our father be taken away from his clan because he had no son?" Then the sisters make a demand: "Give to us a possession among our father's brothers." Moses hears their request and takes it to God. God sides with the daughters. Later their decision is appealed and amended to restrict whom they can marry, but it is ultimately upheld.
When I happened upon this story a few years ago, it felt like something that was uniquely mine. Not only did I find it on my own, divorced from the often ugly and arduous sermon writing process, but I found it at a time when I was unsure of my place in the male-dominated world of pastoring. This story is about women standing up, asking for something that rightfully belongs to them, and receiving it. For me, it didn't take fancy hermeneutics, word studies, or a preaching angle to be inspired, just a straightforward story about brave women who took a stand.
I'm a female solo pastor, not yet 35, and much of my congregation has daughters my age. And so when I (young, female, never-done-this-before Traci) take risks and chart new paths,  it's easy to feel self-conscious and alone. Who will understand what it's like to be me? When I feel like I'm going against culture or standing up for something that should be mine already, Malah, Holgah, Noah, Milcah and Tirzah are there in the background, whispering in my ear "We understand. We did it, too."  They remind me that the need for women to stand up and ask for what is rightfully theirs is not new.  Women have been fighting this fight for hundreds upon thousands of years.
Though the sisters are long gone, their story is very real to me. If we had the chance to have that conversation, I know just what I'd ask them, and maybe the mystery of resurrection will allow that one day.
In the meantime, I'll have to settle for face to face conversations with other trailblazing women.
The story of Zelophehad's daughters is so moving precisely because the daughters aren't lumped together, but rather given names: Noah, Holgah, Milcah, Tirzah and Malah. In that spirit I'm moved to mention other women by name (or, for confidentiality, by initial) who are also there when I need a role model. These women, like my favorite biblical sisters, aren't my peers. They blazed these trails long ago. I think of Ms. B,  a member of my congregation and a retired university professor. She told me the story of how she decided to go back to college after her children were in grade school and said, "I loved it so much I decided to go straight through for a PhD." Then there's octogenarian Ms. J who told me about how she started her internationally successful herb business with one tiny crop of herbs growing in a whisky barrel. I want to name Ms. H, who leaned in to my ear from her wheelchair and said "I liked you before I even met you. I figure any woman brave enough to take a man's job is a friend of mine." Ms. H's neighbor in the retirement home had the opposite, but equally affirming reaction on the same day when she said "At first I wasn't sure about you. A woman pastor? But then I listened to you and you can preach."
These women cheer me on, and propel me forward. I listen to their voices when other voices say, in roundabout or sometimes overt ways "Why should I take direction from you? You're young. You're female. You know nothing." Stories of others who have been there are first are critically important, not just for me, but for other women who aim to lead. These stories need to be heard. Notably, the story of the Daughters of Zelophehad is not in the Revised Common Lectionary. A faithful churchgoer could attend church every week for three years and, even if that church read each and every lectionary text assigned for the week, that church goer would never hear the story of the Daughters of Zelophehad. This fact made me reconsider the merits of preaching the lectionary exclusively and I now use the lectionary sometimes and put it aside at others.
But the story of Zelophehad's daughters didn't just change the way I preach, it changed the way I think. When I read the many blog posts, articles, and books that talk about how women "nowadays" struggle to balance home and work life or how women are "beginning to" speak truth to power, I remember my sisters, Mahlah, Noah, Holgah, Milcah, and Tirzah. I remember that their story, passed by though it may be, is my story. I will forever be grateful to them for that gift.
https://youngclergywomen.org/wp-content/uploads/sites/3/2017/05/YCWILogo_Vert_Black-300x229.png
0
0
Rev. Traci M. Smith
https://youngclergywomen.org/wp-content/uploads/sites/3/2017/05/YCWILogo_Vert_Black-300x229.png
Rev. Traci M. Smith
2013-10-15 04:00:33
2015-02-17 20:21:01
The Daughters of Zelophehad