Unless the Lord builds the house,
those who build it labor in vain.
Unless the Lord watches over the city,
the watchman stays awake in vain.
It is in vain that you rise up early
and go late to rest, eating the bread of anxious toil;
for he gives to his beloved sleep.
~Psalm 127:1-2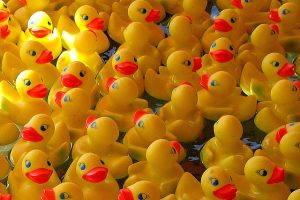 The highlighted calendar said it all:
May 1: Book Day! Bring your favorite book.
May 2: Hat Day! Wear a fun hat to school.
May 3: Cowpoke Day! Wear your boots and bandanas!
May 4: Costume Day! Wear a Halloween costume or dress-up outfit to school.
May 5: Fun in the Sun Day! Bring a towel, sunscreen, sunglasses, and a bathing suit for outdoor fun.
I serve as an associate pastor, mostly tending to the faith education of children and their families. The aforementioned instructions cover only the first week of a month-long calendar that was recently sent home with a kindergartener in my congregation. The child's mother is a professional singer, a soloist in the church choir. She's usually a picture of elegance—like a tree planted beside a stream of water—exuding calm and control, beauty, strength, grace. But in her Facebook post, complete with a photo of the class calendar in all its highlighted glory, this confident, professional musician was about to lose it. Her exasperation was palpable as she wondered aloud to an audience of Facebook friends, "Wait. Now I'm supposed to send in random yet very specific items for an entire month of school or else my kid is left out?"
As a mother of three children ages 13, 11, and 4, I didn't have the heart to tell her that the kindergarten-last-month-of-school calendar is just the beginning. And while the complete ridiculousness of my kids' schools expecting anything more than that my children will be fed and dressed and relatively clean at this time in the school year is hilariously summed up by Jen Hatmaker, the truth remains: most of us have bought into the idea that doing more (and more and more and more) will someday—finally—be enough.
Those of us who work in churches are far from immune to this line of thinking. Read more
https://media.myworshiptimes31.com/wp-content/uploads/sites/3/2017/05/29165733/rubber-duckies-here-i-stand-may-2017.jpg
426
640
Austin Crenshaw Shelley
https://youngclergywomen.org/wp-content/uploads/sites/3/2017/05/YCWILogo_Vert_Black-300x229.png
Austin Crenshaw Shelley
2017-05-25 10:10:13
2018-11-13 11:34:10
When Doing More Isn't Enough