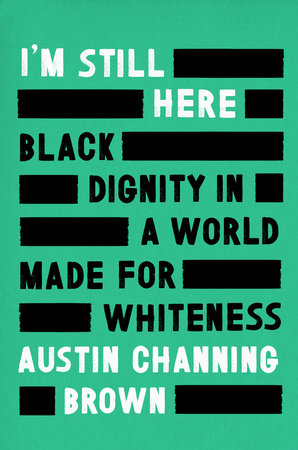 Austin Channing Brown's I'm Still Here:  Black Dignity in a World Made for Whiteness was released this year and I commend it to you. Brown's memoir is essential reading. Especially Christians who are white and living in the United States will benefit from listening to Brown's wisdom and perspective as a woman of color.
Her absorbing book starts with a surprising story that immediately draws the reader in: Brown describes an encounter she had at the age of seven when the librarian was suspicious and questioned whether the library card actually belonged to this young Black girl. When Brown confronted her mother afterward, her mother confessed that she and Brown's father had intentionally chosen a name most typically given to a white male, because they hoped that potential employers in the future would give "Austin" a chance not normally extended to people of color.
After this powerful chapter, Brown tells her story chronologically. She describes attending a private Christian elementary school in Toledo, visiting extended family in Cleveland, and she shares experiences—both positive and negative—with teachers at her Catholic high school and majority-white college in Chicago. After graduating, Brown worked at a number of Christian non-profit organizations. Brown is someone who is well acquainted with white evangelical culture, and she writes with persuasion and spiritual strength.
Going into the working world after college, Brown admits that she had assumed that she would be able to fearlessly combat racism, slaying racist nonsense as if it were a dragon. What she discovered, however, was that racism was not so much an "imposing beast" but a "poison" that "seeps into your mind, drip by drip, until it makes you wonder if your perception of reality is true." My guess is that many young clergywomen could resonate with this experience. We may enter a ministry with idealism and a desire to effect change, but systems that oppress continue to oppress, and others undermine our truth at every turn. Every time we seek to name the problem, we are told that the problem is with us. It can be wearying.
For this reason, I am grateful for Brown's tenacity: throughout her memoir, she fearlessly challenges the presence of white supremacy within the American church. At the same time, it was clear to me that she wasn't using Christianity as a punching bag: there was no malice in her evaluation, only love. She writes, "even though the Church I love has been the oppressor as often as it has been the champion of the oppressed, I can't let go of my belief in Church—in a universal body of belonging, in a community that reaches toward love in a world so often filled with hate. I continue to be drawn toward the collective participation of seeking good, even when that means critiquing the institution I love for its commitment to whiteness."
In the workplace, Brown discovered how insidious white supremacy is. She writes, "Whiteness constantly polices the expressions of Blackness allowed within its walls… It wants us to sing the celebratory 'We Shall Overcome' during MLK Day but doesn't want to hear the indicting lyrics of 'Strange Fruit.' It wants to see a Black person seated at the table but doesn't want to hear a dissenting viewpoint. It wants to pat itself on the back for helping poor Black folks through missions or urban projects but has no interest in learning from Black people's wisdom, talent, and spiritual depth. Whiteness wants enough Blackness to affirm the goodness of whiteness, the progressiveness of whiteness, the openheartedness of whiteness. Whiteness likes a trickle of Blackness, but only that which can be controlled."
There were times as I read this book that I had the same sensation as when I watched the James Baldwin documentary I Am Not Your Negro. What I had previously seen as benign in American culture was exposed, by Baldwin and Brown's keen insights, to be grotesque. Brown rightly observes that the white church has viewed power as its birthright rather than its curse, and her memoir is a testimony of the damage done by the curse of whiteness in the American church.  Read more
https://media.myworshiptimes31.com/wp-content/uploads/sites/3/2018/12/29165238/im-still-here-cover-jesus-review-dec-2018-featured.jpeg
200
298
Emily Mitchell
https://youngclergywomen.org/wp-content/uploads/sites/3/2017/05/YCWILogo_Vert_Black-300x229.png
Emily Mitchell
2018-12-20 15:00:11
2019-01-17 11:09:41
I'm Still Here: A Review