Confession – I'm a pastor, but I'm not great about reading the Bible with my kids. Maybe it's because it feels a little bit like work. Maybe it's because I'm just too tired at the end of the day. Maybe it's because my kids whine, "Ugh, it's not even SUNDAY." Maybe I just know too much about the Bible so when I read the stories I can't just let them lie – I have to explain and give context. I want to emphasize certain plot points and draw out the untold stories of women and girls. I hope to ask good questions that help them hear the overarching story: God loves us. God loves all creation. God is faithful, even we are not.
I know too well that many of the classic children's stories can be – or should be – quite disturbing. In "Noah's Ark" everybody on earth dies in a flood. In the story of Joseph, his brothers sell him into slavery for being a brat. Even the central story of our faith – the cross and resurrection – can be traumatic for young ears and needs to be handled carefully.
As a church professional I own a LOT of story bibles. The Spark Story Bible is my favorite for reading in worship because it's close to the text of the NRSV but tells stories in an engaging way and has (non-Eurocentric) illustrations which add feeling, meaning, and depth to the words. The Deep Blue Bible Storybook is my favorite bible for parents because it has great study notes that will help parents as they read to their kids. It's kind of like a parent study bible. The Jesus Storybook Bible is lovely for weaving the scriptures into an overarching narrative which can be really powerful for adults and older children. While these are all excellent works that I highly recommend, they still leave me wanting – especially for a story bible for young children (their intended audience).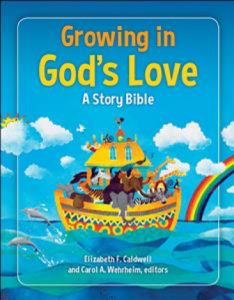 Growing in God's Love: A Story Bible is the Bible I want to read to my children because it feels like it's written in my voice. The authors of these re-tellings are my colleagues, trusted pastors, chaplains, educators, and even a rabbi. These faithful practitioners of children's ministry tell the story for kids, offering context and language that suits their understanding. Each story ends with questions and encouragement to Hear, See, and Act in a way that deepens understanding for children. And, sure, adults can get a lot from reading this bible to their little ones, but it's written perfectly for preschool and early elementary kids who think concretely and struggle to understand metaphor and symbolism.
In order to help parents choose a story that might be helpful or interesting for a particular child or situation, the editors chose to forgo the traditional order of the books of the Bible and group the texts thematically with headings like Beginnings, Prophets, and Listening for God. For example, the Rivalries section has the stories of Hagar, Sarah, and Abraham as "A Family With a Big Disagreement" (Gen. 16:1-16) and "A Family Changes Its Shape" (Gen 21:8-21). While this may throw the biblically literate a bit off-kilter, it is still grouped into the two testaments and follows the basic flow (with a helpful scripture index in the back). The illustrations vary in style, but all are beautiful, and the majority are non-Eurocentric.
But what really makes this bible unique– what brought tears to my eyes– is how it lifts up the stories and points of view of female characters in a way that istrue to the text and to women's lives. The first eighteen stories in the Strong Women and Men section have women as central characters. With titles like "God Made Sarah Laugh," "Miriam Hides Moses," "Queen Vashti Says 'No!'" and "Nabal, Abigail, and David" the traditional stories gain a fresh and faithful perspective. Read more
https://media.myworshiptimes31.com/wp-content/uploads/sites/3/2018/04/29165455/growing-in-gods-love-cover-featured.png
200
300
Karen Jackson
https://youngclergywomen.org/wp-content/uploads/sites/3/2017/05/YCWILogo_Vert_Black-300x229.png
Karen Jackson
2018-04-24 10:37:38
2019-08-15 14:18:46
The Story Bible That Made Me Cry: A Review of Growing in God's Love: A Story Bible