---
Post Author: Leah Grundset Davis
---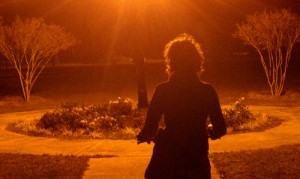 A few months ago, I attended a conference about storytelling. As I packed my bags and started to wrap my mind around what storytelling and church might have in common, I'll admit it, I was skeptical. But what came from that conference is perhaps one of the most beautiful, gospel giving moments I've ever encountered in my ministry.
One of the nights at the conference, we learned about sharing our own stories and how they impact our communal understandings of well, communion. Our lives together in this beautiful thing we call church depend so much on hearing one another's stories, living into one another's joys, hurts, sorrows and celebrations. And how often do we really get to do this during our worship?
For the season of Easter at my church, we decided to take this storytelling idea and put it into practice on Sunday mornings. Because of the makeup of our church, its urban setting and our culture, Sundays are really the days we see each other during the week. For these weeks of Easter, we'll read two less lectionary texts and instead hear "The Gospel According to…" in their place. We'll hear resurrection stories that are current, contemporary and contextual.
Taking the basics from the conference, we invited congregation members to share their own resurrection stories in two to four minutes. We pitched the idea on Shrove Tuesday with a pancake dinner and bacon (people will consider a lot of things when you offer them free pancakes and bacon) and invited church members to take the season of Lent to reflect on a story of resurrection in their own lives. During Lent, they met with pastors, reflected on their idea, put pen to paper (or fingers to the keyboard) and looked for signs of resurrection all around them.
And this pastor has had quite the moving experience. I've sat in my office and listened to resurrection stories full of hope, promise and the presence of God. And I've listened to messy stories where everything isn't resolved, but light still pokes through the darkness. The promise of resurrection leans in and it can't be stripped from the story. I never would have known these stories if we hadn't tried this endeavor in worship.
Barbara Brown Taylor has a sermon based on the Magnificat for the season of Advent. She calls Mary's song "singing ahead of time." I can't help but think of that sermon each time I've sat down to hear the stories of church members. Over cups of coffee and homemade pastries, we've cried and we've laughed reflecting on God's goodness and how we all need to slow down a little more to look for signs of resurrection all around us. We'll hear stories about lost jobs, lost loves, healed family relationships, experiences in courthouses, our own health and meals around tables.
The fear everyone had in the beginning was that they wouldn't have a resurrection story in their own lives. They couldn't think of a tomb-rolling-away kind of situation. Turns out, the stories that most encourage us and show God's activity in our lives are the stories involving relationships, ordinary time and in the midst of chaos. Life is not peaceful, but resurrection is still present. Life was not peaceful when Jesus resurrected. It was full of questions and chaos and pain.
Our church members are singing ahead of time as they long for the completion of what is to come. They hope, they search for hope and by sharing their stories, we all have streams of light pouring into our lives.
---
Leah Grundset Davis is the Associate Pastor for Congregational Life at Calvary Baptist Church in Washington, DC. She is also the Managing Editor for Fidelia's Sisters. She's hoping for resurrection in her garden this year.
---
Image by:
Keoni Cabral
Used with
permission
https://media.myworshiptimes31.com/wp-content/uploads/sites/3/2013/04/29170829/medium_5196311746.jpg
299
500
Leah Grundset Davis
https://youngclergywomen.org/wp-content/uploads/sites/3/2017/05/YCWILogo_Vert_Black-300x229.png
Leah Grundset Davis
2013-04-16 04:00:01
2018-11-13 11:45:56
"The Gospel According to…"