---
Post Author: Jess Harren
---
My husband grew up Catholic.  He still tells his mother he claims dual-citizenship as Catholic and Lutheran.  As part of our decision to get married, we made a decision that we value worshipping together as a family.  My husband joyfully joined the Lutheran church, with the full support of his parents.  However, the things we grew up with have a way of affecting us as adults, even if we think we've made a conscious decision.  This has become clear to us as we try to make decisions about our toddler son David's faith life.  Our denominational policy on communion is that you can have communion as soon as you're baptized, normally when you can have solid food, but local custom varies widely.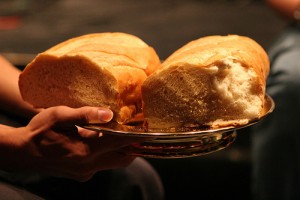 On Sunday mornings, as my husband would bring our son up the aisle for communion, he would smile and happily kick his legs.  Maybe because he saw his Mom, and maybe because he wanted bread.  Then he would look sad when he did not get held by Mom OR get bread.  Around 13 months he stopped coming to the table with that joy he once had, and it broke my heart.  So, we started a discussion in our home about giving David communion.
It was complicated.  At one point, my husband threw up his hands, and loudly said, "Only when you are married to a pastor does when to give your child communion become a martial conflict!"  Since he grew up Catholic, he never imagined he could be married to a pastor.  Most days this gives him joy, but not all days.  After talking and praying, we finally agreed to give our son communion on All Saint's Sunday.  David is named partly for my father who passed away, but gave me a good foundation of faith before his death.  We thought this might be a meaningful way to honor his role in the faith of our family.
Below is the letter I composed to my son on the day of his first communion.  It lays out some of the reasons we made the decision that we made.  Most children in our congregation take communion already, so we periodically offer "New to Communion" class with graduation on Maundy Thursday.
All Saints Sunday, November 4, 2012
Dear David,
Today you had your first communion.  Tomorrow you will turn 14 months old.  You've been stealing bread from Daddy for awhile, but today you got your own during communion.  (Sometimes, before, you got your own after.)  I know you are young, but here is what I want you to know:
 You can always come to Jesus with a huge smile kicking your legs excitedly.  You come to mommy at communion this way now.
Jesus is a good place to go when you are hungry.  Remember that when you know communion is more then a snack.
Jesus is a great place to have a break or to change what you're doing.  You love getting out the pew with Daddy and coming up front.
Jesus can fill you up with good and yummy things.  In our current church, we use real bread at communion.
Jesus loves and cares for your whole being, including your body and stomach.
These are things you can know about Jesus and communion now.  You will know more later, and will always be on a journey of learning more about Jesus and your faith and the amazing promises of forgiveness and new life we have in Jesus.  It is okay that you don't understand everything now – none of us understand everything.
Mommy's heart soared today when I gave you the bread and said "Body of Christ, Given for You".  Your eyes lit up and you were so excited.  I hope you will, most of the time, always be this excited to experience Jesus.
I love you so very much my son, and God loves you even more.  You are a blessed and loved Child of God for always.  Jesus came for everyone, including you.  I love you with all my heart and pray that you will be strengthened though the gifts of Christ's body and blood now and always.
Love,
Pastor Mommy (Daddy has you call me this sometimes.)
P.S.  We decided on All Saints Day in honor of your Grandpa David who is with God now, but is watching and encouraging your faith journey from there.
i  Paraphrase of: The Use of the Means of Grace: A Statement on the Practice of Word and Sacrament, Adopted for guidance and practice by the Fifth Biennial Churchwide Assembly of the Evangelical Lutheran Church in America, August 19, 1997.  Accessed PDF Feburary 18, 2013 from http://www.elca.org/Growing-In-Faith/Worship/Learning-Center/The-Use-of-the-Means-of-Grace.aspx, pp.  39-41
---
Rev. Jessica Harren is the solo pastor of Capron Lutheran Church, ELCA, in Capron, IL. She attended the Lutheran School of Theology.
---
Image by:
Six Steps
Used with
permission
https://media.myworshiptimes31.com/wp-content/uploads/sites/3/2013/03/29170839/medium_169252325.jpg
333
500
Jess Harren
https://youngclergywomen.org/wp-content/uploads/sites/3/2017/05/YCWILogo_Vert_Black-300x229.png
Jess Harren
2013-03-19 10:01:58
2018-11-13 11:45:56
The Marital Politics of Communion and A Letter to Our Son