---
Post Author: Larissa Kwong Abazia
During the month of November 2014, Fidelia's Sisters explored the theme of gratitude and what it means to live out of a sense of abundance. Please enjoy these reflections on the goodness of life and ministry and follow our #thanksliving14 media project.
---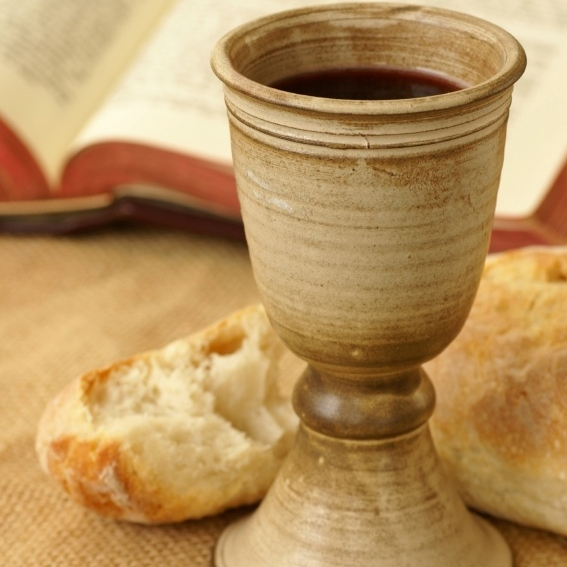 I suppose a pastor's favorite holiday should be either Christmas or Easter…but truth be told, I love Thanksgiving. I have fond memories of waking up in morning and lazing around the house in my pajamas while the smell of turkeys filled the house. Did you catch that? I said turkeys: my parents always made one to keep at home (and snack on a bit…you know, just some quality control) and another to bring to my aunt and uncle's house for the family meal. My mother would bake trays of homemade rolls and apple, pumpkin and coconut pies. Our house was full of warmth and scents of family togetherness during Thanksgiving.
One year I convinced my mother to make a crumble topping for the apple pie instead of her usual flaky crust. I thought it would be a fun, welcomed change that would give us all something different to enjoy. Unfortunately, she never heard the end of the grumbling and comments about it. Even to this day, I feel bad for the innocent suggestion, though it gave us time to bond over baking. I guess there are just some things that you can never change.
While they were eating, Jesus took bread, blessed it, broke it, and gave it to them, and said, "Take; this is my body." He took a cup, gave thanks, and gave it to them, and they all drank from it. He said to them, "This is my blood of the covenant, which is poured out for many. I assure you that I won't drink wine again until that day when I drink it in a new way in God's kingdom."
Mark 14: 22-25 (Common English Bible)
On the first Sunday of each month, my congregation gathers around the Lord's Table for communion. There are always the familiar elements: the small square pieces of cut bread, plastic cups full of grape juice, a silver chalice with juice already evenly poured out, and a round piece of bread on the paten. White linen adorns the table so that everything is covered just so.
On my first Easter with the congregation, I invited all of the worshipers to come forward to break off a piece of bread from a common loaf and partake of an individual cup of juice. There was some confusion as our "decently and in order" Presbyterianism made walking forward and partaking of the meal in this new way an over-thought process. I love the imagery of coming forward to the Table but, like anything, there were a few who said, "That was, well, nice," trailing off in their comment with a smile.
The more I think about it, the more I wrestle with the fact that the Lord's Supper is not just a nice meal that we celebrate because Jesus told us to do so. It was Passover and he chose to be with his closest twelve companions instead of the crowds he so often embraced. The simple bread and cup were the last communal meal to touch his lips before his betrayal, torture and death on the cross. I don't mean to downplay that sacred moment.
Do we ever stop to think that the meal that we eat is the last meal of a man who was executed by political leaders? The bread that we eat and the cup that we drink, even the words that we say, are a part of the final hours of a man deemed a criminal by the Roman and religious powers of his day? Jesus was such a threat that those with power and privilege believed that the last resort, crucifixion, had to be taken or their political and religious leadership was at risk. If we dare to partake of communion weekly or monthly, we are defying the political prowess of our own day by testifying that we are governed by a different, holy power, too. We believe that neither execution nor death will ever have the last say for the one whom we call Messiah.
We could celebrate communion in our congregations and deem it nothing more than a holy tradition that feeds us to face the daily challenges of life. We could yearn for the familiarity of a Table with the same elements time and time again. I suppose that is reason enough for us, sometimes. But on those days when we need more, when God needs more from us, the Table reminds us that God is about anything but simple traditions. The story expands, tables turn, and a meal is transformed into a countercultural revolution that alters history over and over again.
---
Larissa Kwong Abazia is a clergy in the Presbyterian Church (USA) and was Vice-Moderator of the 2014 PC(USA) General Assembly.
---
https://media.myworshiptimes31.com/wp-content/uploads/sites/3/2014/11/29170310/communion-cup-square.jpg
567
567
Larissa Kwong Abazia
https://youngclergywomen.org/wp-content/uploads/sites/3/2017/05/YCWILogo_Vert_Black-300x229.png
Larissa Kwong Abazia
2014-11-18 04:00:45
2018-11-13 11:40:30
When Tradition Becomes Commonplace