---
Post Author: Sarah Kinney Gaventa
---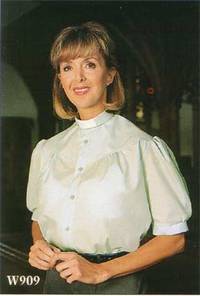 We never got so involved in the game that we developed costumes, but if we had, this women's clergy blouse I once saw on the Wippell site would have served the purpose nicely.
While I still reflect on my childhood novels, I no longer aspire to embody them, so a professional blouse that would look at home on a pioneer in the 1870s is not quite "the look" I want to present as a young clergy woman.
Finding clerical shirts as a young woman priest can be tricky. We want to present ourselves as professional persons, but also spiritual persons. We also want to present ourselves as modern and relevant. Is all this possible?
At times the deck seems stacked against us.
When I asked The Rev. Dr. Robert Prichard, professor of History and Liturgy at Virginia Theological Seminary about the history of the clerical shirt, he wrote, "Detachable collars were popular for any well dressed male from the middle of the 19th century until the 1920s. At that point, the Arrow Shirt Company introduced the fixed collars that we know today. Clergy, always conservative in dress, retained the older detachable collar style at least for Sunday dress. The only real mystery is why the clergy turned their collars around backward from the way that others wore them."
This tendency towards conservatism may explain why the design of women's clergy blouses are so different from design of a modern woman's professional blouse. Most modern clergy shirts made for women today lack breast darts or curved panels, making women with smaller chests look like young boys, and larger women look shapeless. They are also designed to be worn with pants that fit at the waist, which very few pants now do.
The design of the shirts is only the beginning of the problem. When ordering clergy shirts from the two most popular vestment companies, I have had friends told, "Our men's clerical shirts are so much less expensive than women's clerical shirts because there is more demand for men's shirts."
(To a tall and thin woman)
"Well, if you want sleeves long enough for you, you should order your shirts from Womenspirit."
"Those can't possibly be your measurements.  Those measurements are a child's measurements."
"Your neck can't possibly be that small if your bust is as large as you say it is."
"And no, we cannot accommodate breast darts. We are not in the business of fashion, we are in the business of clerical wear."
The very companies that are supposed to clothe women clergy seem fundamentally uncomfortable with
women's bodies. The female body has long been an object of discomfort in Christian history, representing temptation and even evil. Any woman minister who has been ogled or groped knows that her body represents things to others that she could not even imagine. However, if we, as the church, are supposed to teach God's grace and love for people of every shape and size, should we not begin by respecting our own bodies and clothing them in dignity?
My women friends do not want flashy clergy shirts that show cleavage or belly rings, we simply want
shirts that fit. Some of us have found private tailors that will make shirts that suit us (at a hefty $120 to $150 a pop); others have used their ingenuity and sewing skills to modify brand name blouses to fit a clerical collar. Thankfully, some clerical wear companies are beginning to listen. Womenspirit, a women-run company, recently released their "fitted shirt," a modern blouse with three-quarter-length sleeves that can be worn un-tucked.
We may not ever get affordable clerical wear as forward thinking as Maria Sjödin's Swedish "Casual Priest" line of clothing: a jaw dropping collection of well fitted women's clergy shirts with dramatic, architectural cuffs, soft lines and even one shirt made of (gasp!) jersey. While some of my friends find her clothes too fitted, to me they exemplify my image of a young clergy woman—rooted, confident, not afraid of her femininity, but not defined by it, either. (Unfortunately, due to the weak dollar, these shirts run from $154-$235; prices that are prohibitive for most young clergy women.)
Even if the large clerical wear companies are not comfortable with Sjöden's cutting edge aesthetic, I do hope her work can serve as an example of how well-fitting shirts, cut specifically for a woman's curves, can be both professional and feminine, without the help of puff sleeves or other features of 19th century women's fashion.
In the meantime, young clergy women are showing great ingenuity—even engineering their own clergy shirts. Susan Fawcett, an Episcopal priest, demonstrates how to adapt a mandarin collar shirt sold by Target by adding two small buttons to the collar in her clerical wear blog, Collar This! In other posts on Collar This!, young women clergy (including this author) share shirts they have found that are easily adaptable. For those who prefer not to muck about with needle and thread, a clerical dickie can be worn underneath many blouses, suit jackets and sweaters. But all of these are simply adaptations, adaptations that no clergyman I've met have ever had to make.
For after all, young clergy women do not want to play dress up, or feel like we're playing dress up when we get ready for the exciting life of ministry every day. We simply want to find affordable clothes that help free us to do the work we've been called to do.
---
Sarah Kinney Gaventa is the Associate Rector at Emmanuel Episcopal Church in Greenwood, Virginia. Her areas of responsibility include Christian Education, Youth Ministry, and Newcomer Ministry. Her favorite Sunday morning stress relief is to sneak into the Preschool Sunday School class and help someone make a craft.
Sarah is married to Matthew Gaventa, a Presbyterian, and they are eagerly looking for a dog, preferably Methodist or Lutheran, to complete their ecumenical family.
---
https://media.myworshiptimes31.com/wp-content/uploads/sites/3/2018/05/29165440/clergy-collar.jpg
426
640
Sarah Kinney Gaventa
https://youngclergywomen.org/wp-content/uploads/sites/3/2017/05/YCWILogo_Vert_Black-300x229.png
Sarah Kinney Gaventa
2007-11-01 09:56:04
2019-05-29 23:10:23
What Not to Wear