---
Post Author: Sarah Weisiger
---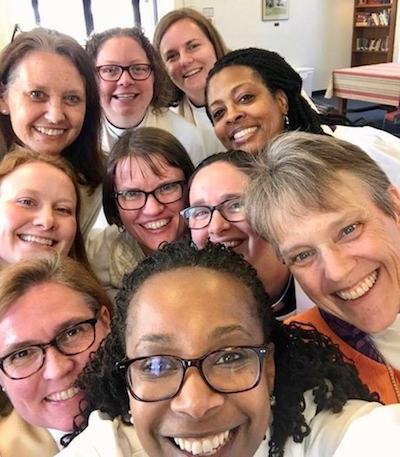 What did you want to be when you grow up?
I don't know about you all, but I was certain that I was going to be an agricultural veterinarian. I was going to specialize in Equine Care, and spend my days travelling to horse farms and stables caring for the these large, stately animals and the people who loved them.
But somewhere along the way, church caught me. It hooked me by the mind and the heart, and I found myself incapable of surrender. Church felt important—it oriented me outside of myself and towards justice, righteousness, and making the world a better place. My previous dreams simply couldn't compete with the larger, big-picture worldview of God in Christ. Suddenly I was planning my future ministry, dreaming of ordination and robes and preaching and teaching, wondering if getting arrested is the sort of thing that a really committed pastor would do for the cause of justice, thinking about environmental ethics and the poor and multicultural church, and fantasizing about a Godly Play Classroom of my own.
Fast forward a few years, and these days I am not so sure. Sometimes I cannot imagine doing anything other than what I am doing in this very moment, serving a small suburban church near a big city. When we serve our neighbors, when I preach the Gospel, when I catch the neighborhood kids singing church songs at the playground and playing "baptism" with their dolls, I am caught again.
But other days, the days filled with long meetings, marked by congregational conflict and uncertainty, the days when we are fighting over carpet colors or worried that we don't have enough money to feed the poor and help the helpless, the days when my church sucks the life out of me with endless meetings and neediness, … Those days I find myself returning to the same question: what on earth I was thinking?
I know I am not alone.
Some of us have always been certain of our call; others of us battle daily with doubt or ambivalence. One woman shares that she has never felt anything but a call to ministry; another feels as though her call was made with her kicking and screaming all the way to ordination.
For those of us who have always been confident of our calling, doubt can creep in other ways—one young clergywoman shared with me that she had a serious crisis about whether to continue to pursue ordination in her own tradition or to switch denominations after a move to a place where her denomination is not well established. It was only after a great deal of prayer and discernment that she found the courage to remain within her tradition. Nine months later, she shares that she received a call to part-time hospital chaplaincy and was ordained. Speaking of her call, she has this to say:
"It has been a roller coaster, for my faith, call, and marriage. And there were definitely days when I questioned my whole call to ministry when it seemed like there was never going to be an ordainable call or opportunity to use my gifts. But when I'm truly honest with myself I know that there is nothing else that would give my soul this joy."
And then there are those who continue to struggle with the call itself. Many of us still wrestle with cultural notions about whether or not a woman could be a minister; others of us have struggled with seeing ourselves as worthy of the call, or up to the task of pastoral ministry. One young clergywoman wrote to me that, despite the confidence of those around her that she was called to ministry, she found leading up to her ordination that she carried a great deal of ambivalence. The service itself, however, "was so amazing and so powerful and so right" that she set those feelings aside. But the feelings remained—years later, she continues to wonder whether she has "an actual call from God," even as she experiences many incredibly powerful moments of holy connection with people in her ministry.
One theme that arises again and again is that the ministry of many young clergywomen, a ministry that so many of us have worked so hard to realize, and which we have often given up so much to embrace, is most often complicated not by our sense of call from God, but by our experience of the church as a community. In other words, it is not our relationship with God, but our relationship with the Body of Christ that affects how we imagine our ministries, and how our ministries shape us. We all have come to this odd and wondrous calling with a passion and a vision that is shaped by our personal experience of church, one that is inextricably connected to the church that raised us and the people who were there. This vision inevitably crashes up against the shoals of a new country, the people to whom God has called us, and that experience can be both exhilarating and utterly terrifying. It can, in the words of one clergywoman, chafe against our sense of who we are, make us feel rebellious, or cause us to run for cover. It can leave us questioning everything we think we know, can leave us grasping at our pasts and wondering—have I chosen the path God intended? And it leaves some of us more certain than ever that we are exactly where God called us to be.
Ultimately, ministry in community is the process of coming to know who we are. Many of us come into ministry because we want to help others, but the truth is that we also are being helped along. Ministry is powerful precisely because it has the power to form us, to reshape us, sometimes to shatter us so that something new can rise. To serve God is to be vulnerable, to be open to the possibility that God might change you, or call you in a new direction. Like Abraham and Sarah, we must always be open to the possibility that God will call us into a new country, one we are not familiar with. And that is scary. But isn't it exciting, too? Isn't it amazing to think that God, our God, cares enough to bid us follow? And perhaps, in the process, to grow into something new and faithful, someone beloved and holy?
I don't know about you, but that is exactly what I hope to be when I grow up.
---
Sarah Weisiger is a Presbyterian minister serving in Bucks County and the current editor of the column "Lift Up Your Hearts" for Fidelia Magazine.
---
Image by:
Kristen Tossell Pitts
Used with
permission
https://media.myworshiptimes31.com/wp-content/uploads/sites/3/2017/05/29165738/lift-up-your-hearts-may-2017-featured.png
200
300
Sarah Weisiger
https://youngclergywomen.org/wp-content/uploads/sites/3/2017/05/YCWILogo_Vert_Black-300x229.png
Sarah Weisiger
2017-05-16 04:00:49
2019-08-15 14:26:34
When I Grow Up