---
Post Author: Emily Chudy
---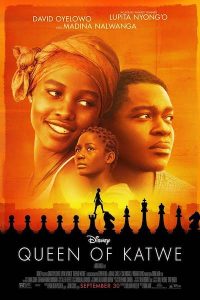 The slums of Katwe, Uganda, are an unlikely place to find a Disney Princess. They're an equally surprising setting for a movie about a chess prodigy. Yet, this is home to Phiona Mutesi. And her story—the remarkable journey of a young girl who struggles to survive on the streets with her family and finds chess as a path to a brighter future—creates the brilliant tension and inspiration that is Disney's recent movie Queen of Katwe. This film follows Phiona as she overcomes impossible odds; its focus on tapping the unrealized potential in all people is a gift to viewers who experience Phiona's story through the lens of the camera.
One of the strengths of the film lies in its ironic juxtapositions: the dusty, chaotic streets of Katwe, lined by the ramshackle shelters that are home to the poorest of the poor, are set as a backdrop for the strategy and precision often associated with the game of chess. Nakku Harriet (Phiona's single mother played by Lupita Nyong'o) desperately tries–in a culture in which women have few rights and even fewer opportunities–to provide for Phiona and her siblings. Phiona, her sister, and brothers cannot afford to go to school. They spend each day selling corn, hoping they will have enough to eat and pay rent at the end of the day. The story begins to shift when one afternoon, Phiona finds herself outside a church mission that offers sports for children in the city. Seeing that Phiona is hungry, Coach Robert Katende (played by David Oyelowo) invites her inside for porridge. But porridge is not the only remedy for Phiona's hunger. Inside the mission, Phiona discovers chess.
Katende quickly notices Phiona's intelligence and innate skill for the game. Once Phiona has won chess matches with all the girls at the mission, she goes on to challenge (and win against) the boys as well. When Katende enrolls the children of Katwe in a chess tournament, Phiona takes the title. Her quick mastery of the game leads her to more tournaments at the local and international level, including the global tournament held in Russia. Plenty of setbacks and moments of conflict arise throughout the film, particularly regarding the clash of Phiona's own culture with the privilege her success at chess affords. In light of this conflict, Phiona grapples with making difficult decisions. So, too, the viewer must sit with a story that illustrates the paradox that life is neither a magical fairy tale nor a hopeless case.
As a young clergy woman, I'll admit I watch most movies looking for "that'll preach" moments, which are plentiful in Queen of Katwe. I was surprised, though, to find myself frequently resonating with Phiona's journey. While I undoubtedly recognize that Phiona's story wholly differs from my own in that I was born into a solidly upper-middle class, white family in the United States, I see in Phiona's story the indispensable role of mentors who invest in the gifts of their mentees and thereby help to shape a new narrative. Robert Katende invested in Phiona's life. He saw her gifts long before she could recognize them in herself. I am thankful for the mentors in my life who have done the same for me. My gratitude leads me to hope that I will someday mentor another young woman to follow the call of God into ministry.
Another strong thread that weaves through Queen of Katwe is a sense that Phiona's new path and quick success separate her from her family such that her relationship with them is irreversibly changed. Nakku Harriet pulls Katende aside to explain to him, "You have shown my children a paradise, but now they feel out of place where they are." I wonder how many young clergy women feel such tension as they respond to God's call to professional ministry, especially if their families or churches have no experience of women in church leadership. One cannot help but be reminded of Jesus' astute observation that "no prophet is accepted in his hometown" (Luke 4:24).
Watch Queen of Katwe. As Phiona struggles to reconcile her roots in Katwe and her success abroad, consider your own struggle to maintain integrity and purpose as you live out your call.
---
Emily Chudy serves as Co-Pastor of Central Presbyterian Church, in Downingtown, PA, and in leadership for Donegal Presbytery. Beyond the church she is a Philadelphia Phillies "phanatic," and aunt to an adorable two-year-old, and a seeker of gluten free cupcakes.
---
Image by:
IMDB
Used with
permission
https://media.myworshiptimes31.com/wp-content/uploads/sites/3/2017/04/29165748/queen-of-katwe-poster-jesus-review-april-2017-featured.jpeg
200
300
Emily Chudy
https://youngclergywomen.org/wp-content/uploads/sites/3/2017/05/YCWILogo_Vert_Black-300x229.png
Emily Chudy
2017-04-25 11:18:03
2019-08-15 14:27:25
Beyond Disney Royalty: A review of Queen of Katwe