---
Post Author: Name Withheld
---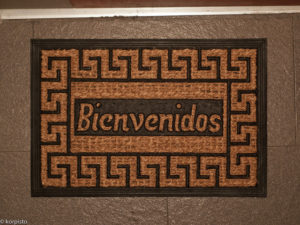 Sunday morning after worship, I sat with Lidia*, trying desperately to hold back my tears as she occasionally wiped hers away, hiding them from her children. Lidia and her family are an integral part of our community of faith. They became members after Lidia and the previous pastor met in classes while they were both pregnant. As they got to know each other, the family started worshiping with our community of faith. In turn, our community of faith started including more Spanish in our worship service.
Lidia and her family are among the many migrant and immigrant residents of our rural Midwestern town who have come from Mexico to work on the local farms. Last year, our community of faith had been excited and energized by the relationships we'd been developing with the farmworkers and their families. The banner outside our church building, made for our annual picnic welcoming our friends back from their homes in Mexico, reads, "¡Bienvenidos! Welcome!" Each year, an extended family spends five to six months in our town, working for a local organic farm during their main growing season. And each year for the last few years, we have welcomed them with a picnic filled with food, games, and maps that allow all of us to point to the places we each come from.
We also pushed our School District Community Education Program to offer free English as a Second Language classes in the community. At the end of the harvest, we send the family back to Mexico with cookies, well-wishes, and cries of "¡Hasta la primavera! ¡Nos vemos en junio!"
Our members take seriously the love of God they encounter in communion—a love that means each person has a place at the table and each person should be fed and nourished. I wish the story could end there, with us all sharing in joyful welcome of each other at God's Table, but when we form meaningful relationships with people, we also get to know the problems they face in a new way. This is especially true for problems that are rooted in systemic sins.
In 2016, we were in the middle of the eighth year of President Obama's presidency—a year which touted a record number of deportations for any United States president. It was only a matter of time before the tragedy of deportation hit us personally as well. In November and December of last year, Immigration and Customs Enforcement (or ICE) showed up at two area farms. Eight men were taken from their jobs to a detention center over an hour away.
One of the men detained had a relative who had been in the ESL classes where we volunteered, so one of our members began to dive into the deep and murky waters of the United States immigration system to see what she could find for her friend. She ran up against a few walls, and though she ultimately figured out where the man was, she couldn't help him. There was no chance for bail. He was deported before we could even figure out what an alternative process would be for him.
The economies here in the heartland–especially on dairy farms–rely on workers from other countries because farmers can pay them less to do the job. Plus, the workers are generally reliable… unless ICE shows up in its usual sneaky way. The immigration system is broken in part because we need more workers in this country than those for whom we offer visas, and in part because we are unwilling to pay more for milk, cheese, and other food to compensate those who harvest it with a livable wage.
In the last week, we have received news reports of immigration raids throughout the country. Because of a mistake that was dealt with several years ago, Lidia's family is in the government system.
Even a month ago, Lidia and her family were nervous about the new administration, but they were planning to stay so that their two kids, who are citizens, could grow up in the only country they have ever known, free of violence and with opportunities their parents didn't have. As I sat with Lidia, she told me that they didn't know what to do. They were trying to figure out a way to build a house back in Mexico in case they were deported, or to balance work, saving money, and child care if one was deported and the other remained with their children. They were even considering moving back preemptively to avoid the ongoing anxieties of the last weeks.
After that conversation, Lidia, her spouse, another friend, and I spent hours together, trying to find a way for them to legally move to Canada, seeing it as the only hopeful option. As I came home, I had to fight down my own anxiety and panic. This family is a vital part of our ministry as a community of faith. They are bridge builders. Their children are children of our congregation, sitting with different people in worship, comfortable playing with almost anyone. If they are deported, it will be devastating for them and for our whole community of faith.
We know that the immigration system in this country is broken, but right now the burden and anxiety rests most heavily on those who are already most aware of and most vulnerable to its brokenness. Children wonder if they'll see their parents again when they get home from school. Parents worry about what will happen to their children (who have only known this country as their home) if they get picked up by "la migra." If parents are captured, will their children come with them? Will they stay? Will they be lost in the foster care system?
And as their pastor, I cannot help them. So instead I sit with tears in my eyes as they share their anxieties. I search fruitlessly for a crumb of hope for their situation, when I know there are no crumbs falling from this table. I make sure they know to call me and that I will show up if Immigration and Customs Enforcement does show up. I pray like their lives depend on it, because they just might.
When our community of faith started building relationships with strangers we hadn't realized lived here in the "homogenous rural states," we didn't know where it would lead. So far, it has led to joy and discovery as well as heartache and pain. In other words, it has led us to Jesus, who made the ultimate journey across the divide of living and dead out of love–love for those of us with papers, and love for those of us without them.
*Name has been changed.
---
Image by:
Shane Armas Korpisto
Used with
permission
https://media.myworshiptimes31.com/wp-content/uploads/sites/3/2017/02/29165824/6063510137_74416620d4_z.jpg
480
640
Name Withheld
https://youngclergywomen.org/wp-content/uploads/sites/3/2017/05/YCWILogo_Vert_Black-300x229.png
Name Withheld
2017-02-16 04:00:13
2018-11-13 11:34:33
¡Bienvenidos! Welcome!