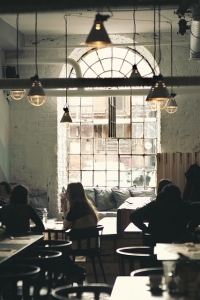 We don't know each other well, but we've been chatting for awhile, maybe at a party, or at a playdate for our kids.
The subject of what we do for a living hasn't come up yet, and we're talking easily about other things. But then the time comes when we would normally talk about what we do for work and I don't bring it up. You might wonder if it's because I don't work, whether I'm a stay at home mom or unemployed, so you think maybe you shouldn't bring it up. But I can tell you want to tell me what you do for work and so I ask.
My hesitation is not because I don't want to know what you do for work—I really do—but because I don't want to answer it back. It's not that I'm embarrassed by what I do for a living—quite the opposite, in fact—it's just that once I tell you that I'm a priest, everything about our conversation is going to change.
The first thing you'll do is apologize for swearing.
(It's ok! I have actually heard those words before. In fact, I've even said them!)
You start scanning my face to see whether I'm judging everything you do.
(I'm not.)
Then you worry you're offending me with things you say.
(You're not.)
You start to wonder if you can ask me all the questions you suddenly have. And sometimes you ask. And I try to answer them honestly, usually refraining from the snarky ways I'd actually like to answer:
Do women priests even exist?
(Would you believe me if I told you I'm actually a hologram?)
Are you allowed to have sex?
(No. My three children sprung from my head like the children of Zeus!)
You might feel awkward talking about what I do for living at all and so you ask quickly what my husband does for a living. You learn he's a teacher, and suddenly we have lots of things to talk about. Everyone likes talking about teachers. The conversation flows on from there.
But then, sometimes….
You ask me about God.  Read more
https://media.myworshiptimes31.com/wp-content/uploads/sites/3/2018/12/29165247/coffee-shop-friends-here-stand-dec-2018-featured.jpeg
200
299
Charlotte LaForest
https://youngclergywomen.org/wp-content/uploads/sites/3/2017/05/YCWILogo_Vert_Black-300x229.png
Charlotte LaForest
2018-12-11 11:50:36
2019-08-15 14:10:02
That Awkward Moment: Making Small Talk as a YCW