The 2007 Conference: Testimony
Our very first conference emerged from the hardwork of Susan Olson. Through the support of The Louisville Institute, young clergy women who had previously only connected through an underground password-protected blog gathered the Cathedral College of Preachers in Washington, DC.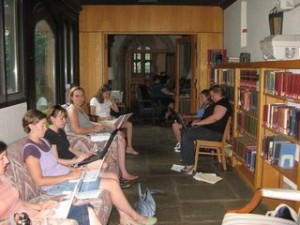 On August 6-10, 2007, these young clergy women were encouraged to preach the good news by Anna Carter Florence. Using inspiration from her recent book Preaching as Testimony, the Rev. Dr. Carter Florence worked with small preaching groups. Following the format familiar to the the Cathedral College, participants were invited to preach two sermons over the week in these small preaching groups –one previously preached, and one new one.
We worshiped together daily, shared communal meals in the refectory and participated in an evening of focus groups on the status of young clergy women. But, more than anything, we remembered how important it is to know that we are not the only ones.
The United Methodist Portal published this article about our first conference.