---
Post Author: Abigail Conley
---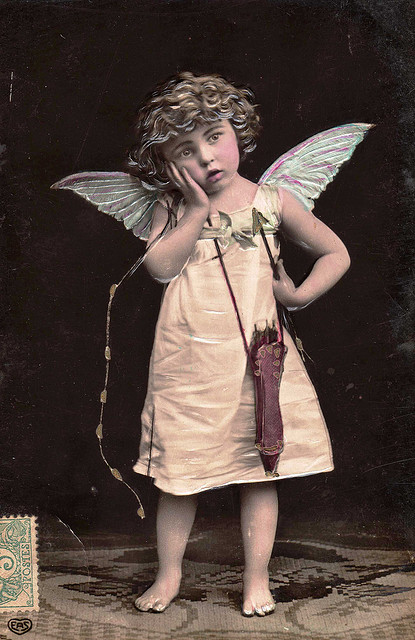 "Sign up for Match!" your friends said. "My friend Beth met someone on there and they're getting married in June!" your friends said. So you did. You shelled out for the six month period, trusting you'd never need that free additional six months because you'd meet someone special right away.
When the six month subscription ran out, you were still optimistic. That's why they give another six months free, right? A whole year on Match with hundreds, maybe even thousands of people to meet? Yes, you'd meet someone special for sure.
After the second six months is over, still with no one special, you find yourself on OkCupid. Your single-pastor's budget doesn't have room for another subscription service. Your friends have assured you the free one is just fine. "Sign up for OkCupid!" your friends say. "My friend Sarah met someone on there and they're getting married in July!" your friends say.  So you copy and paste from your Match account into your OkCupid account and wait.
Surely the perfect person is out there, waiting for you. It's just a matter of time until a message from The One is in your inbox. But what should you do while you wait?
1.  Play Candy Crush Saga. This is the solution during your optimistic stage. If you open one browser window to OKC and play Candy Crush for a bit in another browser window, someone will message you. Five lives. You have five wholes lives. If you take the level slowly, you might even have two messages when you click back over to OKC!
2.  Clean. The optimism is waning, but you're still certain that if you keep the OKC website open on your computer, someone will message you. Open up OKC. Open up Pandora. Clean! Come back to your computer. Yes! Three messages!
"hey sexy"
"wanna hook up"
"what u up 2"
You're going to have to wait a while longer.
3.  Be SuperPastor. You've been sucked deeper into the OKC vortex, but you're still hopeful that a message is coming. A real message. A message with correct spelling and grammar. You're not going to think about it. You're going to be SuperPastor instead. You call the grouchy lady and pray with her; through the power of the Holy Spirit, she's happy for a solid ten minutes. You wrangle the youth group. You write a sermon that will make them laugh, make them cry…really, it's better than Cats. The church calendar for the next three years is all sketched out. Take that, OkCupid message silence! You cannot defeat SuperPastor!
4.  Start the Master Cleanse. You know you need to take better care of yourself. You've been saying that for a while. Instead of waiting for someone else to message you, you're going to take charge so that when that person finally messages you, you will be a strong, independent woman in awesome shape. Google "master cleanse." Realize this involves several days of drinking only water laced with maple syrup, cayenne pepper, and lemon juice. Decide to take a trip to Whole Foods* instead. Crack almonds it is. And some other healthy stuff while you're there.
*Realize you're a pastor in a small, rural town, perhaps thousands of miles away from Whole Foods. Collapse in despair.
5.  Decide to take things into your own hands. You will ferret out and message The One all on your own. Put on Orange is the New Black in the background. Plug in your laptop. You've got this. Start scrolling through your matches. Cute. Cute. No way. Kids? Hmmm. Click. What does that even mean. Google it. Click on another profile as quickly as possible. See another single pastor, one you know in real life, in your matches. Internally freak out. Can you click on their profile? Of course you want to know what they wrote. But what if OkCupid sends them a "She's an exceptionally good match" email? Or "She's checking you out right now!" Ignore the urge to click. Consider signing up for A-list so you can browse anonymously. Curse your budget limitations. Keep clicking.
6.  Reconsider your expectations. How long ago did you sign up for OkCupid? Take a long walk while pondering your list of requirements. Is the correct use of you're/your really that important? Is a college degree necessary? You could totally get involved with a Tea Partier since opposites attract, right? Is it really about the gender or just the person? That person in Mozambique actually seemed nice; long-distance isn't that big a problem, is it?
7.  Find single girlfriends. Yes, all your BFFs are happily partnered, but that's why Meetup exists. Single girlfriends mean alcohol and group bemoaning of singleness. Their OkCupid horror stories will surely soothe your pain. The internet is once again your friend as you use it to locate other single ladies.
8.  Ponder scripture. Paul wrote about the gift of celibacy for a reason, right? Did God give you that gift and you've just missed it until now? Surely there's a reason Roman Catholic clergy are celibate… maybe a call to ministry and a call to celibacy go hand in hand. Tear up a little at that possibility.
9.  Give real life a shot. Hang out in coffee shops. Google singles bars then hastily click away in terror. Go the places you love because The One will surely be there, too. Every single romcom says that's true. Go to Meetups. Go to professional networking events. Yes! Forget OkCupid. You will encounter the perfect partner by a pre-digital age method. Millennia of humanity can't be wrong! Stay out late and see who you meet!
10.  Just live. The truth is, you have an awesome life. You are an intelligent, gifted, beautiful woman. God called you to ministry and gave you people with whom to live out that call. It's amazing and wonderful and life-giving and a rollercoaster ride. Yes, you want a partner, but the truth is, you're fabulous all by yourself. OKCupid's message silence be damned.
---
Abigail Conley serves as the transformative pastor of Chalice Christian Church (Disciples of Christ) in metro Phoenix. Trying to date while pastoring churches has yielded far too much experience in the worlds of OkCupid, Plenty of Fish, eHarmony, and Match--and far more trying to date than actually dating. In her free time, she enjoys hiking and anything by Stephen King or Joss Whedon. As a byproduct of the horrors of online dating, she can also direct you to the best happy hours around.
---
Image by:
chicks57
Used with
permission
https://media.myworshiptimes31.com/wp-content/uploads/sites/3/2014/08/29170504/2161693094_9bf2e3179c_z.jpg
640
415
Abigail Conley
https://youngclergywomen.org/wp-content/uploads/sites/3/2017/05/YCWILogo_Vert_Black-300x229.png
Abigail Conley
2014-08-12 04:00:20
2015-08-25 18:23:39
Waiting for Cupid