---
Post Author: Sarah Kinney Gaventa
---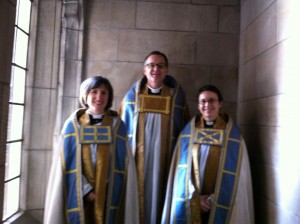 A little over a year ago, my husband graduated from seminary and we began looking for two clergy jobs.  Our search took us to the heart of Texas and to the suburbs of Detroit.  We daydreamed about Idaho, California and Maryland.  I dreamed, too.  I thought, finally, after two long stints as an associate rector (second-in-command pastor for those of you who don't speak Episcopalese) I would finally seek a call as a rector.  Sheryl Sandberg's Lean In was floating around the atmosphere and I was ready to take on a new mantle.
Except that I didn't.  Finding a rector job and a solo pastor job (My husband is Presbyterian.) concurrently is pretty challenging.  In one search, when it came down to the wire, I pulled my name.  I loved that congregation.  They were right up my alley; I felt great chemistry.  But there was no imminent job for my husband nearby, and I just wasn't sure I was ready to take on the extra responsibilities that rectors have.
My husband ended up taking on a solo pastor gig and I am working as an associate at a mid-sized church back in Virginia, just seven miles away from the church where I began my ordained ministry.
I'm pretty confident I won't be an associate rector the rest of my life, but all in all, I really like the quality of my life as an associate.  Keep in mind, I have had pretty great bosses, who have given me great freedom and who have earned my respect.  That is not the case for every associate.  Here are the things I love about being an associate:
1. Work/Life Balance
As an associate, most days I am able to walk out the door at 4:00 PM to pick up my son from day care.  I commute 40 miles, so all of this takes about an hour.  As a solo pastor of a small church, my husband is able to be home by 5:00 PM most nights and cook us dinner.  Both of us, most of the time, are able to keep faithful to our days off.  There are always exceptions—the occasional funeral or youth group trip, but, in general, we have a quiet life with a lot of time to be together.  We try to schedule night meetings on different evenings, and we have a great babysitter on speed dial for when we cannot.
2. Focus on my Passions
For the first seven years of my ministry, I was able to focus on children's ministry and newcomer integration, two areas of ministry I find to be really exciting and fun.  I wasn't wrestling with budgets and angry parishioners and trying to solve staffing issues.  I was singing endless renditions of "This Little Light of Mine" and finding a home for people in the Episcopal Church.  In my new call, I get to stretch a little and do some more committee work, lead a women's bible study, and coordinate our pastoral care systems.  I get to concentrate on very specific areas and go deep with people.
3. Playing the Fool
This is one of my favorite parts of being an associate.  As the associate I can ask questions a rector cannot.  I can play dumb at a vestry meeting and ask a loaded question about some sensitive part of the church's history.  I can crack a joke later in the same meeting to lighten the mood.  I can name dynamics of staff relationships in a way that is not as threatening as if a rector did it.  I am fascinated by the way systems play out in groups and I get to really explore, and hopefully help, staffs and vestries work together well.
4. Playing on a Team
I love working with others.  I work best when I can bounce my ideas off other people.  During my time at Trinity Church in Princeton, the rector and curate were incredibly creative people.  Many ideas I brought to a meeting got tossed around and turned into something ten times better than I had planned originally.  Those meetings often devolved into absolutely hilarious repartee that gave me energy for the rest of the day.  I also like being an encouraging presence to a rector, helping the rector problem solve and brainstorm.  The "chief of staff" role feels comfortable to me.
There are tensions, of course, my ego being first and foremost.  A part of me hates that men with whom I went to seminary are now established rectors well on their way to "big steeple" churches.  I see so many of my women friends dropping to part time, or dropping out altogether, and I worry that somehow we are missing our turn on an ecclesiastical conveyor belt that won't wait for us.  Even the most powerful, dynamic women rectors in my Diocese tend to be rectors of small parishes.  I haven't been trained to be a rector of a small parish.  All my expertise is geared towards how large, multi-staff parishes function.  Will anyone hire me as a rector if I have a dozen years as an associate under my belt, but not one as a rector?
Secondly, during my national job search, I was disheartened to find that as an associate I made much more than many small churches were offering.  I had to lower my asking salary by a third just to be considered for these positions.  I had listed my diocesan minimum on my application, and it was sobering to realize how many churches struggle to pay their rectors.  Larger churches can often pay even an associate well.  Am I willing to sacrifice income in order to be a rector?
All of this ignores the more spiritual questions of call, of course.  I feel very much at home in my current congregation and absolutely believe God meant me to be here.  I trust that God will continue to lead my discernment, but an uneasiness remains.
How about you?  Are you an associate?  What are your joys and struggles?
Photo courtesy of the author.  Pictured, left to right, Sarah Kinney Gaventa with colleagues Paul Jeanes and Jenny Replogle at Trinity Episcopal Church, Princeton, NJ.
---
https://media.myworshiptimes31.com/wp-content/uploads/sites/3/2013/08/29170742/colleagues.jpg
717
960
Sarah Kinney Gaventa
https://youngclergywomen.org/wp-content/uploads/sites/3/2017/05/YCWILogo_Vert_Black-300x229.png
Sarah Kinney Gaventa
2013-08-08 00:07:27
2018-11-13 11:45:03
Always an Associate?