---
Post Author: Sara Nave Fisher
---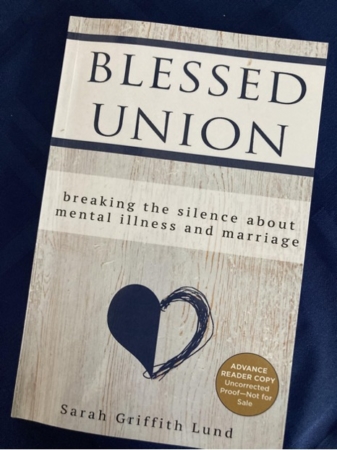 It is the season of love. The stores are filled with candy hearts, blossoms are starting to appear on trees (at least here in Texas!), and marriage is on the minds of many. Into this landscape bursts the Rev. Sarah Griffith Lund's new book, Blessed Union: Breaking the Silence About Mental Illness and Marriage, published by Chalice Press.
Griffith Lund previously published a book entitled Blessed are the Crazy: Breaking the Silence about Mental Illness, Family, and Church. This newly-released book serves as a companion to that, particularly about the way the marriage relationship is impacted by mental illness. Since we're approaching the one-year anniversary of COVID-induced shutdowns, and we know that the pandemic has greatly impacted mental health, this book is particularly relevant.
Marriage is complicated. Every single marriage goes through times that are unique just to those two people: conversations no one else knows about, decisions that can't be discussed with others. Some of these are necessarily kept private due to the intimacy of marriage. However, all too often these conversations are kept private due to feelings of shame and fear around mental illness.
Lest anyone feel alone, this book is full of stories of couples whose relationships are impacted by mental illness, including depression, anxiety, schizophrenia, postpartum depression, and others. By highlighting many different types of mental illness and many different types of marriage, the book allows readers to begin to see themselves in the pages. Even if the reader cannot resonate with one particular story, likely there is another one that is more relatable.
I find that to be the most helpful thing about this book: The more expansive we can be in our concept of what marriage looks like, the fuller picture we can all have, and the better we can support each other. I don't need to share all the same experiences as another person to appreciate the common themes of how mental illness impacts intimate relationships. Also, while the stated scope of the book is about marriage and romantic partnerships, "family" can be defined in so many diverse ways that those who aren't married to a person with mental illness but who are in close relationship would benefit from this as well. Even if you are not currently partnered, or even if you have never been personally impacted by mental illness, each one of us is likely surrounded by people who are.
I would particularly recommend this book for people who aren't sure if they "need" it. Each chapter ends with reflection questions, a "tip for a blessed union," and a prayer. There is also a space for journaling at the end, which is a helpful way to keep notes in the book as you're reading. If you're in the situation where you're starting to suspect that professional help is needed but you wonder if it's manageable on your own, this book is a helpful tool to begin that conversation. As Griffith Lund writes, "The best time to seek out the support of mental health professionals is before there is a crisis. Getting to know the providers and services in your area will help you when the time comes for you or a loved one to get help. This, too, is what it means to love. We cannot endure all things alone. Sometimes we need professional help in order to endure" (100).
While this book is written for folks in sacred unions marked by mental illness, I would also recommend it for pastors and chaplains who work with relationships; even if you think you don't know anyone or have anyone in your congregation with this reality, likely you do. The more open we all are about mental wellness and mental illness, the better we can serve each other.
---
Rev. Sara Nave Fisher is an ordained minister in the Christian Church (Disciples of Christ) and currently serves as the Senior Minister at Rolling Oaks Christian Church in San Antonio, Texas. She also writes at saranavefisher.com.
---
https://media.myworshiptimes31.com/wp-content/uploads/sites/3/2021/02/12105538/BlessedUnion.jpg
622
466
Sara Nave Fisher
https://youngclergywomen.org/wp-content/uploads/sites/3/2017/05/YCWILogo_Vert_Black-300x229.png
Sara Nave Fisher
2021-02-12 04:00:38
2021-02-12 11:22:10
Book Review: Blessed Union