So often in ministry we preach the sermons we need to hear just as much as our congregations need to hear them. That was certainly true of this top ten list. My spouse, you see, is genderqueer. This list is grounded in my experience as a spouse watching even the most progressive churches stumble when it comes to welcoming trans* and genderqueer folks. So consider this a helpful beginner's guide to making your community of faith a safe space and building up good allies so that all of God's beloved children are welcome.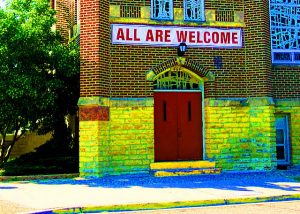 How To Be Good, Inclusive Communities of Faith for All Gender Identities and Expressions:
Don't split responsive pieces of liturgy between "male" and "female" voices. I'm a big fan of "left side" and "right side."
Our forms for membership, church school, online options, etc., should list multiple gender options beyond male and female. Where it is possible to give a write-in option rather than choices, do that.
Bathrooms. I know this is everyone's favorite hot button. But seriously: provide at least one gender neutral restroom. I promise you: folks will thank you for it.
Be mindful of how we talk about God. Use male language, female language, and non-gendered language. The choices we make from the pulpit matter deeply. Be intentional. Everyone deserves to see themselves reflected in how we talk about the Holy.
Be good allies. Listen to the voices of those in your community who are trans*, genderqueer etc. Elevate those voices without asking them to educate people. Listen to their stories.
When we mess up, say we're sorry. I'm married to a genderqueer person. And even I mess up sometimes. It's part of being an ally. And, when I get it wrong? The first thing I do is say, "I'm sorry," and commit to doing better.
When members of an applicable community give us feedback about something, listen. Hear them. Make it clear we are taking seriously what they have to say. They shouldn't have to tell us multiple times that something is offensive for us to stop doing it, or even for us to hear them.
Flags. If we are hanging a rainbow flag or symbol in our building (and gosh I hope we are), then think about hanging a trans* flag too. Every one of the colleagues I know who has done this has seen a new visitor or two in church the next week.
Ask about someone's pronouns. In my ideal world, all churches who use name tags would include folks' pronouns. However, we can also ask! Good rule of thumb: if you don't know, ask. It's polite to ask without making a fuss to help someone feel fully seen as the beloved child of God they are.
Never out anyone. Pastors, this is crucial for us. If someone comes out to us as trans*, it's our job to hold that information sacred, confidential, and tender until they are ready to share their story with the wider body of Christ.
https://media.myworshiptimes31.com/wp-content/uploads/sites/3/2016/10/29165908/153904099_7365d1ba75_z.jpg
456
640
Heidi Carrington Heath
https://youngclergywomen.org/wp-content/uploads/sites/3/2017/05/YCWILogo_Vert_Black-300x229.png
Heidi Carrington Heath
2016-10-20 04:00:17
2019-08-15 14:33:43
All Inclusive (a top ten list)