---
Post Author: Traci Marie Smith
Faithful Families (formerly Seamless Faith) was published under the YCWI imprint of Chalice Press. We are delighted to collaborate with Chalice in bringing books by young clergy women to print, and delighted to share this interview with Traci!
---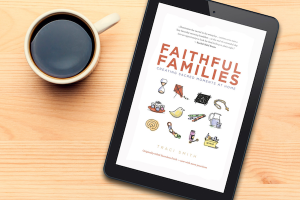 Faithful Families has new material, expanding on Seamless Faith. Which faith practice were you most excited to add?
Though it is a sad practice, I was grateful to write a practice for pregnancy loss. It's something that was requested in more than one workshop and small group discussion. Losing a child before birth is heart wrenching and awful and it's hard to know how to talk about with other children. Also, the church hasn't done a great job of opening up opportunities for families to grieve and remember together. ​I was also excited to add a practice on tolerance and the golden rule for families that are interested in raising children to be kind and knowledgable about religions other than their own. ​
As you've shared your books with parents, churches, pastors, and Christian educators, what has surprised you? What stories have you heard of how faith practices have helped children and families to learn and grow?
I am consistently surprised and delighted by stories where these practices have brought true transformation and opportunity for connection in families. Though parents are busy and it's hard to carve out time, I've heard stories time and again of how a simple practice has brought great joy. One of the "classic" practices in the book is the pet funeral, and I've heard more than one family say that having a moment to process the death of a pet proved to be helpful at a different time when grieving another loss in the home. Though it probably shouldn't surprise me, I'm also often surprised at the depth of spiritual knowledge and insight children have. I heard a story of one parent who was doing a bedtime blessing consistently with her children only to have her children ask to bless her one day. That kind of story keeps me going! ​
How has being part of YCWI impacted your work on faith formation in families in particular, and your ministry in general?
Faithful Families, as a book, would not exist at all if it weren't for YCWI! I originally intended to publish each of the practices as a blog post and was in the process of putting it together when I came across the opportunity to submit a proposal through our Chalice Press imprint, the process was not intimidating and I decided to give it a go. I was thrilled to have had the opportunity to publish a book. As a child I always loved to write, and the opportunity to publish Faithful Families has lead to other writing opportunities as well. I am eternally grateful to YCWI for their support and encourage any Young Clergy Woman who is on the fence about whether or not to submit to Chalice to give it a try.  When it comes to YCWI's influence on my understanding of faith formation, I have to give a lot of credit to the Facebook forums as well. I've been involved in countless conversations with other YCW who have field tested some of the ideas and offered feedback.
You recently welcomed a new baby into your family (congratulations!)… how has welcoming a new child changed your family's practice of faith?
Having three children instead of two has increased the chaos in our house by more than 100%, so we're even more in need of efficient practices we can do with little to no prep (Like the ones in Faithful Families!)  We still do the same practices we did before she was born, but just with a babbling baby in the background! Soon she'll be ready for some of the baby practices that I did with my other children when they were babies and toddlers that they've now grown out of. As she grows, I think I'll have a deeper appreciation for practices that can be done with children who span through several grade levels, because that will be our situation.
Could you talk a bit about how practices of faith in the context of home/family intersects with participation in a church?
Doing your own faith practices at home can reinforce what is being taught and learned at church and can also provide a forum for discussion about the things that are on everyone's mind. For pastors, I feel like there are a number of practices that pastors can either participate in with families at key moments (death, birth, new baby, etc.) or teach to parents. I encourage all pastors and ministry leaders to read through the practices for this reason. ​
It's summertime right now, and we're in the middle of the long stretch of "ordinary time" for liturgical traditions. What faith practices do you find especially helpful, fruitful, or meaningful for this season?
This is a great question, because "ordinary time" is one of my specialties! One of the key themes running through Faithful Families is the idea that the ordinary becomes sacred with just a little bit of tweaking. Summer is a great time to explore the spiritual practice of beauty or imagination, Sabbath or surprise (there is a practice for each of these and more!). Summer and ordinary time is also a great time to explore creative ways to pray together as a family, or to try the sacred meal practice. I also suggest families maybe even try a practice or two while they're on vacation as a way of taking advantage of the fact that they're in a new place and out of the day to day grind of family life. ​
Some of the faith practices in your book could easily come from your own family. Others are designed for situations that you haven't yet encountered as a mother. (For instance, the ritual for a teenager getting their driver's license.) Where did you draw inspiration for faith practices that addressed situations you haven't faced as a parent?
Two main places. First, I have to give a shoutout to my mom who was an incredibly inventive and imaginative parent. Some of the practices are straight out of my childhood or discussions I had with her. Second, a lot of my "research" for the book was just talking to parishioners or other parents and asking what they did when they were raising families and what worked well. I also spent hours on Pinterest. Ha! ​​​
How can pastors better support the faith practices of families in their congregations?
​I'll give three ways:
By teaching faith practices to children at key moments like children's messages, special workshops and other times where the community is gathered and then saying "you can do this at home with your families!"
By offering trainings and workshops to parents ​​that give very clear instructions about the "how to" and provide encouragement and resources. (I'm in the process of recording training videos for this. You can catch them on Facebook LIVE every Monday at 9:00 US Eastern Time on my Facebook page.)
By offering pastoral care to families and repeatedly affirming the following:
​It's really hard to be a parent in today's society with all of the pressures to be perfect and Pinteresty. (See these affirmations for some helpful counter messages.) Despite the fact that parents don't feel equipped, they can do it or will figure it out. YOU (their pastor) are there to help.
​What else do you want to make sure YCW know about Faithful Families?
​I can't pass up the opportunity to point out the amazing ten book bundle of Faithful Families. It comes with 9 bonuses from all over the place including Illustrated Children's Ministry, A Sanctified Art, Praying for Others in Color and more. It's a great way to try out some resources you've been interested in that go perfectly with Faithful Families and the ten book bundle is a great way to stock up on Faithful Families for baptisms or workshops.
I also want to say, again, how very grateful I am to YCWI for your support. Your support has helped bring these ideas to so many families and churches and you are all amazing ministers and colleagues. I would love to be able to give back by offering support or help with using the ideas in Faithful Families in your congregations. If there's anything I can do, please be in touch.
---
Traci Smith has spent more than thirteen years helping families find meaningful connections in living their faith together. She is the author of two books with Chalice Press, Faithful Families (formerly Seamless Faith) and Fellowship of Prayer (2015), and a contributor to Out of the Deep: Pastoring in Creative Space. Traci has a Master of Divinity degree from Princeton Theological Seminary and is pastor of Northwood Presbyterian Church in San Antonio, Texas, where she lives with her family.
---
Image by:
Traci Smith
Used with
permission
https://media.myworshiptimes31.com/wp-content/uploads/sites/3/2017/07/29165704/faithful-families-jesus-review-2017.png
400
600
Traci Marie Smith
https://youngclergywomen.org/wp-content/uploads/sites/3/2017/05/YCWILogo_Vert_Black-300x229.png
Traci Marie Smith
2017-07-11 04:00:56
2018-11-13 11:33:49
Faithful Families: An Interview with Traci Marie Smith