---
Post Author: Courtney Lyons
---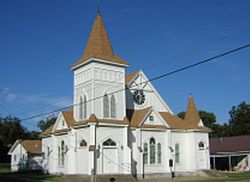 The small but friendly community of First United Church of Christ occupies one of the oldest buildings in West, Texas. Young Clergy Woman Kyndall Renfro served as interim pastor there, but now the church relies on supply preachers from nearby seminaries including Truett, Brite, and Southwestern. I preached there on Easter Sunday of this year.
Sitting in my living room on April 17, two weeks after Easter, I received news of the explosion in West by way of a text message from a friend. I turned on the local news and could not believe my eyes. What began as a large fire devastated this small town when the fertilizer plant exploded, destroying dozens of houses and buildings nearby, including the junior high school and West Rest Haven nursing home. First responders hurried to the scene, from communities near and far. Medical personnel rushed to West, and triage was set up at the high school football stadium. Fearing a second explosion, volunteers frantically transported as many as possible across town to the community center, and ambulances transported the critically injured to area hospitals. I was able to reach a member of First UCC who let me know that everyone in the congregation was all right.
More responders came to West than could be utilized the night of the explosion. The next day, blood centers across the greater Waco area had lines wrapped all the way around their buildings.  Food donations poured in.  Businesses all over Waco collected clothing and monetary donations. Billboards popped up across town with messages of prayer and support. Area denominational offices distributed updates from West's pastors about the condition of the community's churches. Several church buildings were damaged, but the Church – the community of God – was strong.
My contact from First UCC West called me late in the week about coming that Sunday to help with a breakfast. Since West's Brethren church had been severely damaged, First UCC invited the Brethren congregation to worship with them.  To better accommodate the blended congregation, they chose to host a breakfast at 9am and push worship back to 10:15. Several others from Truett who had supplied at the church, as well as members of a large Baptist church in Waco, contributed toward the breakfast, as well. We also prepared a children's Sunday school lesson and craft focused on God's faithfulness and how to turn grief into prayer.
As the Church gathered that Sunday morning, two congregations in one room, I was stilled by overwhelming love. A UCC church welcomed the Brethren church into its service time, and invited the Brethren church's pianist to play in worship. The Brethren pastor gave a short lesson with everyone gathered and then asked one man in particular for an update. From the way he spoke, this man must have been part of city leadership because he was extremely knowledgeable about the barricade. He explained that the barricade had three tiers, ranking from the least damaged (one) to the most damaged (three). Those with homes in tier one could access their homes between 7am and 7pm, but utilities such as water and electricity were not reliable. Those with homes in tier two were likely to have access to their homes within the next week. Those in tier three would be displaced for some time. The Brethren church building was in tier two. A Brethren member shared that he had snuck into the barrier to see the church and after a run-in with a police officer who was not thrilled to find him inside the barricade, he was given thirty seconds to take photographs and leave the area. The man shared news of the damage he could see from the outside, but it was clear that the church was eager to know the status of its building. Can you imagine a natural disaster where you can't even see your home or church to know whether it is okay or not? I could see on several faces the difficulty of not knowing.
The Brethren pastor opened the floor for testimonies. Stories of kindness and gratitude poured forth. One shared that once she was able to get back to her house, she found her answering machine filled with messages from friends checking on her. Another shared that she had planned to drop off something at the church that night but didn't because her instinct told her she could run the errand tomorrow; she realized that if she had gone to the church, she would have been there at the time of the explosion. A choir member praised God that the church had cancelled choir practice that Wednesday night, because otherwise, many of the elderly ladies would have been in the building. Another was grateful that she caught a green light which allowed her time to be inside the rest home rather than in her car, which was destroyed by the explosion.
People named friends and relatives who were injured or who had lost their homes. Parents of teenagers shared the devastation of children who had lost their school. Others gave updates of those in the nursing homes and where they had been relocated. One man told us about his aunt who kept saying, "I want to go home," and how heartbroken he was when he told her that both her former house and her room at the nursing home were no more. The Brethren pastor had spent the latter part of the week finding the nursing home shut-in members of his congregation, all of whom had been relocated to other nursing homes within a 100 mile radius of West.
The theme of hope emerged time and again in the testimonies of those gathered, hope from knowing that people were praying for West, the comfort of feeling God's hand on them and the support of people of faith around the world. People named specific churches from out of town that had expressed prayer support. Others read encouragements from the newspaper. The sign language interpreter from the Brethren church broke into tears as she read a statement of support for West from someone in Boston, where an explosion had injured many earlier that week. Even as Boston was recovering from tragedy, people there were also praying for West.
You may have heard some of these stories on television. The media is surprisingly open to talking about prayer when tragedy strikes, but there are other stories that you will probably not hear. When you heard that on the night of the explosion, nursing home workers pushed patients in wheelchairs to the football field for triage, you may not have heard that the football stadium is more than two miles from the nursing home, and they weren't walking, they were running. Reporters did not cover the story of the ER nurse who, as soon as she heard the explosion, ran from her house to the community center to help, or how the hundreds of volunteer firefighters who live in communities near West dropped what they were doing to help, no questions asked.  A group of Mary Kay consultants quietly donated makeup so that those returning to work could feel a sense of personal dignity and comfort.  Community members plastered photos all over Facebook to help families find their lost pets. When it was announced that West's 7th-12th graders would resume school in the old building of a nearby school district, students from two of West's biggest football rivals painted the interior of the building red and black, West's school colors, and personalized the lockers with the names of West's students. Substitute teachers from nearby districts volunteered their services to West ISD so that West teachers could attend the weekday funerals of victims. The staff of Massachusetts General Hospital in Boston ordered pizza for Hillcrest Baptist Medical Center in Waco. These are the stories of saints among us.
I witnessed that morning two small country churches, leaning on one another with grace and understanding. They seemed to grasp that the Church is bigger than any single congregation, and that the most important thing any follower of Christ can do is love others. As we gathered for our joint worship service – United Church of Christ, Brethren, and a Baptist preacher – an energy filled the room, assuring us that no matter what had happened or will happen, God is always faithful.
During the children's sermon, I noticed a little girl kept looking around. The door opened, and a man walked in who had obviously been working as a first responder at the blast zone. The little girl ran to him, and with a voice cracked from emotion, shouted "Daddy!" As if one voice, the room let out a sigh of relief and joy. This man, a member of the Brethren church, had been working on site basically non-stop since the blast, but had promised his daughter he would come see her during church. As she ran to him, he scooped her up in his strong arms. Time froze as this father's fulfilled promise reminded us of God's fulfilled promises. He carried her back down to where the other children were gathered, and she listened to the rest of the children's sermon from her daddy's lap.
The church invited me back to lead children's Sunday School the next Sunday. Listening to the adults talking over breakfast, I realized that one of the most difficult aspects of the explosion is that West is an incredibly giving, loving, interconnected community. Multiple generations of families live in West, and everybody knows everybody. Many have been reluctant to accept the help that has been offered in the wake of the explosion because they want to be the ones helping others, not receiving help themselves. A man told me that as they stood in the line to receive donated clothing, they struggled deeply with accepting donations. He realized that his family needed clean clothes for work and school, so he accepted them, but with the resolution that as soon as they were back on their feet, they would give generously to pay it forward. And even those families whose homes are within the barrier have been arriving early each morning to make coffee for uniformed personnel working at the blast site.
When President Barak Obama spoke at the Firefighters' Memorial Service held Thursday, April 25 at Baylor University, he said that he wished every town in America was like West, because of its citizens' commitment to helping others and coming together as a community. As the families of each of the twelve firefighters who died offered their words in memory of their loved ones, I heard the voice of that community spirit. Family member after family member spoke of their fallen hero as the kind of person who helped anyone who needed anything, who didn't think twice about danger if someone needed help.
A laywoman offering a meditation during communion at Lakewood Christian Church in Waco compared Christians to first responders. Like the first responders bravely entered danger to save people, so Christians should reach out with saving love. Like the first responders risked their lives for the sake of others, so we are called to lay down our lives for others, as Jesus did. May we be first responders to the needs around us, bringing grace, love, joy, peace, hope, and light to the darkness. May we be known for our open arms and warm embrace. May we, like the community of West, learn that it is just as important to let others minister to us when we are in need as it is to minister to others in their need. May we, like the community of West, band together in spite of our denominational, racial, generational, gender, and socio-economic differences, for the sake of the task at hand, which is proclaiming the good news of the Kingdom of God, which is big and deep and wide enough for everyone, and which no fire can destroy.
---
https://youngclergywomen.org/wp-content/uploads/sites/3/2017/05/YCWILogo_Vert_Black-300x229.png
0
0
Courtney Lyons
https://youngclergywomen.org/wp-content/uploads/sites/3/2017/05/YCWILogo_Vert_Black-300x229.png
Courtney Lyons
2013-05-09 04:00:52
2018-11-13 11:45:30
First Responders