---
Post Author: Olivia Dawson
---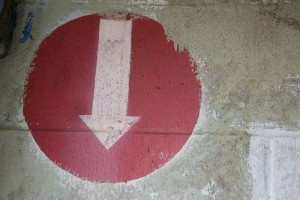 For he is our peace; in his flesh he has made both groups into one and has broken down the dividing wall, that is, the hostility between us. –Ephesians 2:14
As I have travelled to different parts of the world, met many people and worked at different churches, I have witnessed time and time again God uniting groups that appear to have nothing in common.  My experience of calling has not been to a specific church or hospital.  I feel called when I participate.  I feel called when I witness the power of God's peace breaking down all human differences, and I want to take part.  When I'm surrounded by inspiring people who never let anything get in the way of their love for others, I feel called.  My calling has come from within, after moments of witnessing the uniting power of God's peace.
I first experienced God as a "boundary breaker" as a youth.  PASSPORT was a mission camp I attended every summer.  Those moments spent in the hot summer sun, allowed me to witness God working in peoples' lives, including my own.  I observed lives being touched and changed by God's work through youth.  Regardless of age or race or circumstances, God broke down boundaries and lives were changed.
I experienced the same lesson during two mission trips to India to visit heroine and friend Leena Lavanya.  The simplicity of the faith in this beautiful country was inspiring. The hearts of the Christians in India seemed bigger and more generous.  Those visits showed me what it looks like to fully rely on God and truly care for one another.  Leena scoops up as many of the country's outcasts that she can – lepers, prostitutes, HIV and AIDS victims, those with mental and physical handicaps – and shows them what no one else has: that they deserve to be loved.  There were many songs sung, prayers prayed, and testimonies recited during those trips, but during those encounters when words failed me, I learned that a smile can touch a person's heart more deeply than words.
On that second trip to India we spent one particular afternoon visiting a small village.  A woman approached my mom and me, and through our translator we discovered that she wanted my mom to name her newly born baby girl.  My mom, humbled and almost speechless by such a request, said that her favorite female name is Olivia, which means Peace.  The Hindi word for peace is Shanti and that was the name my mom gave to the little baby girl.  This was a moving experience that literally showed me how peace can break down any wall, brushing all rubble aside.  God provided a moment of peace that shattered any differences that may have existed.
As a youth minister at different churches I have witnessed many walls that divide youth from one another.  Youth groups tend to have their own mini "groups" of youth who separate themselves.  But with time they begin to no longer see themselves as the "athletes," the "academics," or the "cool kids." Instead, they unite as a group.  As faith is acknowledged and shared, we all learn to focus on what unites us instead of what makes us different.  Dividing walls begin to crumble and the debris is swept away.
The time I spent at the hospital as a chaplain provided me with countless opportunities to witness God's peace breaking down walls.  I have been invited into the most sacred moments of life.  I have been present when family members in the midst of a conflict have united to mourn the loss of a loved-one.  I participated in the last communion of a mother with her husband and children. I offered the last prayers and scripture readings that families would ever experience together.  I have been able to read scripture and pray with those who have struggled physically and spiritually as they have taken their last breathes.  I have witnessed the overwhelming feelings of God's peace in anxiety-ridden crises situations.
Time and time again I have witnessed God's boundary-breaking peace unite even the most hostile.  We participate in a Church that is not made up of males, females, young, old, rich, and poor, but of witnesses and believers in God.  We are one, bound together through the love of God's creation. There are times when I find myself having a different opinion with those I'm around and sometimes it seems that a high wall separates me from them.  It is then that I remind myself that through the power of God the walls are torn down and instead, peace abounds.  I am honored and privileged every day that I participate in the boundary breaking peace that God has shown us through Jesus.  Amen.
Author Credit: Jesse Wagstaff
Are you an ordained woman under the age of 40? Email youngclergywomen(at)gmail(dot)com to become a member of The Young Clergy Women Project! Members receive access to a password protected online community, monthly e-newsletters, and advance notice of upcoming conferences and events.
---
https://media.myworshiptimes31.com/wp-content/uploads/sites/3/2012/03/29171105/down.jpg
334
500
Olivia Dawson
https://youngclergywomen.org/wp-content/uploads/sites/3/2017/05/YCWILogo_Vert_Black-300x229.png
Olivia Dawson
2012-03-08 02:00:08
2018-11-13 11:48:11
Participating in the Peace