---
Post Author: Rev. Katie Whipple
---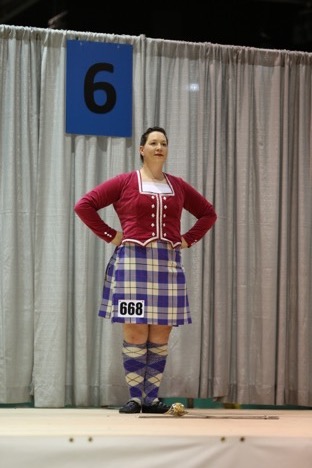 When I was preparing for my ordination, I was scared spitless to be in the pulpit and to preach in front of a congregation. My legs would start to shake at the beginning of the service, and I could barely stand. I did not come from a church that celebrated women pastors, so pastoral authority was hard for me to embrace. I realized that in order to survive a career in ministry without my legs shaking every time I preached, I needed something that would help me grow in confidence and establish my voice.
As unconventional as it might sound, l decided to try Scottish Highland Dance. Having studied the Scottish roots of the Presbyterian denomination, I thought Scottish Highland dance might be a perfect fit for me. Although most Scottish Highland dancers start when they are seven years old (or younger!), I found a teacher who believed that no one is ever too old to start dancing. At thirty-two, I joined a bunch of elementary school children who were learning the basics of the "Highland Fling."
Highland Dance is physically and mentally demanding. Dancers are required to jump up and down nearly 200 times in one minute, usually on one foot while completing complicated movements with the other foot. Similar to ballet in many aspects, each dance and each song is steeped in history and tradition that dancers preserve and present with every jump. By the end of my first class, I was initiated into a long line of dancers who keep ancient traditions alive.
My first month of dancing was brutal. I used muscles in ways I never had before. Dancing caused my legs to hurt so much that I sometimes found walking difficult. However, after one month, my teacher asked if I wanted to compete. She insisted that competitions were a mainstay in the sport and that I might as well give it a go. Aching legs and adventure in tow, I said, "Yes!"
Entering this competition required two things I didn't know how to do yet: performing three dances, and making a kilt. I ordered my tartan fabric from Scotland and started studying the process for making a kilt. I spent the month prior to the competition practicing my dances and sewing my kilt by hand into the wee hours of the morning. The last buckle wasn't stitched on the kilt until the night before. With every stitch, I ran my dances in my head. That night, I spent hours running my dances in my head. I was as ready as I could be, and my confidence was growing. Deep down, I knew I could compete.
On the day of the competition, I arrived at the venue and discovered I was dancing in the category labeled "Beginners Ages Eight and Older." And then I saw them—my competitors—amazing young dancers who were so polished and refined that I suddenly began to doubt my own abilities. When my turn came to step on stage, I remember thinking, "I only have to do my best. If I can go out there and dance my best for these strangers, then I can boldly stand before those I know and preach!"
I walked out on that stage with as much pride and poise as I could, and I danced my best against two eight-year-olds. I did not win the trophy that day, but it didn't matter. What I gained was far more important: I gained courage and confidence.
In the four years since that first competition, dancing has taught me the important lessons of humility and perseverance. I've lost count of how many times I have been out-danced by eight- and nine-year-olds. I am not a fast learner, but that doesn't matter to my teacher or my class. We find joy in both small and major accomplishments—finally mastering a step or competing in a challenging competition.
More importantly, dancing has become my lifeline in ministry and a mainstay in my life. When I have a hard day at the hospital, I go home and dance. When I get stuck on my sermon, I take a break and dance. When I am feeling alone or far from home, dancing provides joy and community as I struggle in the often lonely work of ministry.
The support network of my dancing community became especially crucial to me this year as I battled thyroid cancer. From diagnosis to surgery to aftercare, my teacher and fellow dancers met me regularly on Skype and in person, not to dance, but to care for me. We were and are a family of strangers, brought together by ancient music and dance steps. This family slowly encouraged me to return to dancing as I recovered. On the toughest, loneliest, and most exhausting days, they challenged me until I was finally able to feel like myself again.
Often, as the bagpipes start to play and my dance shoes are laced up, I feel like King David, ready to dance for joy. I always pray, "God, this dance is for you! Enjoy!" Through dance, I have gained confidence in myself and the role I was called to fulfill. And best of all: my knees no longer shake when I preach!
---
Katie Whipple is a Presbyterian minister (PCUSA) who works as a hospital chaplain in Rochester, MN. When not at the hospital (or dancing), you can find her exploring the world on her Dutch bicycle, sewing costumes & clothing, rocking out to her favorite bands while cooking up a storm, and spending quality time with her dog, roomate, nieces, and nephews.
---
Image by:
xgenphoto
Used with
permission
https://media.myworshiptimes31.com/wp-content/uploads/sites/3/2016/12/29165849/wtcco-dec-2016-featured.jpeg
200
300
Rev. Katie Whipple
https://youngclergywomen.org/wp-content/uploads/sites/3/2017/05/YCWILogo_Vert_Black-300x229.png
Rev. Katie Whipple
2016-12-08 04:00:56
2018-11-13 11:34:55
From Shaking to Leaping