---
Post Author: Jessica A. Harren
---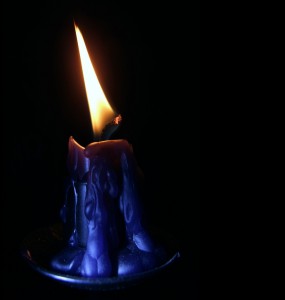 In the church parking lot, I was breathing deeply.  I knew that going inside was something I needed to do, but I also knew that it would be hard. I had no idea just how comforting attending my first Blue Christmas service would be.
I was nervous about going.  I mean, who really wants to have to deal with grief in front of them like that?  So much of our culture tells us to stop crying, to be happy, that we should be over it by now,  and not to show too much emotion.  What if I broke down?  What if I sobbed in front of others?  What if my grief was so deep it was unnameable?
My father passed away in 2004, the day after Thanksgiving.  Two weeks later my grandmother passed away, and a month later I married my husband and moved to the Middle East.  It was a time of great turmoil in my life.  I was afraid that the holidays would be hard forever because of the deaths.
But the year that I went to the Blue Christmas service, in December of 2006, I found peace and hope in the holidays once again.
After enough deep breaths, I went inside and entered a sanctuary that was beautifully decorated.  The lights had all been covered with blue tissue paper, and silver stars hung from the rafters.  This gave the whole place an otherworldly glow that pulled me in and made me feel protected.  The ethereal decorations made me feel connected to God and made the room feel safe from the rest of the world. I was calm and allowed myself to stop forcing deep breaths. This would be a safe place to miss my Dad and to acknowledge that sometimes life is hard.
We do not grieve well as a society.  We tell people to be happy, to stop crying.  We tell people to stuff their feelings and not to let them show. People thought I should be happy because my Dad was living with God.  I always wanted to scream back, "But I want him here with me!" Luckily, because of my training as a counselor and a seminary student in CPE, I knew that I needed to let myself grieve.
And this service, this magical, beautiful Blue Christmas Service…it allowed me to do that in a way I had not been able to do before.  I was with others who were also grieving.  I knew that I wasn't the only one who was sad that I had to face Thanksgiving and Christmas without my Dad once again.
I do not clearly remember all the details of the service.  But here is what I do remember:  There was a time when I got to share a story about my Dad.  There was a time during the service when I felt connected to my Dad.  My Dad is the one who taught me about church, and we worshiped together nearly every Sunday when I was at home.  There was a time during the service for being still and quiet, for crying, for acknowledging the hurt and anger.  And it was safe to feel all those things — even around others — because we were wrapped in the blue light.
This light helped me feel secure, wrapped in a cocoon of God's love. Inside this safe space, I could feel what I needed to feel without being judged.  I could set aside the hard memories of my grief: crying in the supermarket in front of the Christmas cards from daughters to dads, being told that letting my grief show was unprofessional, and being told that because of heaven, I should just be happy.
And that made all the difference.  It made the difference that inside this cocoon of blue light, I could feel how I needed to feel.  I could receive the message from the church that my grief was ok.  Even if my Dad is living with God, the church said it was still ok to miss him living on earth with me.  Hearing this message, I felt God was with me in my pain and cradled me as I experienced it.  .
I left that service feeling tired, but also relaxed.  I was exhausted, but had a deeper sense of peace.  It was like emerging from the sanctuary to a new world where I knew that God was with me in my pain, not to shut it up or out, but to hold me in it until things got better.  This was an important part of my grief and healing process.
This other world of the Blue Christmas service helped me connect all my feelings about the holidays, God, my grandmother, and my Dad in a whole and comforting way.  Even all these years later, the memories of this this service still help me make those connections.
As I think about that service now, I feel calm.  I feel the love of my Dad as if he is with me and as though he'll be with me this Christmas and Thanksgiving.  I somehow am reminded by the memory that God is part of all of this, too.  There is a place I go to in my memory, when I think about that service, where I find acknowledgement.  And that gives me what I need to let go of the pain (at least most of it) and to keep the joy, hope, and comfort.
Whatever your losses in life, whatever feelings the holidays bring up in you, I would encourage you to seek out a Blue Christmas service, at least once.  Maybe it will help you, too, remember that God promises to eventually return us to new life . . . and that in the meantime, in the present pain and grief, God is with us.  Even if you are not able to find a service, I encourage you to make your own space to securely acknowledge your grief during this time.  And as you seek out your own healing this season, I offer you this Christmas blessing:
May God be big enough for all your losses,
May Jesus hold your hand when you need to cry, and
May the Holy Spirit lead you to places of deep hope and joy from on high.  Amen.
---
Rev. Jessica A. Harren is the solo Pastor of Capron Lutheran Church and the editor of The Ones We Love.  She would like to send her heartfelt thanks to The Rev. Laura Hall-Schorje for her amazing worship leadership talent, for putting the whole service described above and the sanctuary design together, plus being such an important part of her healing journey in life.    
---
Image by:
Stuart Anthony
Used with
permission
https://media.myworshiptimes31.com/wp-content/uploads/sites/3/2014/12/29170349/Dec-2014-Blue-Candle.jpg
1024
972
Jessica A. Harren
https://youngclergywomen.org/wp-content/uploads/sites/3/2017/05/YCWILogo_Vert_Black-300x229.png
Jessica A. Harren
2014-12-18 04:00:39
2019-08-15 15:09:12
Healing Sanctuary