---
Post Author: Emily Schwartz Crouch
---

"But you are to be perfect, even as your Father in heaven is perfect." -Matthew 5:48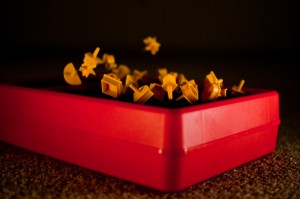 I am a recovering perfectionist.
I am also a terrible speller. I noticed after a first draft of this article that perfectionism was misspelled several times. Some might call this ironic; I call it growth.
Perfectionism has been a companion of mine for years. I find perfectionism is cunning, often masking itself as a good work ethic, or the ability to fit into most any social situation. In my experience, perfectionists are great leaders, team members, and organizers. With a perfectionist in the mix, things will get done! The downside is that perfectionism can be incredibly isolating, and beneath the surface there lies fear and shame. This leads me to wonder if perfectionism is one of the few publicly accepted addictions, both in our culture and in our churches.
In one of my earliest memories, I am sitting down, covered in chalk, waiting for the score of my uneven bars routine. I am 5 years old, and this is my first gymnastics competition. My family has traveled to Pensacola, Florida for this competition, having made the trip to the beach and motel pool the night before. I am watching as my score is posted, waiting to hear the applause that signals the judges have decided. The letters flash, I hear some applause and I hear the sound of my own heartbeat as I wait with both trepidation and excitement. But the score is not so good. I took a fall, leaving me with nearly half of the 10 points awarded for such a routine. My heart sinks. I still have three events left—balance beam, floor exercise, and vault. I still have hope for three better scores. I can do this. With my friends by my side, several little girls, clad in matching leotards, French braids, and monogrammed gym bags collect our belongings and march to our next event.
Eight years and several competitions later, I have accumulated many ribbons and medals. Gymnastics has become a way of life for my close friends and family. I begin to excel and find that competition is both terrible and exhilarating. It's a high, for sure, an adrenaline rush when I do well.
And I continue to chase this high: the better I do, the better I feel. Why get third place, when first feels so much better?
But when the adrenaline subsides, the fear creeps in. I notice that I am beginning to feel afraid to take risks at the gym and at school. I start to become more reserved. I speak less. I find that often I am easily frustrated with anything less than a perfect grade. I start to doubt myself and become afraid to try things where I may fail. And yet, I chalk it up to being that awkward age of 13. What girl doesn't feel this way?
Several years later, I am in seminary. Through a series of twists and turns, and a very talkative Holy Spirit, I begin the ordination process to become ordained as a priest in the Episcopal Church. Several of those old "nagging" feelings resurface: Am I good enough? Who am I to feel called to serve? Who are these crazy people who feel I am called to this ministry? Despite my doubts, I continued to put one foot in front of the other. I walk through my fears and find myself on the other side.
Fast-forward 7 more years. I am now a priest, wife, and mother. Our newborn daughter is happy and healthy, but I am unable to nurse. I feel shame. Those old nagging thoughts and feelings come back (What is wrong with me? Why can't I do this? If I just work harder, this will work!). Motherhood is challenging that first year, like it is for so many of us new parents. And yet, there are some beautiful moments of grace too. People—mothers, godmothers, friends— step in and help. They remind me that it's not about being a perfect mother, but about being the kind of mother who is confident and comfortable in her own skin. And for one of the first times in my life, I realize that I feel more comfortable as mother than anything else I've ever done.
For the past two years I have begun to write and talk about what my life and faith really look like. Instead of perfect, I aim for good enough. One of the most helpful books I've found is Brene Brown's The Gifts of Imperfection, in which she writes about her own journey as a recovering perfectionist. Brown writes, "Perfectionism is the belief that if we live perfect, look perfect, and act perfect, we can minimize or avoid the pain of blame, judgment, and shame. It's a shield."[1]
Being a mom (and a human being) I've learned that I really need both hands. The shield I was lugging around with me for 30+ years was keeping me from using my hands to play, write, or attempt to bake that cake. But, taking down the shield leaves me so darn vulnerable!
And yet by becoming vulnerable I'm finding that speaking this truth has opened me up to ask the deeper, harder questions I was previously afraid to ask: What am I truly passionate about? What happens if my daughter doesn't get a bath for three days and only eats cookies? What if I am a terrible cook, but enjoy it anyway? What happens if I have people over to my house because I love them, not because my house is clean? (I don't mean messy—I mean genuinely dirty.) What happens if I am truthful about how tired I am all of the time, juggling full-time ministry and caregiving? And the really hard one: What happens if I fail?
Jesus tells us that we are beloved. He also says that losing our life is the key to finding it. For me, this means leaving behind a life where I need to be perfect and meet the expectations of others, and giving way to a much messier reality –one that is darn right hard sometimes! On the hardest days, I find that when I have compassion for myself, it helps me to have compassion for others.
There are days when perfectionism comes on strong and I can't shake these demons. And I'm learning to be ok with this. Instead of certainty, God has given me opportunities to have faith. It isn't about having the answers; it's about trust: trusting that our best and worst still draw us towards God and one another, trusting that God will be with us each unsure step of the time. And this is the grace that I didn't know about before.
This morning was the beginning of our program year at St. Matthew's. It was wonderful to have the children inside the altar, dancing and singing. Charlotte, my 2-year-old social butterfly, is comfortable at the altar. Not only did she dance boldly, she helped herself to bread from the reserve sacrament and handed out hand sanitizer to other children saying, "This is what my mommy does."
Yes, this is what I do. I feed others with clean hands and a joyful heart. And I do this imperfectly, but with joy.
(And I'd be lying if I didn't say part of me wants it to be perfect.)
[1] Brown, Brene The Gifts of Imperfection: Letting Go of Who You Think You're supposed to Be and Embrace Who You Are (Center City, MN: Hazelden, 2010), 56.
---
Emily Schwartz Crouch is a priest, a wife to Zach, and mother to Charlotte.  She works as the Associate Rector for Pastoral Care at St. Matthew's Episcopal Church, Louisville, KY.  On the side she also attempts to write, sing, and loves nothing more than a long run (without the jogging stroller).  A native Floridian, she loves fall and spring in Kentucky, and after 12 years in the bluegrass state still misses the south.  
---
Image by:
James Lee
Used with
permission
https://media.myworshiptimes31.com/wp-content/uploads/sites/3/2015/09/29170117/5462942287_26d210f588_b.jpg
680
1024
Emily Schwartz Crouch
https://youngclergywomen.org/wp-content/uploads/sites/3/2017/05/YCWILogo_Vert_Black-300x229.png
Emily Schwartz Crouch
2015-10-15 04:00:17
2018-11-13 11:38:07
Imperfectly, but with Joy