---
Post Author: Traci Smith
---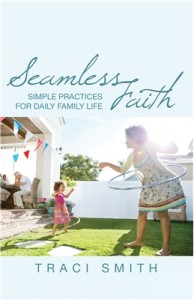 There is a proverb in Spanish: "En la casa del herrero, cuchillo de palo." It means "In the blacksmith's house, a wooden knife."
In English we express the same idea when we say some variation of the proverb "The cobbler's children are barefoot."
In Chinese: "The woman who sells fans uses her hands to fan herself."
In Arabic: "The potter drinks from a broken jug."
It seems to be a universal idea that those with a particular expertise often neglect to use it in the most important ways.
As a mother and a pastor, I am constantly worried about this. Will I spend so much time caring for other people's families that I neglect my own? What does it say about my family's work-life balance when I ask my nearly three year old son where he's going in his pretend car and he says, smiling, "I'm going to a meeting!"?
As many of my clergywomen sisters know, I recently published a book called Seamless Faith: Simple Practices for Daily Family Life. (Chalice Press: TYCWP Series) It's a lot like a recipe book that gives families easy ways they can incorporate faith practices into their lives. Lesley Ratcliff wrote a lovely review of it in April. Since then I've written and spoken a lot to families about how to use it to deepen their spiritual journey together. I've talked to ministers about how to empower families in their congregations to incorporate simple faith practices into their daily life.
It's been a great joy to share the ideas with so many people, but the irony is not lost on me: when I take time to talk about my book or ideas I am, by definition, not spending that time with my family. I wake up at night sweating and wondering: Am I the cobbler? Are my children going to be barefoot? I know I'm not the only clergy mom who worries about this.
So for all of us I offer these four simple thoughts for incorporating faith practices into family life.
You have time – Barna Research group put out a study last year that said 42% of pastors wished they had spent more time with their children[1]. Aside from working to keep to reasonable working hours, I would suggest that the quality of the connection matters as well. It only takes a few minutes to slow down and bless your children before bed. It only takes two minutes to say a prayer or sing a song. I just flipped through the practices in Seamless Faith and 8 out of the 50 can be done in less than 4 minutes. Nearly all can be done in less than an hour. 
It's an imperfect journey – Tonight I was singing the doxology with my sons. It was a beautiful moment of connection and a glorious experience of faith… right up to the part when my older son, Clayton, started screaming at the top of his lungs "Stooopppp with the church song! I want twiiiiiiiiiinkle!" Trying to practice faith at home is just as difficult any other aspect of family life and there are good days and bad days. We keep trying, we write off some moments as lessons learned and we move on. 
You don't have to teach or lead everything – One of the fundamental principles of Seamless Faith is that it's a journey for the whole family. The best way to teach children gratitude is to practice gratitude together as a family. Parents need it just as much as children do. 
You are forgiven. You are free. You are enough. We all know that the answer to the question "Who pastors the pastor?" is "another pastor," so let me be your pastor for a moment: When you make mistakes in parenting your own children, you are forgiven. In Christ you have been given new life and you are reconciled to God not because of anything you have done, but because of God's great mercy. You don't have to do anything. You are enough.
[1] https://www.barna.org/barna-update/family-kids/644-prodigal-pastor-kids-fact-or-fiction#.U4VZsZRdWop
---
---
https://youngclergywomen.org/wp-content/uploads/sites/3/2017/05/YCWILogo_Vert_Black-300x229.png
0
0
Traci Smith
https://youngclergywomen.org/wp-content/uploads/sites/3/2017/05/YCWILogo_Vert_Black-300x229.png
Traci Smith
2014-05-29 02:00:11
2014-05-29 02:00:11
Four Thoughts on Incorporating Faith Into Daily Family Life (For Clergy Moms and Everyone)