---
Post Author: Kelsey Grissom
---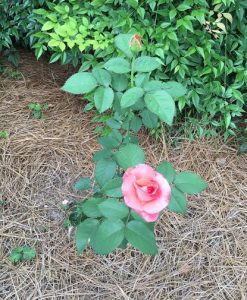 The Magnolia sapling sat in its small black nursery container on our back porch. Day after day, my husband and I passed by the window or stepped outside and commented on how beautifully the leaves were coming in, or remarked on the single white flower that appeared on our baby tree. The Magnolia was my gift to my husband on our first wedding anniversary, a tree we intended to watch grow up, together, as our marriage and our family matured. But now, a month later, the sapling was outgrowing its plastic container. We needed to make a decision about where to plant it.
Ordinarily, this wouldn't be such a difficult choice. We might choose whatever location in our yard best suited the tree's needs for sunlight, space, and drainage. But we live in a parsonage, a house owned by the church I serve, and I am an itinerant United Methodist pastor. This means that every year, our family is potentially subject to a move, a new church in a new town. Somehow it had escaped me, when I picked out the gift and imagined my husband and me watching it grow through the years, that a tree must be rooted in one place, whereas our family is required to move, and move, and move.
We put off planting the tree for an irresponsibly long time. Every time we thought about planting, we remembered that our stay here is temporary, and we were sad to think of leaving the little tree behind. We even considered planting it in successively larger pots so that it might—just possibly—still be mobile by the next time the bishop moved us, and then perhaps we could take it with us. But then we'd only be transferring the problem to a new location, a new parsonage, a new yard that would be ours only temporarily.
Most likely, our family won't have roots in any one place. This reality is most poignant in our living space. Should we mark the boys' heights on the door frame, when we know we will only get to do so a few times before the next move? Should we accept that heirloom furniture, knowing it will likely not fit into every parsonage? Should we plant the anniversary tree in the yard, where we will have to leave it behind before it reaches maturity? At the heart, all of these are questions about how much of ourselves we will invest in this space, how much of ourselves we will let grow attached. How much of ourselves we can stand to leave behind here, one day.
And if we are honest, we have these questions not only about our living space, but also about our neighborhood, our community, and yes, our church. I love our congregation. But there is a defensive part of me that pulls away from them even as I try to grow closer to them; while I work to show them my heart, my mind knows that I will one day have to say goodbye, and experience has taught me that this is so painful. To live and work in a community while you know that you cannot stay forever is to invest in a future that isn't yours. And, I know, I am asking my spouse and my children to make that same, potentially painful investment as they make friends and build social and spiritual lives with people we will have to leave behind.
In my own growing up years, my family stayed in one home. My parents still live in the same house I grew up in, and I attended college just 20 minutes from our neighborhood. The first time I moved away from home was to a neighboring state for seminary. I remember my dad giving me advice when I moved into that Georgia apartment: "Grow roots here," he said. "Even if it's just for three years, it's better that way." At the time, I bucked against his advice. I missed my home, and this wasn't it. I felt lost and disoriented, but learning the roads and investing in the community seemed like a waste of time and energy and heart when I knew I would be leaving soon.
One day I read Jeremiah 29 for a class assignment. The Lord God spoke to the Israelites, who were at that time exiled in Babylon, saying, "Build houses and settle down; plant gardens and eat what they produce. Marry and have sons and daughters… Increase in number there; do not decrease. Also, seek the peace and prosperity of the city to which I have carried you into exile. Pray to the Lord for it, because if it prospers, you too will prosper." Maybe my dad was right. Maybe there was some holy reason to make a home, to build relationships, even temporarily.
However, I don't think I truly committed to that idea until three moves and three churches later, when that blessed Magnolia began to wilt on our porch. Without enough soil, contained in a to-go bucket, the leaves began to grow limp and yellow. My husband and I knew it was time to make a decision about where to plant, and so he dug a hole in the grass and buried the roots in the red Alabama dirt. There, in the front yard of the Birmingham parsonage, it would grow and thrive, with or without us. And there, no matter where God or the bishop might send us, we could potentially drive by some day far in the future, see the tree, and remember all we had planted: not just the tree, but also our first years of marriage, our kids' early friendships, the years of life in community with this caring congregation.
Not long ago I was walking in the yard when I found a tiny rosebush. It had two beautiful blooms and looked to have sprung from old growth. I was delighted by the roses, and went on Facebook to see if I could find out which previous pastor's family had planted the rose. After some discussion among parishioners, former pastors, and their families, we concluded that the roses came from the founding pastor's grandfather, who often brought by plants for the parsonage. His name was Happy, which I think is a fitting detail. I feel most happy when I sit on the parsonage's front steps, watch the boys play in the yard as neighbors pass on their evening walks, and smell the lovely fragrance of Happy's roses, planted decades ago.
All that we enjoy here — in this parsonage, in our neighborhood, in our congregation — was given to us by the love and effort and investment of pastors and their families, of parishioners and leaders, who came before us. All of them knew that their time together would be brief, but all of them chose to plant, to root, to make a home, and to build relationships, anyway.
"I planted the seed, Apollos watered it, but God is making it grow," Paul wrote to his former parishioners. This is the tradition we live in as well: planting for a future that will not belong to us, watering what we did not plant, and in all of it trusting God.
---
Kelsey Grissom is an elder in The United Methodist Church and the Associate Pastor at Asbury UMC in Birmingham, Alabama. She is married to Lee and they live with their two boys.
---
Image by:
Kelsey Grissom
Used with
permission
https://media.myworshiptimes31.com/wp-content/uploads/sites/3/2016/07/29165931/OnesWeLoveImage.jpg
505
415
Kelsey Grissom
https://youngclergywomen.org/wp-content/uploads/sites/3/2017/05/YCWILogo_Vert_Black-300x229.png
Kelsey Grissom
2016-07-21 04:00:57
2018-11-13 11:35:58
Magnolias and Roses and Roots