---
Post Author: Stephanie Sorge
---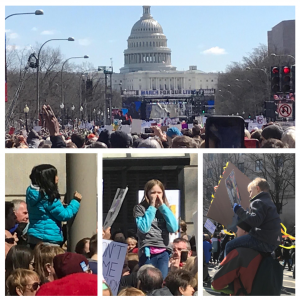 Looking younger than her eleven years, Naomi Wadler stepped up to the microphone to address more than half a million gathered in Washington, DC. She recalled how she and a classmate at her school in Alexandria, Virginia, organized an eighteen-minute walkout on March 14th, along with students across the country. With others, they walked out one minute for each of the victims of the Parkland shooting, but Naomi added an additional minute for Courtlin Arrington, the young black teen killed at Huffman High School in Birmingham, Alabama, weeks after the Parkland shooting.
Naomi named Hadiyah Pendleton, Tiana Thompson, and other black and brown girls who are killed by gun violence but whose names aren't known and spoken, who become relegated to statistics rather than lives. Their names joined a chorus – a communion of saints – lifted by the young speakers throughout the afternoon: Stephon Clark, Cynthia Williams, Zaire Kelly, Ricardo Chavez, DeShawn Moore, Victoria Soto, and too many more. I was grateful to be part of the great cloud of witnesses to this hallowed event, which culminated in an extended period of silence as Emma Gonzalez gave space for all gathered to experience the six minutes, twenty seconds, that it took for a gunman to kill seventeen souls on that Ash Wednesday.
The numbers impacted by gun violence are staggering, and we heard some of the numbers. But over and over, we heard names. Names were lifted, and like the church in El Salvador, naming the losses and disappearances during the reign of terror by death squads, I wanted to shout, "Presente!" In naming those young lives cut short by gun violence, we honored their lives, and asserted that they were more than statistics.
The passage from Isaiah that I kept hearing was from Isaiah 11, about God's peaceable kingdom, in which "a little child shall lead them." That was certainly appropriate as we saw these children – many a few years away from voting themselves – speaking powerfully and prophetically, and calling for change. But my mind kept finding Isaiah 43 instead: "I have called you by name, you are mine." God assures Israel that God will be with them – through waters, fire, and flame, they will not be overtaken. God will save them.
The act of naming is a sacred one. Christening is now a synonym for naming, but it quickly shows its Christian roots, where a new name and new identity as one claimed by Christ is bestowed. God names us and claims us. As these young people whose lives have been permanently scarred by gun violence named lives lost, it seemed to me as though God was shouting the names for all to hear, saying "These are not numbers or statistics. They are not unfortunate casualties of unavoidable tragedies. These are my beloved children, and their blood cries out from the soil."
Also in Isaiah 43, God says, "Do not fear…you are precious in my sight… I love you. Do not fear, I am with you." Just after Naomi, 16-year old Mya Middleton came to the stage. She shared her own story, living in Chicago and going to the store to buy some food for her mother, sick at home. The young man in front of her ended up pulling a gun on her. If she ever told anyone, he threatened to find her and kill her. But she told the crowd, "I will not be silent! I will not live in fear!"
Naming is holy and powerful. Naming calls out to the divine spark in each of us, a spark quickened by the Holy Spirit breath of life. Naming echoes the call of God to each of us, and affirms the humanity, dignity, and worth of each person. Naming breaks through walls of fear and separation. Naming tears down the veil of distancing statistics and confronts us with the humanity of lives lost.
The sacred act of naming punctuated the March for Our Lives. Zion Kelly spoke of proposed legislation that would bear the name of his slain brother, Zaire Kelly. Other children would be cloaked by protection from gun violence in Zaire's name. Edna Chavez led the crowd in shouting her slain brother's name: Ricardo! Ricardo! Ricardo! The youngest speaker was 9-year old Yolanda Renee King. She was not the first nor the last to invoke the name of her grandfather, the Rev. Dr. Martin Luther King, Jr. Samantha Fuentes, a Parkland survivor, led the crowd in singing Happy Birthday to Parkland victim Nicholas Dworet, who would have turned 18 the day of the march.
Some of the names of Parkland survivors have become well known in the past month and a half, particularly Emma Gonzalez. David Hogg, another prominent name, was quick to note that the media attention had essentially silenced the voices of the black students at Parkland, who comprise 25% of the student body. The March for Our Lives sought to name the privilege and provide a platform to amplify the voices of non-white youth, many living in urban areas facing the effects and trauma of gun violence on a daily basis. Peace Warriors D'Angelo McDade and Alex King shared stories of their work to address gun violence in their cities, even as they continue to grieve their personal losses.
Fourteen months ago, I was marching the same streets. From my initial perch near the Museum of the American Indian, I couldn't see or hear any of what was happening on the stage. As that gathering began to move, I walked down Pennsylvania Avenue, the same path used for the March for Our Lives. We joined in calls and response, and we came together in a spirit of unity. It was beautiful.
The March for Our Lives was even better. The focus, the message, the mission – all planned and carried out by these young people who have been called paid crisis actors. Young people who have survived mass shootings only to face continued death threats as they seek to effect real change. Young people who have been called by name, who do not fear, and who will continue to walk through the waters, face the fires, and know that they are making a path towards righteousness.
This communion of saints, joined by a bond no one would choose to share, lifted and carried each other through the event. Those who learned how to dodge bullets before learning how to read came alongside those self-acknowledged students of privilege, living in places where things like this don't happen. The communion of saints included the cloud of witnesses from Sandy Hook, who also have been fighting for change since the massacre there 5 years ago. This diverse, inclusive, youth-led rally was a glimpse of the reign of Christ.
Coming from south Los Angeles, she began, "Buenas tardes!" Slowly, deliberately, and clearly, she said, "My name is Edna Lisbeth Chavez." Similiarly, she ended her inspiring speech thus: "Mi nombre – my name – is Edna Lisbeth Chavez. Remember my name. Remember these faces. Remember us, and how we are making a change. La lucha sigue!"
Cameron Kaskey. Trevon Bosley. Delany Tarr. Sarah Chadwick. Alex Wind. Zion Kelly. David Hogg. Naomi Wadler. Mya Middleton. Matt Post. Christopher Underwood. Jaclyn Corin. Yolanda Renee King. Ryan Deitsch. Aalayah Eastmond. Samantha Fuentes. Alex King. D'Angelo McDade. Matthew Soto. Emma Gonzalez. Remember those names. These beloved children of God are working to usher in a reign of justice and peace. La lucha sigue – the struggle continues – but my friends, I tell you, the struggle, the fight, the present and the future, are in very good hands.
---
The Rev. Stephanie Sorge lives 2 hours outside of Washington, DC in Harrisonburg, Virginia. She marched alongside members of Trinity Presbyterian Church, who she is grateful to serve as Pastor. She marches for the lives of her two young sons and others.
---
Image by:
Stephanie Sorge Wing
Used with
permission
https://media.myworshiptimes31.com/wp-content/uploads/sites/3/2018/03/29165509/march-our-lives-such-time-mar-2018-featured.png
200
300
Stephanie Sorge
https://youngclergywomen.org/wp-content/uploads/sites/3/2017/05/YCWILogo_Vert_Black-300x229.png
Stephanie Sorge
2018-03-27 04:00:21
2019-08-15 14:19:27
Marching for our Lives: Called and Named