Martha and Mary in Ministry
---
Post Author: Rev. Sarah Hooker
---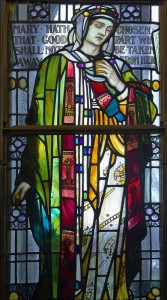 This last week a miracle happened in my life. I had a full twenty-four hours with no "church stuff" in it. One might think that using the term miracle here is a bit flippant, but when you're a solo pastor, in the fall, miracle is the only appropriate way to describe a real day off. Until this day occurred, I had not had a Saturday off since mid August, and my coveted Mondays off had not occurred in three weeks because of the funerals that kept popping up. Throw in my first-born child, who is 5 months old and needs to eat every 2 hours because, as his pediatrician says, "he's too chill to demand food when he's hungry", and my life pretty much resembles a chaotic mess.  I don't mean to whine (ok, maybe a little bit), but for real, that day off was desperately needed. There was a point last week when I seriously considered whether this pastor thing was all worth it. I'm approaching my first anniversary in this congregation and ordained ministry. Is this really how it is going to be for the rest of my life? I love Jesus and all, but come on; a girl needs a day off once in a while.
All of this to say, that when I read Luke's brief account of Mary and Martha, in an all too uncommon prayerful moment that was truly Spirit led, I said, out loud, "Martha, I totally feel you."
Now as they went on their way, he entered a certain village, where a woman named Martha welcomed him into her home. She had a sister named Mary, who sat at the Lord's feet and listened to what he was saying. But Martha was distracted by her many tasks; so she came to him and asked, "Lord, do you not care that my sister has left me to do all the work by myself? Tell her then to help me." But the Lord answered her, "Martha, Martha, you are worried and distracted by many things; there is need of only one thing. Mary has chosen the better part, which will not be taken away from her." (Luke 10:38-42)
We're so often told as women in ministry that we are to strive to be like Mary in this story, seated at the feet of Jesus, learning and being a good disciple. We hold her up as a role model; as validation that, yes, even women are encouraged to be followers of Christ. Mary has chosen the better part, Jesus says. So should we.
I've claimed Mary throughout my life; seen her in the women clergy who guided me through discernment, embraced her through missionary work, seminary and even the chaos of hospital chaplaincy. Mary was my model, the one who would not be distracted by life. Mary was the woman who wanted to be with Jesus because it is where she was called to be, and that was ok. She was a woman who gave me permission to "be" in ministry. Martha, on the other hand, was just that other sister, the one who let tasks consume her and didn't take Jesus, Mary, and the other disciples seriously. Getting dinner on the table was more important than learning. That's not who, or what I wanted to be as a woman in ministry.
Oh, how wrong I was. I'm claiming it right now, Martha is the woman I resemble more often than not these days. Martha, the woman who is running that house like a boss. Making sure the dinner preparations are going as planned. Getting the rooms ready for all the visitors, who I am sure are also staying the night, meaning that beds have to be made, sheets clean, and don't forget the extra tooth brushes in case anyone forgot to bring their own.
I now know why Martha came bursting through that kitchen door, mad as hell at Mary. "Can't I get just a little bit of help around here? I shouldn't be doing this all on my own." Martha's voice is my voice, at home and in ministry.
The challenge in pastoral ministry, I am starting to realize, is to find a good balance of Mary and Martha. The reality of being a solo pastor is that things do have to get done; bulletins, committee meetings, and funerals. The reality of being a mother and a spouse is that dinner has to be made, laundry needs to be done, and emergency trips to the pediatrician happen. Our Martha's are calling out to the Lord, "please just tell someone to help me!" But there is another side to the reality of ministry and motherhood. There is a Mary side. Those moments of profound holiness, where time is allowed to stand still and I can sit at the feet of the Holy and listen. The difficult part is recognizing when I can give myself permission to do this. The list will always be full and something will probably get left undone. Instead of Jesus' curt response to Martha in the passage, I wish what he had said was "Martha, you look really busy. Come here and sit with Mary for a while, then we will all go in the kitchen and help you finish dinner." These are the words I need to hear in ministry. That what I am doing, even in those overwhelming Martha moments, is what I am called to be. But that I am also called to rest from my labors, to sit down and just listen, even if for a moment, because I am called to be there too.
---
Rev. Sarah Hooker is the pastor of First Presbyterian Church in Delhi, NY. A Midwesterner at heart, she is learning how to live in the enfolding arms of God's mountainous embrace. You can often find her toting her "chill" son around on pastoral visits, having meetings over pancakes at the local diner, or watching college football with her husband.
---
https://youngclergywomen.org/wp-content/uploads/sites/3/2017/05/YCWILogo_Vert_Black-300x229.png
0
0
Rev. Sarah Hooker
https://youngclergywomen.org/wp-content/uploads/sites/3/2017/05/YCWILogo_Vert_Black-300x229.png
Rev. Sarah Hooker
2013-11-19 07:59:36
2015-08-25 18:38:19
Martha and Mary in Ministry