---
Post Author: Rev. Ruth Lemmen
---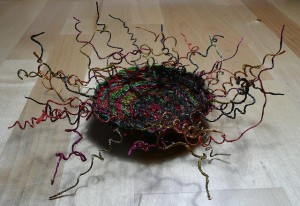 I used to think that life was linear, made up of one continuous strand. As I've grown older I've found that my life is less linear than I expected. It is full of many different strands God is somehow weaving into a tapestry. I trust that in the end, the patterns in this tapestry will make sense. In the early stages, the strands just seem disconnected. What the design or pattern will be isn't clear.
From the time I was in high school, I felt called to be some kind of Christian work overseas.  I grew up in a church that didn't ordain women, but who would understand and support being a teacher overseas. I felt God calling me to this life—and I imagined this was the strand of my life. I followed that calling by majoring in English and then teaching English in Asia for three years.  And I loved it.  I have always loved reading, words, and teaching. It was natural that I loved teaching and sharing my love for language with students.  I loved hearing students' stories and caring for them.  I loved living overseas and discovering a new culture. But that wasn't the only strand in my tapestry.
When I heard the Holy Spirit persistently whispering that I needed to attend seminary, I didn't want to go. Leaving my overseas home for the uncertainty of seminary was one of the most difficult things I have done.  Throughout the first year of seminary, I had mixed emotions.  I was learning a lot, but I also felt out of place.  There were many people who had undergraduate degrees in theology or read theology for fun.  I read Bon Appetit for fun. They had theological conversations I didn't fully understand. I wanted to talk about how faith mattered in everyday life. I wasn't quite sure what I was doing there.
I grew to appreciate seminary and a call to the pastorate.  It was different.  It was exciting.  It used my gifts in different ways.  But when I graduated I felt like I had multiple strands of myself.  There was the cross-cultural-English-teaching-me and there was the theologically-educated- pastor-me.  I couldn't see how these strands wove together.
In what seemed like a disconnect, God was gracious.  God led me to a place that helped me see how they could weave together. My first call was as a Resident Pastor of Outreach at a church in an increasingly diverse neighborhood.  I got to work with the ESL (English as a Second Language) classes that the church offered four times a week.  I worked with the Refugee Task Force that diligently helped new refugees navigate settling in the United States.  And I became the primary pastor for the congregation's Basic English Service, a service geared towards people new to English and often to Christianity. The people who attended this service came from Bhutan, Sri Lanka, the Democratic Republic of the Congo, Sudan, Korea, and other places around the globe.
To be an effective pastor in this situation, I needed every ounce of experience from my time in Asia. During those years overseas, I learned to speak in simple sentences without modifying clauses. I learned to use words like "change" instead of "transition." I lived in a culture that values family and relationships over independence and communicating indirectly over directly. Once I became a pastor, I applied those skills. In my preaching I would say, "Jesus is all God and all human," instead saying, "Jesus has human essence and divine essence." My previous experience of living in a different culture helped me understand some of my parishioners' thoughts and how to communicate with them (to at least minimize awkward cultural gaffes).
The two years working in this unique situation were a gift. They helped weave the tapestry that God was creating in me and my ministry. As I reflected on them with my spiritual director, she gave me a phrase, the title of a Flannery O'Conner short story, "everything that rises must converge." This phrase describes my experience. All of the passions and experiences that had risen up in my life converged in this call. Instead of having two distinct strands, they converged together in me so I am a theologically-educated-cross-cultural-English-teacher-pastor-ME.
When I was a girl, I didn't envision these strands in my life, and I don't know what other strands might get woven into my life. But I am thankful for God's grace, love, and creativity to weave such a colorful tapestry of my life.
Image by: lovefibre
Used with permission.
---
https://media.myworshiptimes31.com/wp-content/uploads/sites/3/2013/11/29170700/2229204082_063684c8d6_z1.jpg
439
640
Rev. Ruth Lemmen
https://youngclergywomen.org/wp-content/uploads/sites/3/2017/05/YCWILogo_Vert_Black-300x229.png
Rev. Ruth Lemmen
2013-11-14 04:00:16
2015-08-25 18:38:32
Bringing the Strands Together